I'm about to buy a used Android phone off someone on Craigslist. When I get the phone in my hands, how can I check that the specs she posted are in fact accurate and describe the capacity, model and Android version of the phone itself?
First off, I want to say that you're smart for wanting to know how to quickly ascertain the specs, storage and exact model number of a phone you're poised to purchase used. I don't think that people are typically trying to defraud buyers on sites like Craigslist, but they can certainly get specs wrong and a week, a month, three months later is too late to do anything about it or try to negotiate the price down. There's another consideration too: Is the phone reported stolen or lost? If it is, then you won't be able to activate it which will mean you just bought a very expensive brick. Fortunately there's a way to test that too.
You can also ask the seller to send you screen shots of all these screens, of course, but since you don't have any way to prove that they are from the actual device in question, that's only of limited value if you're really suspicious. Still, you can go through all of this in just a minute or two, all from within Settings on the Android device. Oh, and you want to ensure that it has no PIN or lock code you don't know!
Once in Settings tap on "General" to get to the right set of options. Different versions of Android look a bit different, but here's Settings in Android 8.0 on an older LG smartphone:
You can start by ascertaining storage capacity. Tap on "Storage" from the list…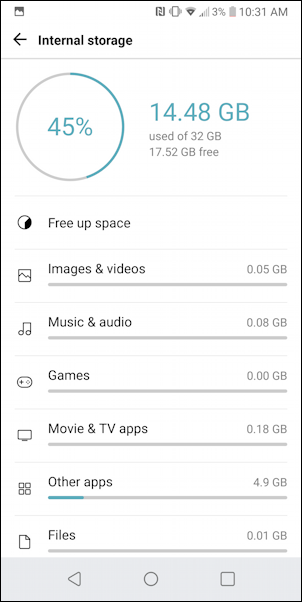 You can see that this phone has 32GB of storage (most phone companies call this RAM) of which about 45% is in use. Looking at the lower portion, the space is taken up by apps, not movies, games or music.
Go back to Settings > General and swipe down to the bottom:
Near the bottom is the key info area: "About phone". Tap on that and there are two key items to check: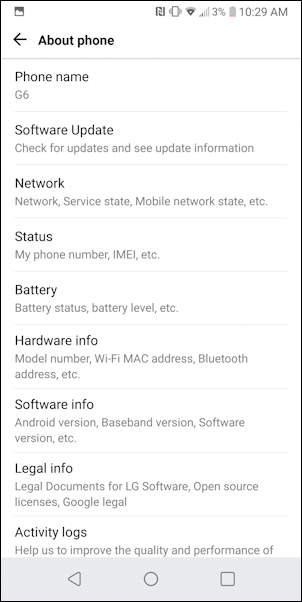 Don't be sidetracked by the Phone name at the top; you can set that to whatever you want. Like "iPhone 11 Pro" just to confuse people. Instead tap on "Hardware info" to reveal this information:
The model number is really important. If you're not sure what it means, do a quick Google search for the model and you'll find out lots more about it (including if it's the model you think it is). In this instance, a search for LG-H871 reveals that it has the following summary specs:
Display 5,7″ Quad HD Plus FullVision large display provides sample space for text, images and games. Aspect ratio 18:9 (2:1) and the resolution Quad HD Plus provides perfect picture quality and a powerful viewing experience. Large-format front camera: Everything in the frame. Get the full picture with the front camera, no matter what you're shooting. Dual widescreen camera 13 MP + 13 MP lets you shoot the most spectacular landscapes with the help of dual-core LG G6 camera.
Nice phone, right? Now, how about that "Software info" on the previous screen?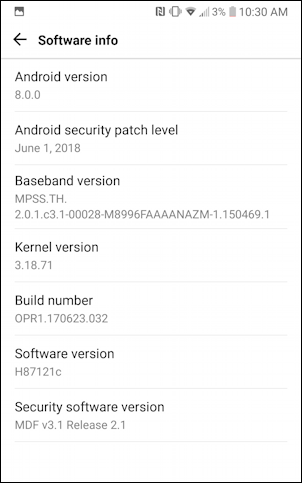 The main thing you'll look for here is the version of Android the phone's running. In this instance, the LG G6 is stuck on Android 8.0 as LG hasn't made updates available for this model. Frustrating, but it's good to know that the last security patch was from June 1, 2018.
IMEI: IS THIS PHONE STOLEN?
Which brings us to the IMEI. First off, a definition: IMEI stands for International Mobile Equipment Identity and it's a unique ID for every single mobile device built anywhere in the world. Amazing, really.
One way you can find it is to call the special number * # 0 6 # but you can also just go back to the main Settings screen and search for "IMEI":
A tap on "IMEI" in the search results and you'll find out the unique ID of your phone. In the case of this LG G6, it's: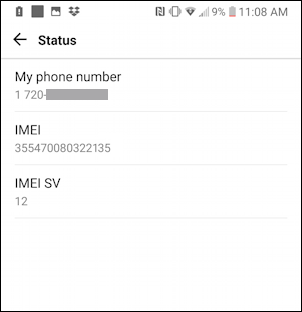 Armed with the IMEI 355470080322135 I can now go to one of the IMEI lookup services like IMEIpro.info and submit it for a quick check:
Status = clean. We are good to go and this phone is ready to purchase! Now once you do get the phone, I encourage you to do a factory reset to completely wipe out every trace of the previous owner. Good luck!
Note: The IMEI shown above is not exactly the one from my LG G6 if you try it with the verification site. I have done that to protect my privacy and the security of this particular Android device.
Pro Tip: I've been writing about Android for years. Please check out my extensive Android help library while you're visiting the site. Thanks!