My Dad's an old school sailor and he likes to give me locations in lat/long [latitude & longitude]. I want to give him some of his own medicine and tell start sharing locations as lat/long instead of street addresses. How can I figure it out?
Latitude and Longitude seems like a throwback to an earlier era, but in fact it's the lifeblood of all mapping programs and any software that geolocates. Why? Because the combination of latitude (north/south position) and longitude (east/west position) can uniquely describe every spot on the entire planet. Handy, really, and it's language and culturally independent too.
It all revolves around the Equator for latitude and a little town in England called Greenwich for longitude. Latitude is a measure of how far north or south of the Equator you are, and longitude measures how far east or west you are from Greenwich, England.
So, armed with that knowledge, it turns out that it's quite easy to identify both through Google Maps! Not a huge surprise, really, since maps uses lat/long internally, but still you do need the right sequence to identify the information.
To start, let's have a quick peek at where I am in North Boulder, Colorado, USA: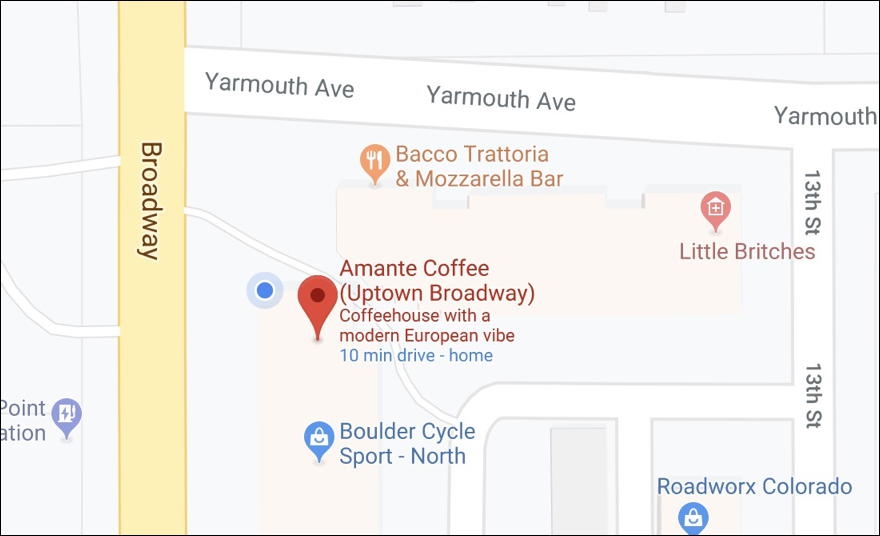 Amante Coffee. A popular hangout spot of mine with great coffee and soccer on TV almost all the time.  But where exactly is it from a lat/long perspective?  Well, all the great info that's shared in Google Maps does not include this particular snippet of information, unfortunately:
To find out you need to right click in the Google Maps image, as close to the exact spot of the venue so as to be as accurate as possible. A menu pops up:
Useful to know, eh? Most people don't realize you can right click in the most modern of Google apps.
Anyway, choose "What's here?" and here's what you see in a little pop-up at the bottom of the map:
And there ya go, the latitude and longitude of my coffee shop: 40.057983, -105.281856.
Want to convert that to a more traditional degrees, minutes, seconds sort of number? Just feed it into Google Maps as a search criterion and it'll do the conversion for you!
That's the final piece: Now you can share "40 degrees, 3 minutes, 28.7 seconds north, 105 degrees, 16 minutes, 54.7 seconds west" as the location. AND when your Dad gives you lat/long coordinates, just copy and paste them into Google Maps to find out where they are!