Since I keep all my photos in my Google Account, they follow me from phone to phone as I upgrade. Is there any way to identify the location of older photos taken on different phones, however?
There are two main ways you can identify the location of a photograph; either through visual recognition (which is hard) or through analysis of its EXIF ("EXchangeable Image file Format") data (much easier). Every modern camera and smartphone records the shutter speed, focal length, film speed, and GPS location information in the extra information attached to each photo you take, as it's available.
The consequence of this from a privacy perspective is that when you take a picture with your smartphone and send it to someone via text message, you're also sending your location, accurate to within a dozen feet or so. Even if it's a photo you take at home from the comfort of your own couch. Some social media services are savvy enough to remove that EXIF information from the image when it's uploaded to share, but do you trust them all? Something to think about.
Assuming that the EXIF information has not been removed from your photos, however, that means that even years later you can still identify the exact location of a photo. Let's have a look at a beach picture I took with my Google Pixel 3a back in 2019…
IDENTIFYING LOCATION WITH GOOGLE LENS
To start, I'm going to just open up Photos and find the image in question. The general toolbar doesn't show much of anything about the location or other detailed info, of course:
Your first instinct might be to utilize Google Lens, easily accessible by tapping on the "Lens" button along the bottom. Surprisingly, though, it doesn't do particularly well, just recognizing it as, well, a beach and water: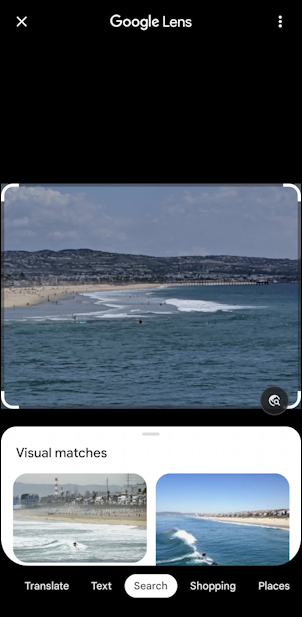 When there's an easily recognizable landmark like, say, the Millenium Eye or the Eiffel Tower or the Statue of Liberty, it's going to do much better, but waterfront? Not so much.
Then again, there's also a "Places" option along the bottom too if you swipe sideways. Can that do a better job?
No, not really. Okay, so Google Lens: 0.
IDENTIFYING PHOTO LOCATION THROUGH EXIF
What about that extended information data? If you're lucky the information is still associated with the image and can be accessed by simply tapping on the "•••" link on the top right of the image. In this case, it's a perfect match, even three years later!
Not only has it identified that it was a photo from beautiful Newport Beach in greater Los Angeles, California, but it's showing the location on a map. Look closely and the bottom also indicates that I took the photo with a Google Pixel 3a, a smartphone that was released, no surprise, in 2019. On May 7. This means I took this photo while my phone was less than a week old!
Swipe up and there's even more information tucked into the EXIF information of interest, particularly if you're a photography enthusiast:
As you can see, the photo was taken with the equivalent of an ISO 81 "film" at f/1.8 in 1/11765ths of a second with a startlingly short 4.44mm "lens". It's 4032 x 3024 pixels and 12.2MP in size. Interesting.
EXAMINING THE PHOTO MAP MORE CLOSELY
Tap on the map graphic, however, and you'll see something really cool…
Turns out that the Photos app is smart enough to recognize that eight of my photos were taken in the same approximate area, and even denotes with purple circles where each is located on the map. You can also zoom in or out as desired.
If I tap on the purple circle that's midway down the pier, I can see which photo was taken just a bit closer to the shoreline:
Pretty cool, isn't it? Now you know how to explore this information in Photos. If you aren't finding any location information then the photo has already had the EXIF information stripped out for privacy and you're out of luck unless Lens can help out.
GEOLOCATION OF PHOTOS SHARED WITH YOU
As I mentioned earlier, photos that other people share with you can often have their location identified, particularly through text message and email. For example, my daughter saw a pink Tesla and sent me a photo. Using the very same approach outlined above, I can see where that vehicle was sighted:
I could zoom in on the map to learn more, but you can see that it was taken in Bonita Springs, Florida. Because where else would you see a pink Tesla? 🤣
That's something to think about when you share photos with strangers and distant acquaintances.
Pro Tip: I've been writing about Android forever! Please check out my extensive Android help area for hundreds more useful tutorials and guides! Thanks.