I have a lot of problems with the apps I run on my phones and the programmers always ask what version of iOS or Android I'm running. How do I figure out the version and release number for Android or iPhones?
Both Google and Apple want us to just think about the high level version number of our mobile device firmware operating system, so Android 10 or iOS13. In many situations, however, there's quite a different between iOS 13.0 and iOS 13.7 or the original version of Android 10 and the very latest release of Android 10 for that particular device. Surprisingly, identifying this release or version number is almost an identical process on the two otherwise fairly different operating systems. Is it the same as on your Windows PC or Mac? No, not at all. In fact while the Mac is easy to identify MacOS X version, the PC is a bit more convoluted. But let's not digress!
Used to be that operating systems were relatively simple and a release every few months or even less frequently was just fine. Then the pace picked up and updates showed up every week or two. Nowadays you can have a new security patch or feature tweak show up just hours after a version release, all of which is captured in the release info. So you're running Android 10, but it's actually build number "QD4A.200805.003". Got that? No worries if it's confusing that's the information a developer might need but for most of us, just knowing it's Android 10 with the Aug 5 security patch level is plenty of information.
Let's start with the iPhone since that's a bit easier to identify exact version and release information.
IDENTIFY IOS VERSION ON YOUR IPHONE
On your iPhone, tap on Settings…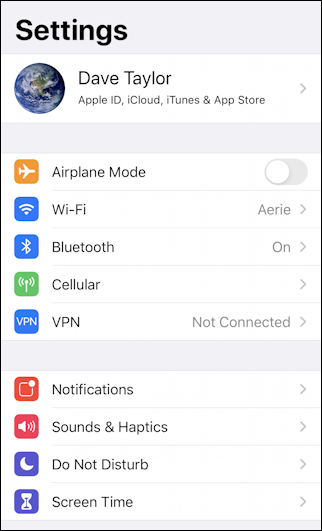 Now here's an iPhone trick: tap and pull down the entire screen. Suddenly a search box shows up! Why it's just not always visible is something I cannot explain, but tap "about" into the search box…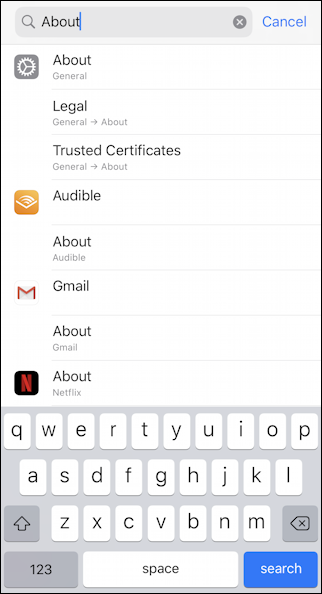 The top one, "About / General", is what you seek. Tap on it and you'll be able to immediately identify the iOS version: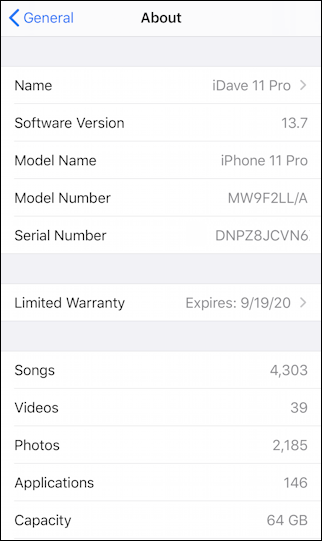 So you can see that this iPhone called iDave 11 Pro is running iOS 13.7. In addition, you can get a sense of how all of the storage space is being consumed; 4,303 songs, 39 videos, 2,185 photos and 146 applications. Lucky it's got 64GB, though that's mostly used at this point!
IDENTIFY ANDROID VERSION
On the Android side, I have a Google Pixel 4a which I just updated from Android 10 to Android 11, so it's perfect for this task. As with the iPhone, go to Settings…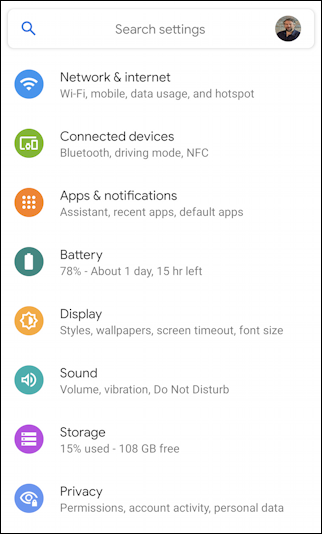 Props to Google for making this Settings screen a bit more colorful, but most importantly for actually having the search box visible, not a hidden expert feature. Just as you did for the iPhone, tap "about" into the search box…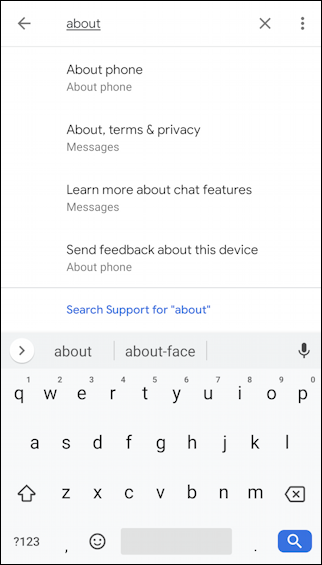 Very different set of results, but that's okay because it's the top match that's the one you seek: "About phone".
Tap on that and… you'll be taken to a page of information that doesn't include the Android release information!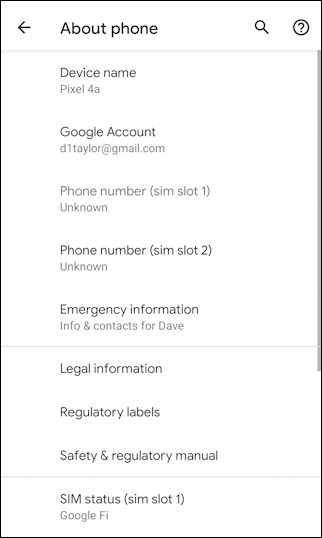 Useful information, but you need to swipe down to find an entry that says "Android version". Then tap on it (yes, one more step than iOS) and you'll get quite a bit of Android version information: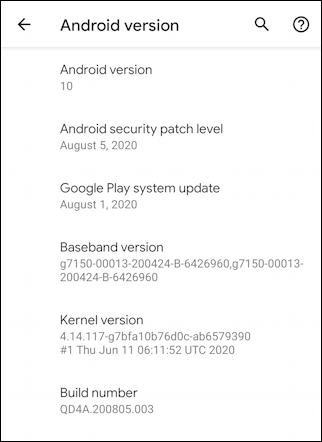 You can see that unlike Apple, Google identifies the specific release or build number of each facet of the Android system. No Android 10.1.3 or similar. So when someone asks for version number, I share overall version (in this case "Android 10") plus build number so they know exactly what release I'm on.
Btw, when I updated to Android 11 on this Pixel 4a, here's what the version information then listed: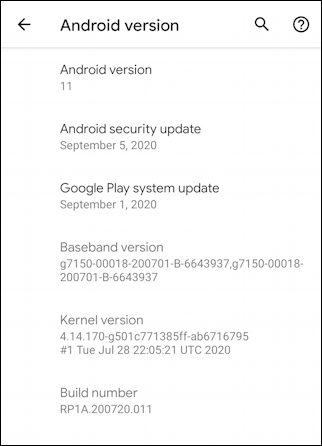 The build numbers are still cryptic, but it really can help developers understand exactly what bugs and features are on your Android device when you report this information to them.
And that's it. That's how you identify version information for Android or iOS phones and tablets. Easy, actually!
Pro Tip: I've been writing about smartphones since they first arrived on the market. Please check out my extensive Android help and iPhone help areas for quite a few additional tutorials while you're visiting. Thanks!