You don't have to be exploring the dark corners of the Internet to occasionally be led to a dangerous or malicious site. Does your browser protect you? It can! Here's how to enable malicious site protection in Edge, Chrome, and Safari…
The Web isn't quite as safe and benign as it was when first launched back in the 1990s. In the early days there were far, far fewer sites, but they could all be counted on to be safe to visit, even if they weren't necessarily what you sought as you surfed the Web. In those days, the Internet was like a pipeline… Nowadays there are billions of Web sites to visit, but too many of them are either explicitly dangerous or malicious or have been hacked to secretly try to copy spyware, malware, or other malicious data onto your computer.
Fortunately, your Web browser can help protect you from these dangerous sites, but only if you enable this particular set of security features. Every browser has it set up differently – of course – but in all cases, it's easy to enable and there's really no reason not to do so. I'll show you how to enable Web site protection in Microsoft Edge, Google Chrome, and Apple Safari. Let's get to it!
ENABLE SMARTSCREEN IN MICROSOFT EDGE
Microsoft has built out a very capable Web browser with Edge, built atop the open source core of Google Chrome, Chromium. If you've ever bounced between Chrome and Edge, that's why they're so darn similar in features and layout. To enable what Edge calls "SmartScreen", go into Settings > Privacy or simply click here: edge://settings/privacy which will take you here (you might have to scroll down a bit to find the "Security" section):
You can see "Microsoft Defender SmartScreen" above: Enable it, then enable its companion security feature "Block potentially unwanted apps":

While you're on this screen, I recommend you also check to ensure that you have enabled both "Website typo protection" and "Turn on site safety services to get more info about the sites you visit". Why? Because the former helps you avoid a bad site like gogle.com or yaho.com (we all make mistakes entering domain names!) while the latter offers more information about sites you're unsure about. Both very useful.
Now, with Microsoft Defender SmartScreen enabled, head to a dangerous site and instead of having it appear, malicious code and all, you'll see this warning screen: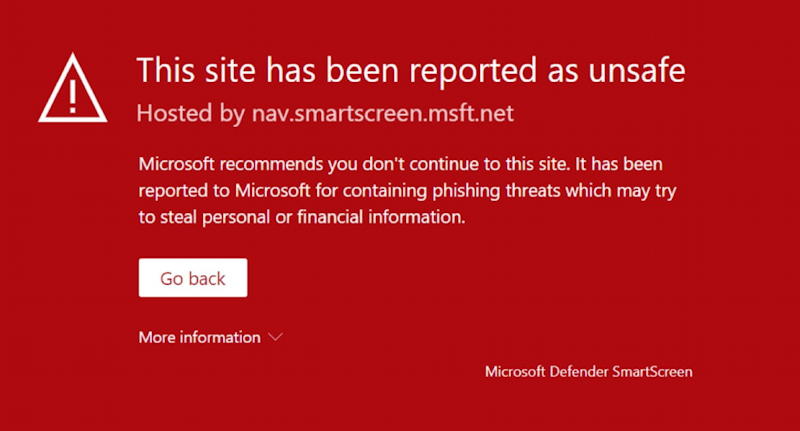 I don't know about you, but I'd much rather see the above screen than hit a bad site!
ENABLE SITE SCREENING IN GOOGLE CHROME
Google's Chrome browser generally has this feature enabled, though if you never headed to a dangerous site, you might never have seen the warning screen. To double check go into Settings > Security or use this URL shortcut to get to the correct spot in settings: chrome://settings/security which will then reveal:
You can see that the default is "Standard protection" which includes protecting you against known bad URLs and potentially dangerous events (like an extension that's poised to auto-install), but is that enough? The question actually revolves around whether you want to check sites against a static list you have on your computer or whether you're okay having Chrome send your next URL to their site for a more current check. If you're okay having Google involved then enable "Enhanced protection". Done.
ENABLE SITE SCREENING IN MAC SAFARI
You're on a Mac and prefer Safari? No worries, Apple is on the job and in its typically hide-things-from-the-user way. Go into Settings > Privacy:
Simply ensure that you've checked "Warn when visiting a fraudulent website" and you're good to go.
Between the different browsers, you can ensure that your online journeys are fun and interesting, with minimal danger of encountering malicious sites or software.
Pro Tip: I've been writing about technology and the digital world for many years. You can find lots of my articles here in both the spam, scams, and security article repository and my Computer and Internet Basics area!