I just signed up for Amazon Prime and it apparently includes a streaming channel too? I have a long commute and wouldn't mind watching some shows on my iPhone! How do I get started with Amazon Prime Video?
While I think a lot of people sign up for Amazon Prime to save on shipping, it turns out that the package includes quite a bit of additional stuff too, from free monthly ebooks to a streaming music service. But there's lots more, including free GrubHub+, Podcasts, Gaming, groceries, even photo storage. The jewel in the crown, however, is Amazon Prime Video, which might not have tons of great A-list content like Netflix or Apple+, but has quite a catalog of content to enjoy. If you're already a Prime subscriber, it's free too (since you're going to pay for it whether you use it or not).
That being the case, let me show you how to use it. The service is also widely accessible, so in addition to the mobile app (Android and iPhone) there's a tablet version (perfect for an iPad), TV apps for Roku and AppleTV, along with built-in SmartTVs like Vizio and Samsung. Heck, you can even access the service through a Web browser, allowing you to watch while at work too. Just go to amazon.com/video!
GET THE RIGHT APP AND LOG IN
The first and probably most important step is to ensure that you acquire the correct app. In the iPhone App Store, look for Amazon Prime Video, or, if you're an Androider, you'll find Amazon Prime Video in the Google Play Store. Fire it up and the very first step will be to log in: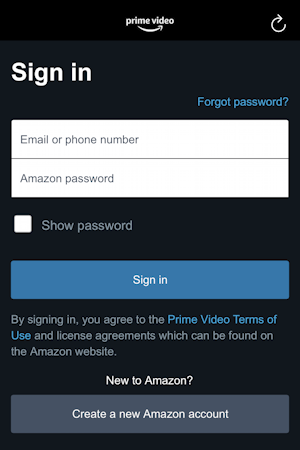 At this point you'll want to sign in with your regular Amazon Prime credentials, which are probably your regular Amazon credentials. Note, however, that you can also use some parts of Prime Video without a Prime account: Just tap on "Create a new Amazon account". It will only allow you access to content that includes ads, but if it's a long train ride and you're bored, well, it's free…
Amazon recently reorganized the Prime Video app layout for mobile, as it will then inform you: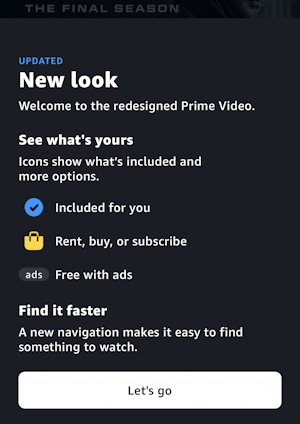 This is somewhat of a game changer because it means that the Prime Video app is useful for non-subscribers, which is more than you can say about Netflix, Peacock, or MAX! As the button says, "Let's go".
Prime allows you to set up separate user profiles, which is really helpful if you want to be able to track your shows and not have them mixed up with your partner, other family members, even your kids. My family has done just that: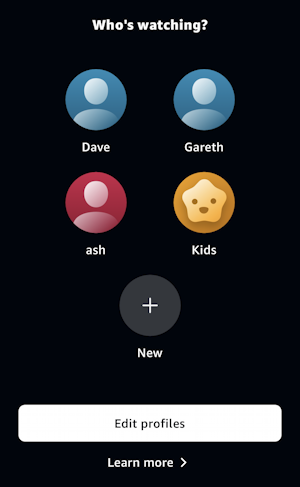 You can set up profiles from this point if you want, or you can just move forward.
THE AMAZON PRIME VIDEO HOME SCREEN
The app will move to its home screen which will show you all sorts of content options: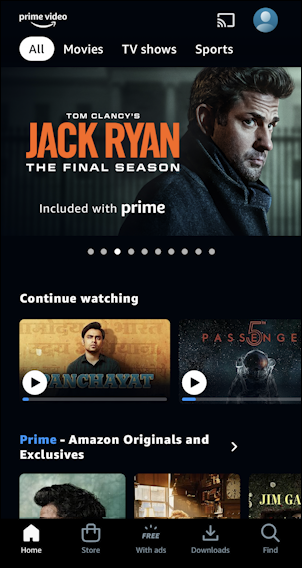 There are two major areas to notice: The primary categories along the top and the (new!) options along the bottom. The top lists All, Movies, TV Shows, and Sports. Yes, sports. Tap to learn what you can view through this app. Along the bottom is Home (the current view), along with Store, "With Ads" for sponsored or content that includes advertising, Downloads and Find.
As with all streaming services nowadays, Prime Video does a good job with viewing continuity, so you could easily start a show or movie on your phone, then pick it up at the exact spot you paused when you're home and have your Roku ready to go or at work and want to utilize the browser interface on your second monitor.
One more thing to notice is that Prime Video has Chromecast capabilities built in too. Tap on the tiny rectangle on the top right and if you're on the same wifi network as a nearby SmartTV, it'll show up: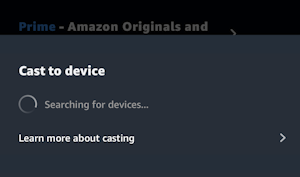 This can be a great way to watch your favorite content on a TV other than at your home, for sure.
AMAZON PRIME VIDEO STORE
One new feature in the app that's worth checking out is the Store. Turns out that it's really easy to buy access to favorite TV series and even recently released movies from within the app. Tap on "Store" to see: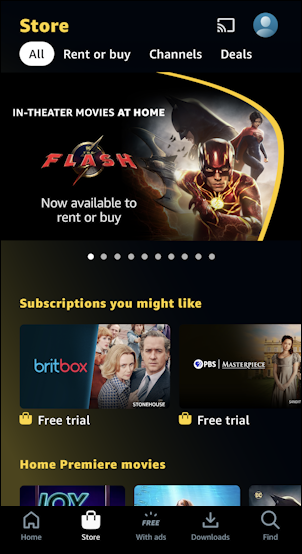 I'm a big fan of Britbox – it has a ton of great BBC dramas and shows – and you can also watch a lot of films that are still holding out in the local cineplex too, for about the price of a Friday night screening. The Flash, for example, is $19.99 for a 4K format rental, which gives you 30 days to start watching, then 48 hours to finish (which I think means you could watch it more than once if you're in that 48 hours window too). Most rentals are less expensive, however. The classic family adventure film The Goonies, for example, is $3.99 for a UHD rental and only $6.99 to "buy" the movie (meaning that you'll be able to watch it any time you'd like through the app or site, but you won't actually get a physical disc to keep forever).
PRIME VIDEO FREE WITH ADS
What about the other new section, "With ads"? Tap on it to learn more…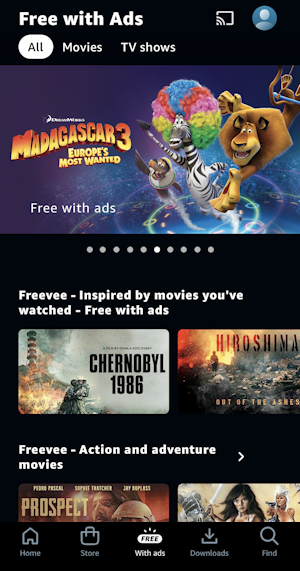 This is where we come full circle, I guess, from commercial TV with ads to streaming "without ads!" to streaming with ads. Still, it opens up an entire new catalog of films and TV shows and it's easy to mute your device during those ads too. In fact, Chernobyl 1986 does look interesting, so it's "inspired by movies you've watched" algorithm is actually working pretty well in this instance.
DOWNLOAD MOVIES AND TV SHOWS IN PRIME VIDEO
Most of the streaming services also offer some great options if you're going to be away from good network coverage or just want to minimize your cellular usage by allowing you to download certain content. As with "buying" content through the Store, the downloaded content isn't generally accessible, it's only viewable through the app and generally has a time limit, like a library book. Still, tap on "Downloads" to see what you've saved…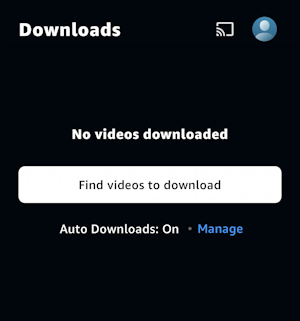 I haven't downloaded anything onto my phone yet, but a tap on "Find videos to download" does offer up quite a few different choices: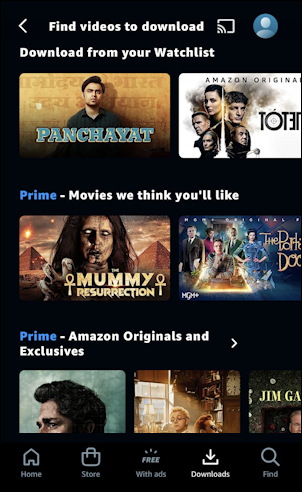 Panchayat is an amusing Indian comedy series I've been watching, so it's good to know I can easily download a few episodes if I want, but notice there are movies and lots more content available via download.
Between all of these features – and the "Find" search button – you should be able to find some good shows to watch and get rolling with Amazon Prime Video on your iPhone in no time. Enjoy!
Not signed up for Prime and Prime Video? Click here to sign up today!
Pro Tip: I've been writing about streaming services and Amazon Prime for quite a while. Please check out my Computer Basics Help Library while you're here to find lots more useful tutorials. Thanks! Also note that the "click here" link above is an affiliate link. You pay the same price, but I get a modest commission.