Love the goofy video filters on Snapchat that let you grow a unicorn horn, turn into a groovy hippie or have stars twinkling around your head? Good news! Zoom has introduced its own Video Filters that offers a very similar set of features and it's guaranteed to liven up any Zoom chat or meeting, whether it's with the boss or your family. Here's how to get started…
You're having more video conferences than you did a year ago. We all are. We're also learning about what experts call "zoom fatigue" where it turns out that sitting, staring at your webcam or computer screen for hours is surprisingly exhausting. It's not quite like an in-person meeting after all, so we're learning to make the best of it. The meetings I attend have people more unabashedly doing other things while being present, for example, listening to the speaker but not feeling like they have to stare at their screen and be 100% "present" the entire time.
For a business meeting, that's okay, but when you're having a fun Zoom chat with friends or family, that really doesn't need to look just like the last product meeting, board brainstorming or class lecture you attended, does it? Which is why Zoom keeps pushing into new areas to add a bit more fun to the video conferencing process. The latest addition is going to drive teachers bonkers but is great fun: Zoom Video Filters.
You'll need the very latest version of the Zoom app for this and it might not be available on all operating systems yet; we tried it out with the MacOS X client app. You can tell if you have it by clicking on the up arrow adjacent to the video button: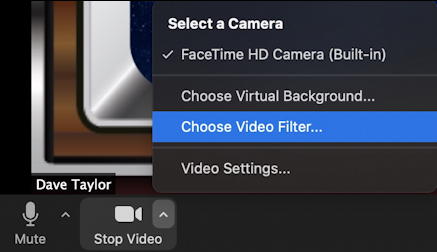 As highlighted, the new option is "Choose Video Filter…". If you don't have it yet, keep updating your app until it shows up and keep reading anyway so you can see what's coming for you!
You can also get to Zoom Video Filters from the Virtual Backgrounds screen too. [Check out my article How to Get Started with Virtual Backgrounds in Zoom if you haven't tried them before]. I have a lot of virtual backgrounds, as you can see: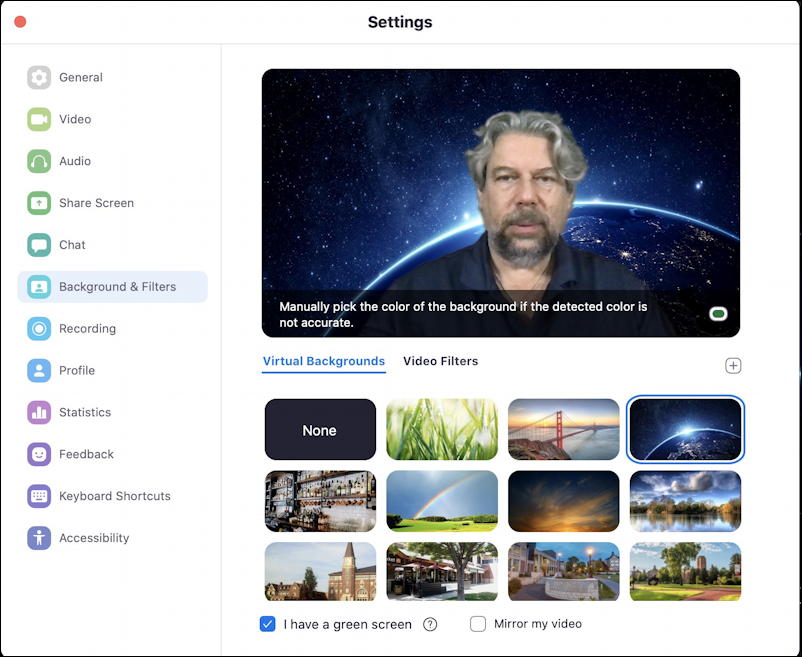 Notice in approximately the middle of the screen "Video Filters". You can also click on that to get to the new filter options.
The Zoom Virtual Filters are presented almost identically to the virtual backgrounds, as a palette of small rectangular buttons: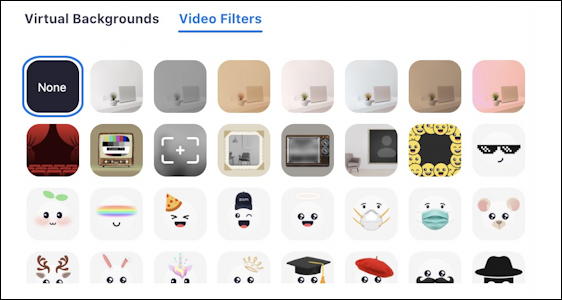 Snapchat fans will recognize the styles of filters here, but, roughly, the first row are color shift filters, the second row are frames, and everything else are overlays that will track your face as you talk and move around. For example, if I click on the "sepia" filter on the top row, the bright, colorful space background changes, as does my face: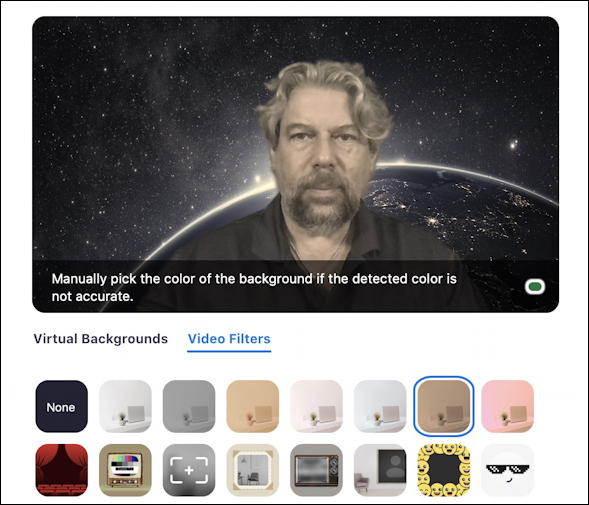 Not sure when I'd use that one, but here's another option that's a bit more fun: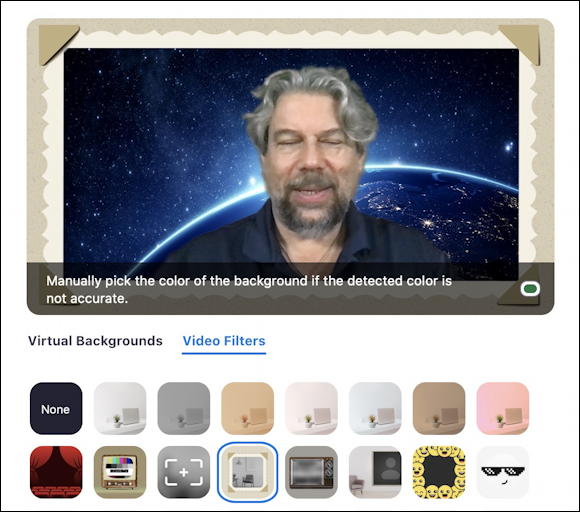 That's what I call the "photo frame" or "scrapbook frame", though they don't seem to have actual names in the Zoom app at this point.
Another option that's appropriately retro: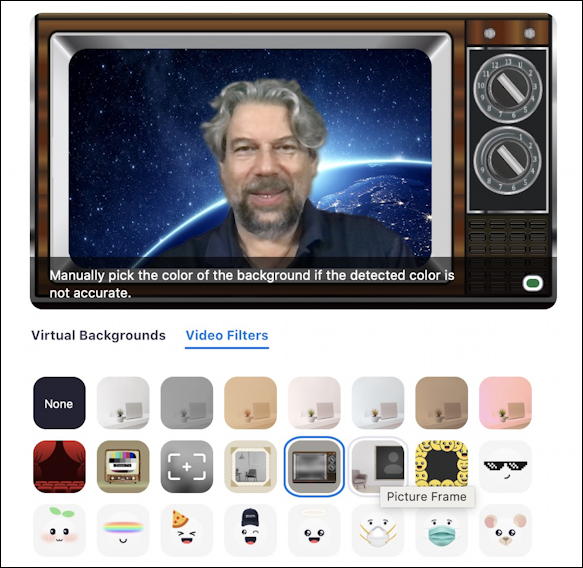 Finally I can say "Look ma! I'm on TV!" This is, of course, the image that everyone else on the Zoom call will see, as emphasized when I close this window and go back to the main Zoom chat: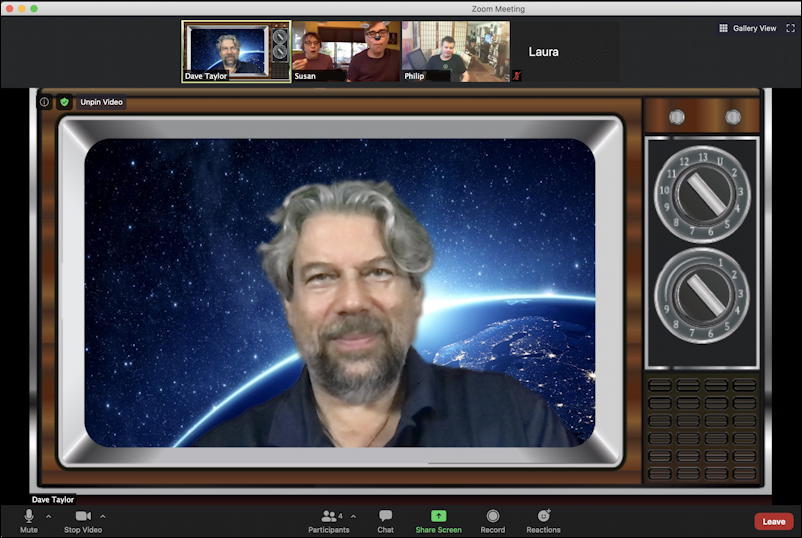 It's hard to tell, but Susan and her husband are also trying out the Zoom video filters with the bunny ears and nose. Yes, I know, it's really small in this pic, but you can experiment in Zoom yourself to try all this out too.
Speaking of which, what about the overlay filters? Here's an example:
It's possible not everyone on the call would agree I should have a halo, but it's pretty well done and as you move your head, it moves too, ensuring it's always floating just above the crown of your head. Angelic, really!
Want to show you're a maskie, not an antimaskie? You can do that with one of the video filters too. In fact, there are two styles of mask you can choose (or avoid, I suppose, if that's your preference). Here's the one I choose: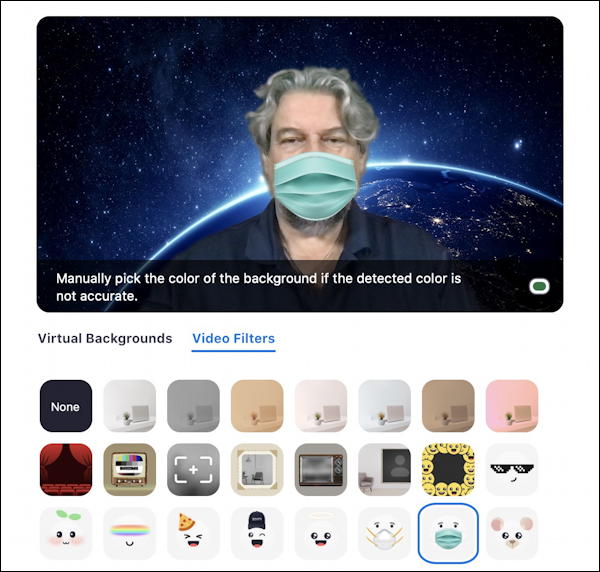 Or maybe it's more appropriate to have those groovy hippie glasses, definitely making me look like someone from a lost 60's band: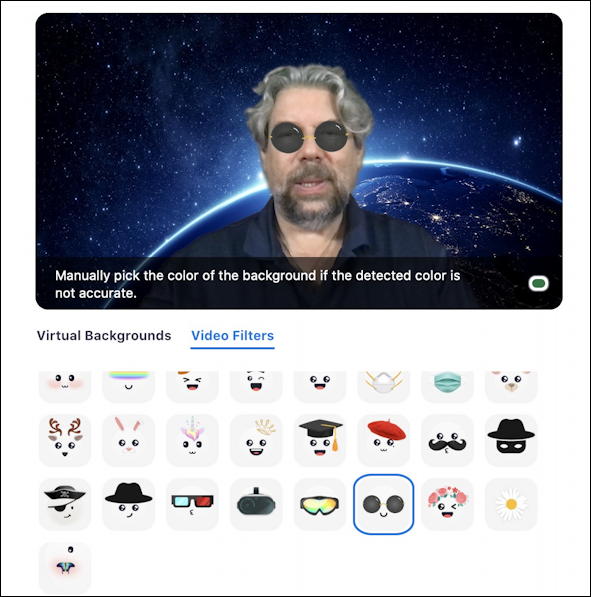 It's a good look, actually! Well, at least virtually.
One more example, and this time I'll change my virtual background too:
Arrrr, so there ya have it, me hearties! Between Zoom Virtual Backgrounds and Zoom Video Filters, there ain't much ya can't do ta make yer friends and family get a good chuckle before they threaten to make ye walk the plank! Now go have some fun with this all!
Pro Tip: I have quite a few tutorials on how to use Zoom for serious and more entertaining meetings. Please check out my Zoom help area to find them and learn just how much this powerful tool offers.