I've been happily using Zoom for meetings and webinars for a while now, but the boss just said we have to switch to Google Meet. Okay. Can you offer up a quick overview of how to get the most out of Google Meet, please?
With all of us spending more and more time with video conferences, lectures, webinars, and even product demonstrations, it's no surprise that lots of companies have beefed up their products in this area. Zoom has been the big winner, but there's Skype, Microsoft Teams, BlueJeans, Adobe Connect, and the tool formerly known as Google Hangouts. Now it's "Google Meet" and it has been redesigned to allow all the key functionality for this niche, including screen sharing, a shared whiteboard, and polls.
You can always start by just going to meet.google.com where it will prompt you to enter an existing meeting code or allow you the opportunity to create your own. Easy. But what can you do once you're in a Google Meet and how do you access all the various features? Well, the bad news is that it does suffer from what I call GEUIS: Google Engineer UI Syndrome. You know what I mean, it's the reality that while Google creates excellent tools, its user interfaces generally are convoluted, confusing, and really only a UI an engineer could love. 🙂
MASTER THE BASICS OF GOOGLE MEET
I was recently on a Google Meet meeting with a colleague and while I waited for her to turn on her camera and participate, I had a chance to tour the interface. Here's the basic screen when in a meeting: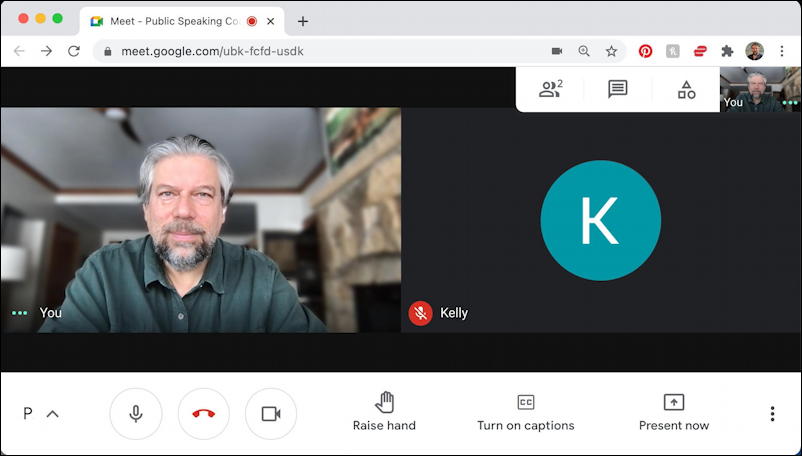 While most of the interface elements are along the toolbar on the bottom, the fact is that some of the most useful tools and features are on the tiny window on the top right. As research has shown, one way to reduce the stress and fatigue of online video meetings is to turn yourself off in the group view. That's one of the features on the top right, as shown when you move the cursor over your tiny thumbnail:
Click on the pushpin icon and your selfie video is pinned to the screen, the opposite of if you click on the four squares with the diagonal crossbar. That will remove you from the meeting overview (tho you are still in the meeting and everyone else can still see you, of course). The other three buttons on that mini toolbar are participants (you can see there are currently two participants in this meeting), access to the chat window and the triangle, square, circle icon? That's "activities" and a click reveals it's pretty darn important:
Though it's not obvious at all, yes, Google Meet does have breakout rooms and polls, and now you know where to find them. Polls are quite popular and a fun way to ensure that people are engaged during your meeting or presentation. Breakout rooms let the meeting organizer turn a big room with 40 people into smaller rooms that facilitate conversation and brainstorming, among other tasks. Finally, if you don't want the chaos of a chat window, Q&A can offer a path where participants can send a question to the meeting host without seeing each other's questions simultaneously.
ALL ABOUT THE GOOGLE MEET TOOLBAR
Now let's turn our attention to the bottom toolbar, where most of the main settings and features are located:
The leftmost area shows the name of the meeting (if there is one). Then there are your participation controls: The mic lets you mute your microphone (it's currently on and shared with participants), the red phone lets you "hang up" and leave the meeting, and the camera icon lets you disable sharing your video or enable it (currently it's enabled). Raise hand is helpful if you're a participant and want to ask something without being rude. Captions enable real-time closed captioning for every speaker (including yourself) which can be very helpful if you're having a hard time understanding everyone. "Present now" lets you share your screen or a specific app window, and, finally, the three dots are how you access a menu with yet more options.
That's a lot! Other than muting / unmuting your mic and turning on and off your video, one of the key features you'll want to know how to use is screen sharing. A click on "Present now" and it offers three options:
I strongly discourage you from sharing your entire screen since people often have files and other content on their Desktop that they don't, in fact, want to share with a larger group. Easier is to share the specific window from your desired app or program, whether it's Google Chrome, Microsoft Excel or even a game or custom app you are sharing as part of a training session.
And so, let's check out that three-dot menu. A click and yet more features and tools are revealed:
It's hard to explain why Whiteboard is on this menu rather than the Activity menu on the top, but so it goes. Changing background can be quite fun and I've written about that separately: How to use virtual backgrounds with Google Meet. One of the most valuable options on this menu, however, is "Settings". Choose that and there are three areas, two of which are actually useful: Audio and Video. Audio, as you would expect, lets you specify your microphone and speakers, simple enough:

Video is similar, but for your video signal from your webcam or other external video camera: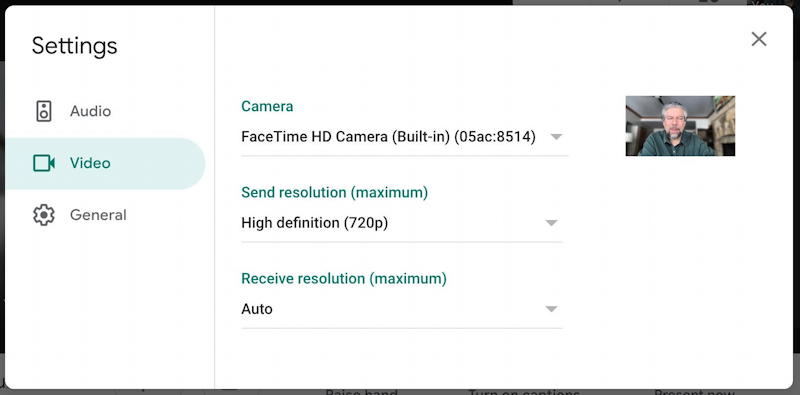 If you have a good Internet connection, I recommend setting your max resolution to High definition (720p) as shown. If you're on a poor connection it'll automatically step down to use less bandwidth, but this way you'll look your best when you are on fast Internet.
That's it. Lots of features and capabilities in Google Meet (neé Google Hangouts), even if they aren't all where you'd expect to find them. Now go be productive!
Pro Tip: I've been writing about Zoom, Skype and other video conferencing software for years. Please check out my video conferencing help area for lots more tutorials, regardless of your preferred platform. Thanks!