I'm confused about what's going on, but while the audio editing program Audacity seems to work just fine, it isn't getting any signal from the microphone. I use Audacity a lot to record audio content, so this is a problem! How can I get it working again in MacOS X 10.15 Catalina?
Audacity is a great open source audio recording and editing program beloved by lots of podcasters and musicians alike. It's simple, designed to do one thing and do that well, and it's open source so there's no license fee, no hassles, no cost. All good. Except every so often Apple comes out with an update to MacOS X that breaks the program and MacOS X 10.15 "Catalina" did just that. The issue is that by default the application no longer has permission to access the audio input device (e.g., the microphone). It doesn't know that, however, so instead of popping up a warning or request for permission, it just gets zero signal and chugs along, thinking it's recording just fine.
Which is a pretty big problem, as you might expect.
Fortunately there's a pretty easy workaround to get Audacity back to full functionality in Catalina on your Mac system, though it requires you to put on your geeky command line beanie for just a minute or two. Don't worry, though, at the end of the article I'll show you how to make that as easy as possible. To start, though, you'll want to know how to launch Terminal from Applications. Easiest way is through Spotlight, btw.
But let's start with Audacity recording, well, nothing: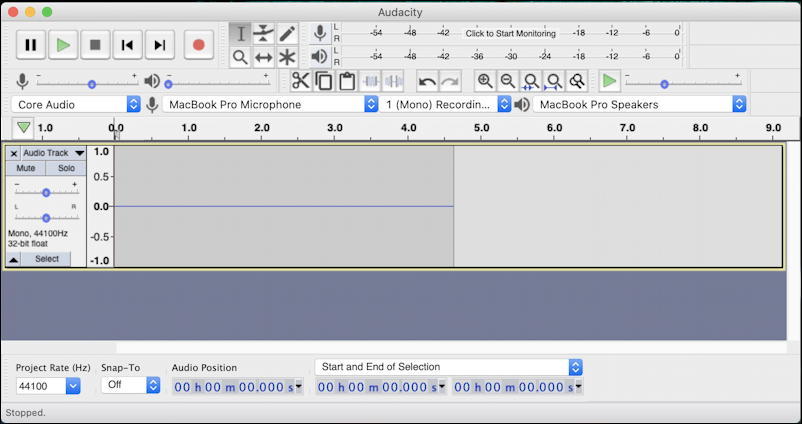 Everything looks fine, and it even shows "MacBook Pro Microphone" in the input selection as if it's all working just dandy. But… nada.
Until the app itself is fixed (I'm guessing it'll be an install permissions change) the solution is to launch it from the command line instead. I know, so 90's, eh? To do this, simply launch Terminal. It's included with all releases of MacOS X, so you'll have it tucked away in Applications > Utilities, or, as I said, just use Command+Space to get the Spotlight input box and enter "terminal" to launch it.
Those of you who are familiar with the Mac command line interface will immediately launch it as shown in the first entry: "open -a Audacity". That works and launches Audacity, but.. .nothing'll be different and it still won't work:

Instead, use the second invocation, because you want to specifically target the Contents folder's app. If you want to just copy and paste and have Audacity installed in your regular Applications folder, it's:
open /Applications/Audacity.app/Contents/MacOS/Audacity
Got it? Audacity will launch, but this time it'll prompt you for permission to access the mic:

Allow access with the "OK" button and you're back in business! Audacity will then work just fine: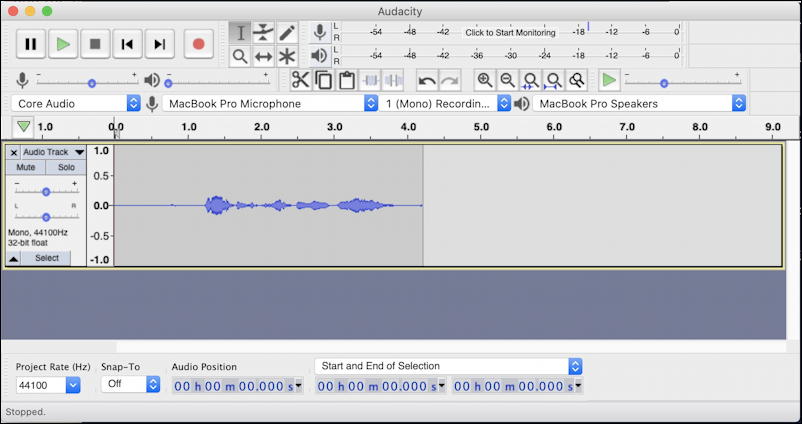 Quit the program, launch it again with a double click on the app icon, however, and you're back to square one. So you haven't "fixed" the problem with this command line invocation, you've just figured out an effective workaround.
This means that until the Audacity development team does fix it, you'll be launching it from the command line every time you want to use the program. A bit tedious but here's one thing you can do: create what's known as a command alias in Terminal and next time you can just type 'audacity' and have it work right.
The first invocation is just to confirm that it works properly (basically what we did earlier), then notice the "alias audacity=" prefix to that complex command. This establishes a command alias called, ingeniously enough, "audacity". Then the last line shows how to use it; just type in the word and boom! you're good to go:
alias audacity=/Applications/Audacity.app/Contents/MacOS/Audacity
Like it? You can make it a permanent alias for subsequent invocations of Terminal by putting that exact "alias" line into a simple text-only file called ".profile" that would live in your home directory. Got it? And that's how you get Audacity to work in Catalina until it's all fixed.
Pro Tip: I've been writing about MacOS X and the command line for quite a while. Please check out my extensive Mac help area and command line tutorials too. Heck, I wrote the book on it: Learning Unix for MacOS X!