I borrowed a buddy's BMW 430i for a few days and really loved it. For safety, I paired my Android phone with his car and now that I'm about to return it, I'd like to delete my phone pairing. How can I do that in a BMW?
People don't realize that when you pair your smartphone with a car Bluetooth system, the car then downloads and stores your entire address book. Names, phone numbers, addresses, personal notes, even profile photos, are then neatly stored in the vehicle infotainment system, even if your phone is 200 miles away, safely in your pocket. While it's not particularly easy to browse, you can often use the voice interface to access this data and in any case, do you really want your phonebook forevermore stored in your buddy's vehicle? I doubt it!
That's why I'm a strong proponent of minimizing your Bluetooth connection in loaner or rental vehicles and practicing good Bluetooth hygiene: deleting the connection and all data when you're done with the vehicle. As an auto writer (you can find my car reviews at GoFatherhood.com) it's always startling to me how often I'll have a vehicle with a half-dozen or more stored phones in the database.
Fortunately, you picked an easy one. BMW has a really well-designed infotainment system and while there's one step that might be a bit unintuitive, the overall process is pretty straightforward. Let's do it!
HOW TO DISCONNECT YOUR PHONE FROM BMW BLUETOOTH
The first step is to find your phone. You can do this from the HOME menu by choosing Phone. On the 2021 BMW 430i I utilized for these images, that screen looks like this: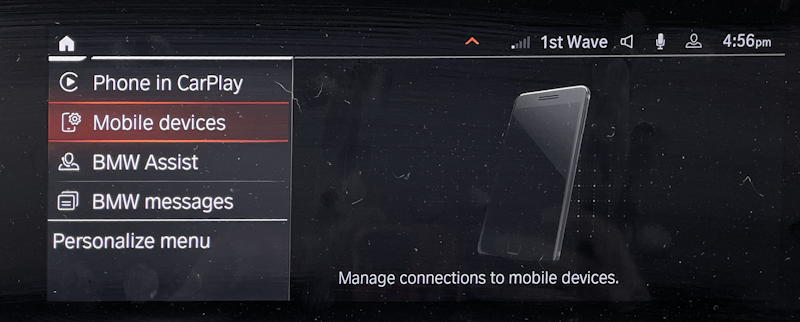 In the United States of America, we call them "smartphones" but in Europe, they're known more commonly as "mobile phones", so "Mobile Devices" makes sense for a German auto manufacturer. That's exactly what you see in this first step of the process. Choose "Mobile devices" to proceed.
That will bring up a list of known devices, with your own connected phone at the top of the list:

In my case, you can see that there are at least three more devices that are stored in the vehicle's database, Paul D., Todd D's iPhone, and iPhone, along with my own "iDave 12 Pro". If your phone isn't currently connected, scroll down to find it.
Now the somewhat unintuitive step: Tap or choose your phone from this point. It seems like it's a "connect" gesture from the interface, but in fact it brings up a number of options:

Here you can see all the major options and, as I said, it's pretty clear how to proceed. If you want to disconnect your device (which won't remove it from the car's database) then choose "Disconnect device". This can be handy if you have two connected phones in the vehicle (maybe you're now giving your buddy a ride in his car?) and the car is picking the wrong one.
DELETE A PHONE FROM BMW BLUETOOTH
What you really want to do before you return the vehicle, however, is to actually delete your device from the Bluetooth database. As you can imagine, that's accomplished by choosing "Delete device" from the above screen…

Choose "Delete device" instead and, without any confirmation or other indication that it's done the job, you'll be moved back to the previous screen, but your phone won't show up:

You can confirm this has worked by going to the "Telephone" screen from the main HOME view. Instead of showing your phone, it should simply have no phones connected at all:

That's it. Mission accomplished and you've demonstrated excellent Bluetooth hygiene. More importantly, you probably want to leave a nice bottle of tequila or whisky in the vehicle along with a thank-you note. That was a very nice loaner!
Pro Tip: I've been writing about basic computing, including car systems, for many years. Please check out my computer basics and tutorials to see what other helpful articles I've written!