I just got a Netgear Nighthawk from my local AT&T store as a hotspot for traveling. Works well, but I'm really confused when it says "connect to attwifimanager" because I can't find that on the Web nor is there an attwifimanager app in the app store. Help!
I had the very same point of confusion when I started using my own Netgear Nighthawk hotspot, actually, and imagine that a lot of people who aren't network engineers are baffled by this. The device itself is really slick, very well designed and both powerful and flexible for use as a hotspot for multiple devices. What you might not realize because AT&T isn't always very forthcoming about it is that once you own the Nighthawk, you can actually use pay-as-you-go data SIMs to get the bandwidth when you need it and avoid paying for months you don't travel. That's what I do, paying approx $50 for 10GB of data when needed and zero on months when I know I'll have good Internet access and won't need the Nighthawk.
But that's another story. Let's stick to the administration of the unit itself. Suffice to say, it has one button as its user input mechanism and no touchscreen on the front, so there are very, very limited ways you can interact with the device. For those of you who aren't sure what it looks like, here's a photo: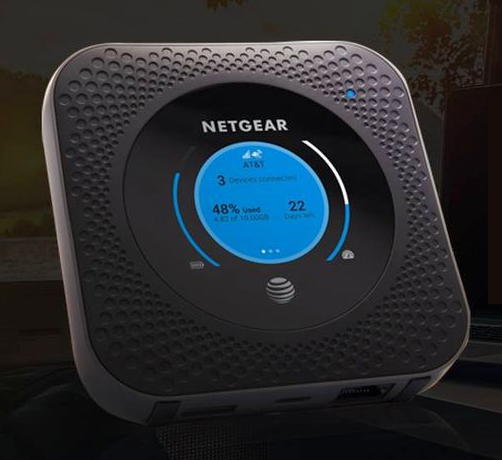 In the above photo, it shows battery life (the left curving blue bar), signal strength (the right curving blue bar), number of devices connected (3), percentage of data allotment used (48%) and what channel it's using (22) but mine doesn't seem to have the same info and offers a much more bare bones display of just the number of devices connected. Oh well. Instead, it prompts that:
To manage settings and features, connect to the mobile router and visit http://attwifimanager or use the NETGEAR Mobile app.
Leaving you to puzzle how exactly where this attwifimanager Web site is and how you connect to it!
You might just enter that into a browser like Microsoft Edge and end up with a Bing search result: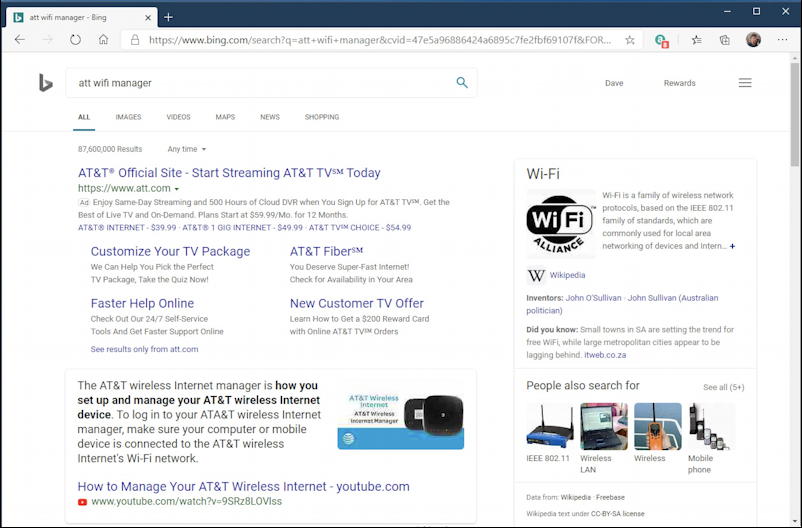 Not really very useful. You could be sneaky like me and add the suffix ".att.com" to see if it really means attwifimanager.att.com. Nope: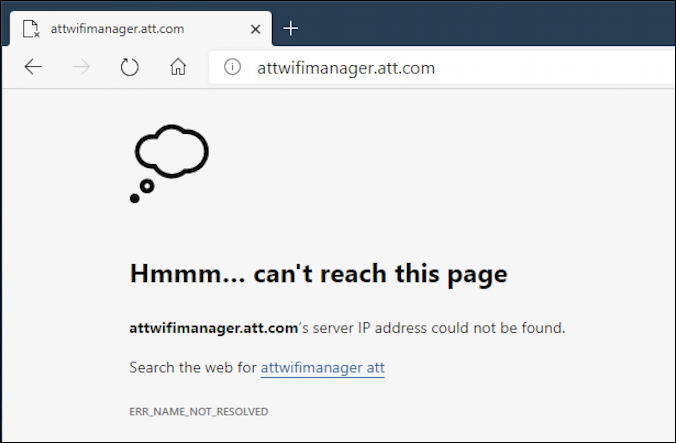 So what's the secret? To actually enter the domain with the http:// prefix while you're connected through the Nighthawk on your wifi settings. Then you'll actually connect to the device and suddenly be here: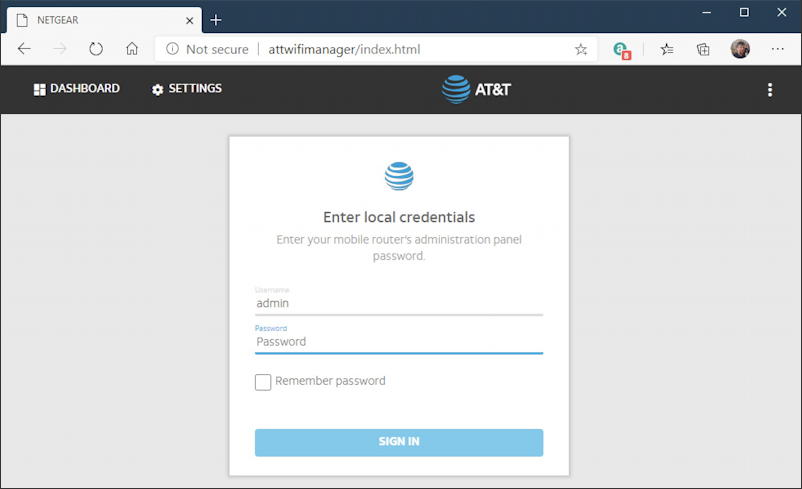 Which brings up the next question: what's your admin password? If you've never done this before and never changed the settings, the default (which is obviously not secure) is attadmin. So try that for the password and click "Sign In". Hopefully, you'll now be at the admin screen: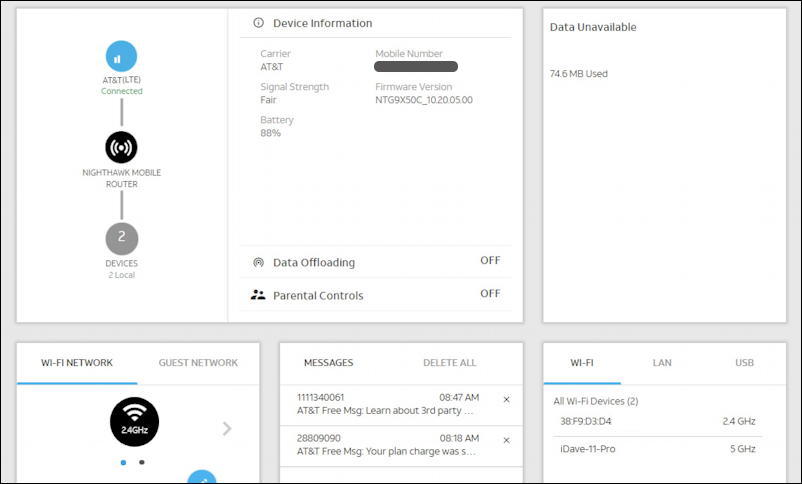 It's a bit tricky to see, but you can see it's connected and has two local devices (left side), signal strength (fair), the mobile number / SIM of this device (mine is redacted), parental controls (lower center, OFF), data used, and messages received from AT&T. Yes, your device can receive text messages. Kinda weird.
There's also a menu of options on the left (not shown, above) so I suggest your first step is to check for a firmware update. Go to Administration > Firmware Update and it'll have a quick look for you: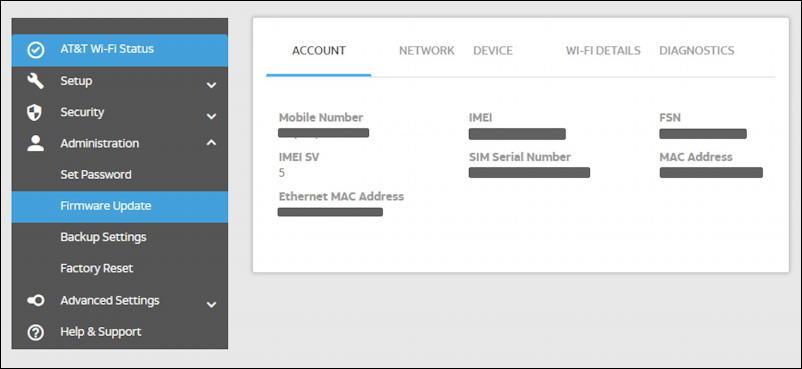 While you're in this area of attwifimanager, also click on "Set Password" to change your administrative password from attadmin to something even a smidge more secure…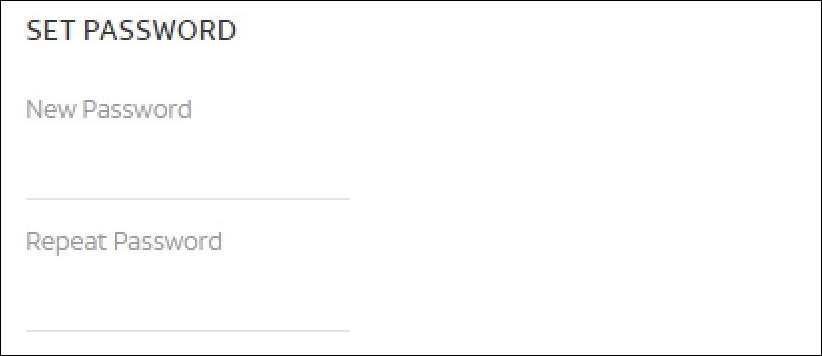 While you're on the admin view, go to Setup > Wi-Fi Profiles so you can ensure it's set up as you prefer:

Note that the 5 GHz is unrelated to the promised superfast "5G" cellular connectivity that's slowly being deployed throughout the world. Basically, older devices use 2.4 GHz connections to the Internet, while more modern devices like a smartphone and laptop do better with 5 GHz. Or allow both, which is the default!
That's it. When you're done with the settings and configuration – and you can change your 2.4 GHz and 5 GHz network access passwords too, if you want, then you can just close that browser window and know it's all updated. Easy once you know the secret.
Which might leave you, like me, with the question of okay, then how do I know how much bandwidth I've used on my pay-as-you-go SIM card? That answer is found by logging in to the AT&T Wireless Web site. To do that, you need to use the phone number of your SIM card (remember it's shown on the attwifimanager main screen!) to log in and indicate that you don't have an account. AT&T then sends a temporary access code to the Nighthawk so you'll need to go back into the admin screen to grab it! Do that in a different tab in your browser, it'll work fine, then log in. For me, I can see I've got a lot of bandwidth allocation left once I do:

Not as elegant as it could be, but now you know all the nuances of working with your AT&T Netgear Nighthawk!
Pro Tip: I've been writing about geeky tech like the Nighthawk for many years. You can find reviews of these sort of gadgets on my AskDaveTaylor YouTube channel and how-to tutorials here on AskDaveTaylor.com in my Computer and Internet Basics section!