I am really interested in Apple's new Apple TV+ streaming service, but don't want to pay for it. How can I get a subscription for free?
Good news! If you bought an Apple product in the last few months or are poised to buy something new from the company, it's quite likely you will get a year of Apple TV+ free as part of the purchase. If you have certain types of student Apple accounts that also apparently can qualify you for a free subscription. If not, well, $4.99/mo is the financial equivalent of going to a movie theater once every few months for a movie. Throw in popcorn and a soda and two movies will be the same price as a year of whatever Apple is going to share on Apple TV+. Not too bad.
Even better, you can have up to six family members on the same Apple TV+ account, so though it's not clear exactly how that's going to work at this juncture, being able to configure that lets you spread the value across more people too. Oh, and $4.99 is less than a Grande Caramel Macchiato at Starbucks too. Worth thinking about! 🙂
Anyway, the good news is that there's no new app to download. Apple cunningly prepared for this by expanding the features and capabilities of the Apple TV app that's already on your iPhone, iPad, AppleTV and even your Mac system. Sneaky, but smart.
As a result, on my new Apple iPhone 11 Pro, less than a month old, I just fired up Apple TV to see what would happen…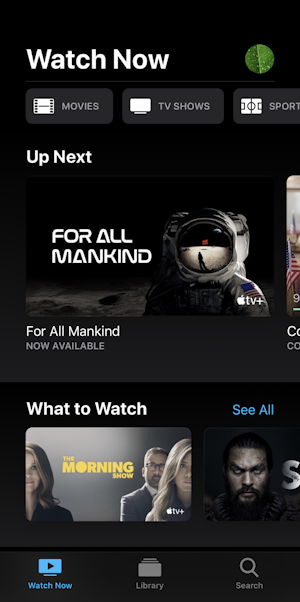 All the programs you can see on this Watch Now screen are from Apple TV+, as it happens. For All Mankind is an alternative history of the space race, The Morning Show is a dramedy about a morning TV production and SEE is a thriller starring Jason Momoa. Me? I'm most excited about being able to finally watch For All Mankind: The trailer for it looked amazing.
So, I'll just tap on "For All Mankind" to proceed.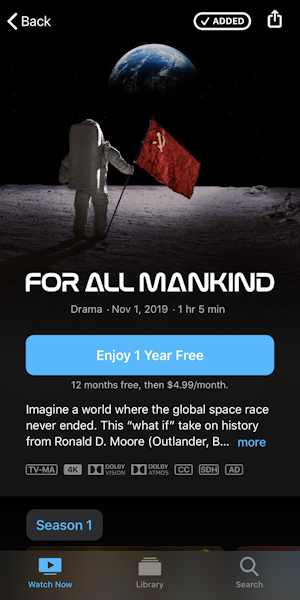 Well that's darn nice. I am happy to "Enjoy 1 Year Free". Notice that afterwards it's "$4.99/month". Again, not a huge cost but getting 12 months without charge is nice and saves me just a smidge under $60. That's a lotta popcorn, even at the local cineplex. Don't see this Enjoy 1 Year Free? Then you'll be seeing a 7 day trial so you can try it instead. Think you should have a free offer? Check Apple's site to find out the details or make sure you're connecting from the device that's new: When I checked from my somewhat older MacBook Pro it didn't offer the free year to me.
A tap on "Enjoy 1 Year Free" and…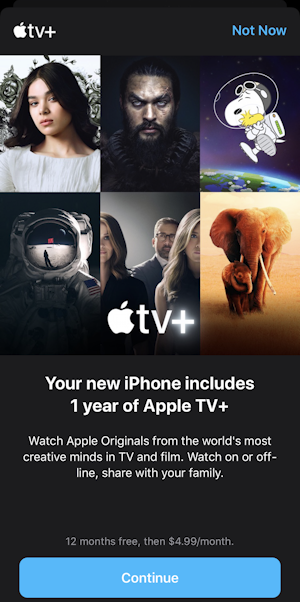 Snoopy in space? Wait a minute, did you know that Peanuts was going to be showing up on Apple TV+? I didn't. Another value add right there.
All looks good, so I'm going to proceed by tapping on the blue "Continue" button.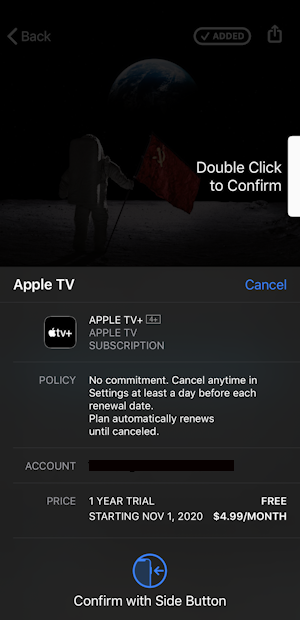 Looks good to me. A double click, a Face ID confirmation, and…
Good to go! Added, and ready to watch that first episode:
Not only that, but any other device where I'm also logged in to the same Apple ID now knows that I'm an Apple TV+ subscriber and offers the chance for me to watch content directly. For example, on my MacBook Pro in the Apple "TV" app:
So cool. Now I'm off to enjoy the first few episodes of For All Mankind on my TV. See ya later, y'all.
Pro Tip: I've been writing about Apple products for years. If you're looking for iPhone help, Apple Watch help or Mac help, I've got ya covered. Please check it out while you're here. Apple TV+ will wait a few minutes 🙂