I was just trying to update a few apps on my Samsung Galaxy S8 and got a "not enough space" error. How do I fix the problem in Android?
Devices keep offering more and more storage, but our data files, movies, and apps keep consuming more space too. It's what I call the "refrigerator problem" where however much space you free up before you go food shopping, there's always somehow just a bit more than you can easily fit into the fridge. Used to be 16GB was the base storage option, but nowadays 128GB is standard and "big" phones have 256GB. That's 1/4 of a terabyte of storage on your mobile device! Still, it can fill up and there are definitely some games that are remarkably greedy with space too, mostly for data storage.
The most common way to bump into the problem is to see an error in your Android system notifications that "Storage space running out" or when you're trying to update apps getting the "Out of space" error. Definitely best not to ignore the problem and while you can clean up email attachments and videos sent via text message, it turns out that the Android system on your Samsung Galaxy S8 has tools to help you figure out what's actually using all that storage.
To start, here's a typical error:
Not a happy day. So let's fix it!
Jump into Settings and then search for 'storage':
The first one is the option you seek, so tap on "Storage". If you aren't using search within Settings to make your life easier, well, you're complicating things unnecessarily.
Storage shows you a simple graph of space used and how it breaks down by category: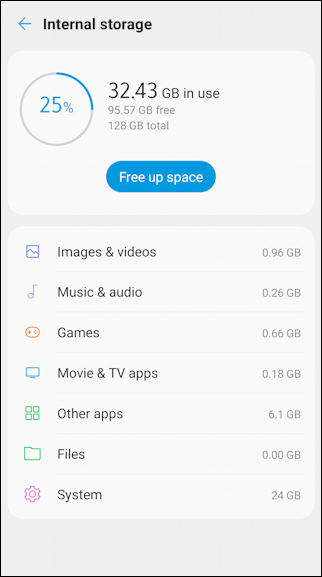 On this particular phone I have plenty of space, having only used 25% of the 128GB available. (actually since Android itself requires storage space, this phone only has 95.57GB available for the user, so really I'm using 32.43GB of 95.57GB or 33.3% of total space, but that's another discussion entirely)
The fast, easy and safe way to free up space is to tap on the ingeniously labelled "Free up space" button. That offers a quick way to remove caches, temporary files and other system detritus…
In this instance, there's not much storage to free up: 103MB out of even 95GB is a tiny fraction. On your device it might be quite a bit higher. Notice below it shows the three main categories and indicates that the 103MB is Temporary and "raw" files.
A tap on "Temporary files & raw files" offers a 'Delete' button:
You can also go back to the first Storage screen and tap on the various categories (Images & videos, Music & audio, Games, Movies & TV apps, etc) to see how much space each individual app is consuming. For example, if I tap on "Other apps" here's what I see:
Nothing atrocious, but sometimes you'll be surprised at how much space an otherwise innocuous program – perhaps one you don't even use! – is consuming. Delete 'em if they aren't important.
While we're at it, I'll also point out that you can see a similar analysis of memory usage on your phone too if that becomes an issue. Instead of search for 'storage', search for 'memory' and you can jump here:
Where it shows '3 hours' you can change it to show up to 24-hours of app analysis. A tap on "Memory used by apps" and the truth is revealed of which apps and games are the real memory hogs on your phone:
Other than Android system apps, there's nothing here of note. Your phone might well be quite a bit different!
Between those you should be able to clean up your storage and get back to that app update now. Good luck!
Pro Tip: I've been writing about Android for years. Please check out my extensive Android help library for lots more tutorials while you're here!