My friend gave me a couple of USB thumb drives that I would like to use for file storage on Windows. How can I format (reformat?) them so they're clean and ready to go? Running Windows 10, if that matters.
One of the unsung heroes of modern computing is the file system. Think about it: your computer probably has well over 100,000 files all neatly stored and organized on either an array of spinning disks or a circuit board full of memory chips. And none are ever missing bits, in the wrong place, or even mysteriously renamed. Well, assuming you don't have any malware or hardware failures. But generally speaking, our file systems do a great job of keeping that mass of data neat, clean and organized. Thank goodness!
The problem is, as time has passed, we've gotten dozens of different file systems as technology has improved, files have become bigger and storage devices have become bigger too. So reformatting a USB flash drive or even external drive is easy, but picking the right format to use? That can be a bit tricky.
Windows has also improved the external drive experience, so if you plug something in, generally you'll see a pop-up like this on the lower right of your window:

(you've probably never seen it so big and easy to read, eh?)
Click on the notification window to get a set of choices, or just ignore it and proceed. If these are unknown flash drives or thumb drives, however, I'd be leery of opening up any of the files in case they have malware or another malicious payload attached.
Jump straight to the Cortana/Win10 search box and type in "disk management":
The suggested control panel isn't actually a control panel, it's an administrative program, but that's okay. Click on the icon above "Create and format hard disk partitions" to get to the Windows format utility.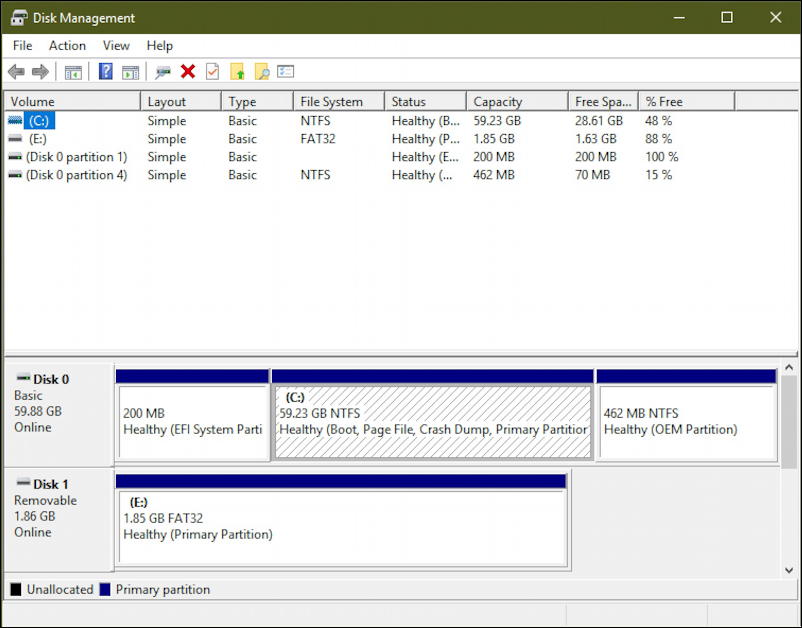 You're going to have to proceed carefully here because a mis-click and you could reformat your main hard drive, which would be catastrophic. So look on the lower part to ensure that you're choosing the Removable drive for your work. It's undoubtedly smaller than your main drive, especially if it's a USB flash drive. In my case, the external drive is 2GB in size, so it's showing 1.85GB. See it on the bottom?
Now right click on the corresponding drive letter on the top portion and you'll get a pop-up menu of choices:
Choose "Format…" as shown above and you'll get a smaller window listing the format options:
Here you can specify a new name (I suggest one without spaces for backwards compatibility), choose the file system and proceed. But let's pause for a second to talk about file formats. For a smaller drive, your options are going to be NTFS, FAT, FAT32 and ExFAT. My suggestion for maximum compatibility is the default of FAT32. The only problem with that format is that it maxes out on 4GB files so if you're going to have files bigger than that, you'll want to choose something else. NTFS works in that instance.
Now look at the title bar for this window. Is it the external drive letter you confirmed in the earlier step? "E:" is good. "C:" is really, really bad. Make sure it's showing "E:" or possibly "F:", then click "OK" to proceed.
One more check here: If you don't see E: on the top, cancel. Formatting C: or D: could be catastrophic. You've been warned.
Okay, good to proceed? Solid. Click on "OK" and in just a few seconds you'll be back at the main Disk Management tool window. Look at the info for E: on the lower portion and you should see everything set and ready to go:
Not only that, but right-click to get that context menu again and this time choose Properties and you'll see it all worked just fine, as hoped:
What's cool is that since you choose FAT32, it means that the USB flash drive is also Mac compatible too! Put it into a MacOS X system and it'll show up as just another external device. In fact, you can see its Get Info stats from the mac system too:
Notice that the Mac recognizes it's MS-DOS (FAT32). MS-DOS? Well, that's just what they call the format at Apple. 🙂
Pro Tip: I have hundreds and hundreds of Windows tutorials here on the site. Please check out my Windows help library for lots of additional content while you're here!