I've just updated to MacOS X 10.15 "Catalina" and am curious; how can I check for system updates and force an update if needed? Running on a 2019 Apple iMac if that makes a difference.
It's critically important for you to keep the software and operating system on your computer and other devices updated. There are too many hackers and malware authors in the wild now (often with government funding!) trying to figure out how to extract your personal data and information to just ignore the issue. Anti-virus? Yes, on some systems, though probably not on the Mac at this point. Updated MacOS X to ensure that security holes are patched and "exploits" are blocked? Most definitely.
The good news is that Apple has automated the whole process so for the most part you don't really have to do much of anything other than perhaps occasionally click "Now" when prompted if you want to apply a system update and restart your iMac or other Apple Mac device. Still, a bit of paranoia is not unreasonable, so let me show you how to quick check for updates and force one to be applied if it's available.
To start, let's use Spotlight.  Simultaneously press Command + Space and the Spotlight window will pop up on your Mac screen. Then type in 'software update', as shown: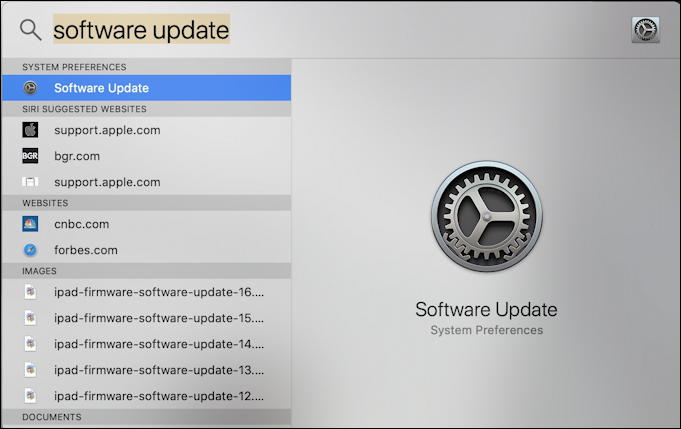 If you aren't already using Spotlight, oh, you're missing out on one of the best features of the modern MacOS X operating system. Try a few different searches, try typing in a word to get a definition, try entering a formula like (100/3)*(15.3**2) and watch how it solves mathematical equations too. Darn helpful, that Spotlight!
Anyway, in this case it's jumping us straight to the Software Update system preference which is exactly where we want to go. Sure, you could get there from Apple > System Preferences, but Spotlight is more cool 🙂  Launch it with a double click and here's what you'll probably see:
If there is an update available, this is where you'd see that information, along with the Update Now button that lets you proceed with the download and install.  Going back a bit with OS versions, you'd see something like this:
If you have a pending update, well, click on that darn Update Now and get on with it!
Either way, you'll also want to click on "Advanced…" to ensure that's set up to automatically keep you updated (oh, and check the box adjacent to "Automatically keep my Mac up to date" too, of course).
I recommend that you check every single box and have them all enabled. This will keep your computer as updated as possible without ever having to do much more than occasionally approve a restart. Easy.
Now your other question should be "great. now h0w do I also keep my apps updated too?". That's done mostly through individual apps – just launch them every so often for them to check if there are updates – but if you get apps, programs or games through the App Store, you can use the App Store updater too. Choose "App Store…" from the Apple menu, then click on 'Updates" on the left column once the store's running:
In this instance, I can see that both Kiwi for Gmail and WhatsApp Desktop have updated recently. Since there are no pending updates shown, I can rest assured that my App Store apps are all updated at this moment too. All up to date!
Pro Tip: I've been writing about MacOS X and its predecessors for many years. Please check out my extensive Mac help area for lots of tutorials and additional information.