I heard that there's a critical security update for Android devices and I'm wondering how I can check on my phone and force the update if there's one available?
There are a lot of different versions of Android in the wild, so it's hard to know without checking whether the important security update for one might be applicable – or even an option – for a different Android device. For example, Huawei and LG have their own versions of Android with a UI experience layer on top, while the Google Pixel phones run unaltered Android, but are often an Android version or two ahead of everyone else. Still, the process of checking for a system or security update is the same across most all Android devices, so that should be easy, at least.
Keep in mind that there are also billions of Android devices, so if it's a generally applicable security or system update, the demand for that download could be crushingly enormous. This will translate into really slow download times and verification times, so don't start this process when you're five minutes from leaving home or departing from the office. When I did the update for this tutorial, it took the phone almost an hour to download and apply both of the available security updates!
HOW TO CHECK FOR AN ANDROID SECURITY UPDATE
The first step is to go into Settings on your Android device. You'll see a menu that should look reasonably similar to this: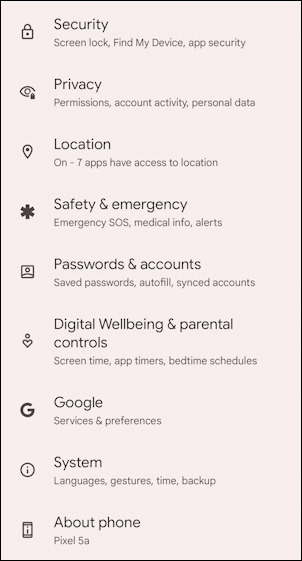 Again, your interface might present this differently, skip the icons, even use multiple colors to make it more visually interesting. This is a Google Pixel 5a without any fancy UI themes or skin.
While it may seem that "About phone" would be the logical place to check, you actually want to go to "System", even though the small print doesn't say anything about updates. Tap on "System".
On my phone it's already detected that there's an available update, as you can see with "Update available" under the entry "System update". It might not indicate that on your device, but tap on "System update" anyway. It might say "up to date" with a button you can tap to check for updates, or it might have already identified that there's a pending update to apply and begun downloading it:
The notes associated with updates are typically vague, so don't worry that this "fixes critical bugs and improves the performance and stability of your device." In fact, there's no easy way to ascertain exactly what's at the heart of this update, particularly when it's identified as a Security Update rather than a System or Android update.
You might have noticed that this update is only 401MB in size. Small, right? Quick to download, right? Well, maybe, maybe not. In my instance, even with a fast Internet connection, it was sloooowwww to download…
Eventually, though the update was fully downloaded so the phone could automatically apply it.
ANDROID OPTIMIZES YOUR DEVICE WITH AN UPDATE
Once it's downloaded, the installation process includes what Android calls "optimizing" your device. This, again, can take quite a while…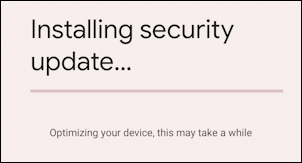 Finally once this is done – and, again, expect it to take a while – you'll be prompted to restart your device:

You can schedule an automatic middle-of-the-night update (it's suggesting 2:00 AM) or you can just restart immediately by tapping on "Restart now". Is it then done? Sometimes, but sometimes you restart and see this on your lock screen: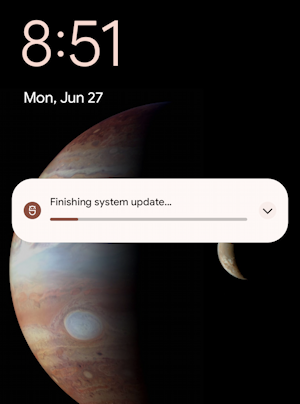 As I said earlier, patience, young Padawan. It will eventually finish updating and installing. Then I suggest that you go back to Settings > System > System Update and check again. In my case, there were two stacked updates, so I then had it apply a second security update after the first one was completed. Much time passed, but eventually, it showed this on the System Update screen: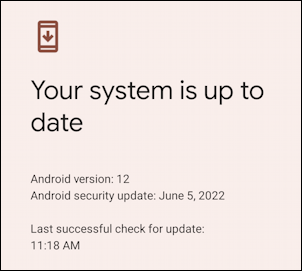 Will it be up-to-date tomorrow? That's why it's important to check. If you do so and it says you're up to date without applying any security updates, then try again in a day or two; sometimes these updates have to go through carrier verification so Samsung, AT&T, or even Xiaomi might have to test it before you can.
Pro Tip: I've been writing about Android since it was first released. Please do check out my extensive Android help area while you're visiting! Thanks.