I'd like to really be able to ask some questions of the Monster Energy social media people so I want to just message them on Twitter. How do I find which account is theirs?
Trying to figure out the social media accounts for many trademark brands is easy; just preface their name with an "@". For example, @Apple is Apple Computer (not that the company uses that account), @Dell is Dell Computer, @MTV is, well, MTV, @Visa is the credit card, and so on. @Monster, however, is not Monster Energy, but the job and career Web site Monster.com.
There are also a lot of companies that have dozens of Twitter accounts, like Procter and Gamble, that has just about every one of its home product brands (like @Tide and @Gain detergent and @Pampers diapers) registered on Twitter. It's complicated!
Fortunately Twitter search is your friend. Let's have a look…
The search box is at the top of the page on Twitter. Here's what it looks like on the desktop Web page interface:
As you start to type the company name you seek – like "monster" – Twitter will pop up suggestions:
If you're paying attention to logos then you can see @MonsterEner… but does it end "Energy"? Or something else?
Instead of clicking on one, simply press Return after entering the word or company name and you'll get to a page of search results on Twitter. The key: There are a set of categories shown:
There's a big debate about the "personhood" of companies, but… in this instance, you do want to click on "People" here to see what Twitter accounts match the word or phrase you've searched. With "monster", we get this: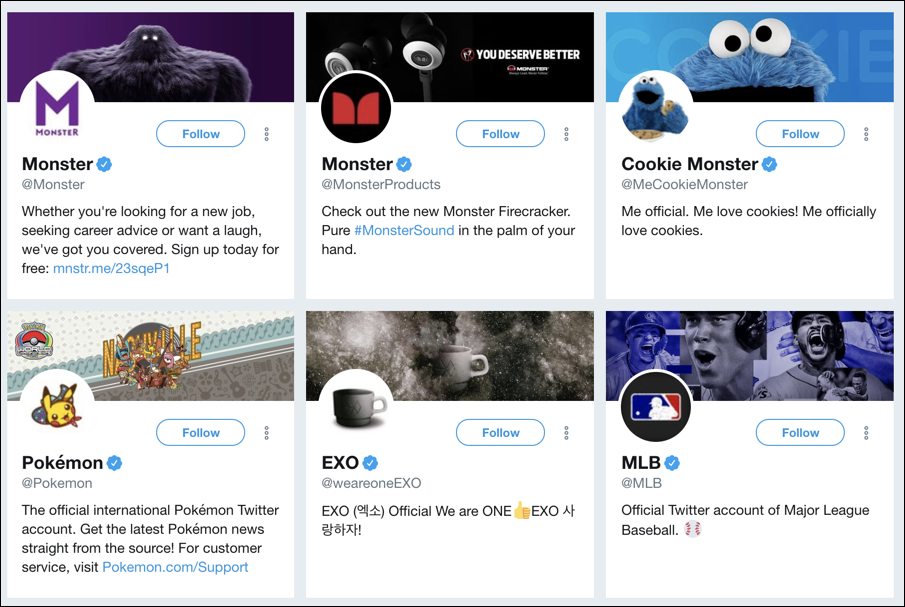 Lots of Monster possibilities (Exo?) but not what you want. Don't worry, scroll a bit further down and, surprise!, there are bunch of Monster Energy accounts:
In fact, as you can see, Monster Energy is known on Twitter as @MonsterEnergy. But there are a bunch of other accounts Monster Energy has too, so check all your results to see which is the best for you to try and communicate with the social media team. And good luck to you!
Pro Tip: We have a ton of Twitter help on the site. Please check it out while you're here, and don't forget to follow us on Twitter too: @DaveTaylor.