Want to show my kids I'm hip to new games, so I downloaded Harry Potter Wizards Unite. How can I send them my "friend code" so we can be on the same team?
The latest gaming rage is a game you'd have thought would have been released five years ago: Harry Potter Wizards Unite, from Niantic, the company behind the tremendously successful Nintendo Go "augmented reality" game. Pottermania isn't quite what it was five years ago, but Wizards Unite is still getting a ton of downloads, however, so maybe we just had to wait until the wizarding world was ready to share its magic with us technologically. 🙂
Anyway, Harry Potter Wizards Unite is a game where you interact with imaginary objects superimposed over the world around you. In fact, it all takes place on a map of your current location, which means that the game board is basically the size of planet Earth. Impressive! Better yet, it's free to download and play (though there are a ton of upgrades and improvements you can get for a few dollars in-app investment).
Download it, get the basics set up, and you'll see something like this as the main map / adventure view:
I'm in a pretty quiet spot but there are a few things to check out just a few blocks away. More importantly, notice the buttons along the bottom. Lower left is my profile and you can see I'm at level 2 (yeah, just started playing!). A tap and I can see my full wizard profile, err, Ministry ID: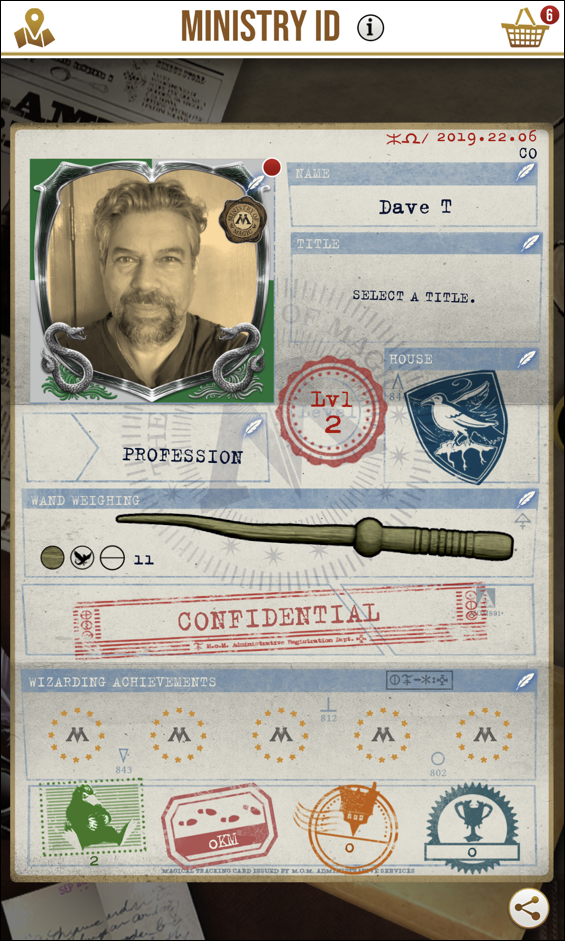 Note to parents: See the tiny handbasket icon on the top right with the even tinier '6' shown? That's six in-app purchases that it's default pre-loaded into my shopping basket. Which means if your kids are playing the game, it's remarkably easy for them to accidentally or cluelessly make some purchases. Talk to them about it before there's a problem!
This is my Ministry ID and it shows what wizarding house I'm in (Ravenclaw, woot!), my wand, name, photo, etc. These can be shared with friends by using the little "<" button on the lower right. This is not, however, where you'll find your friend code.
To do that, go back to the main map view and tap on the "two wizards" icon just above your Ministry ID button. That opens up this information:
Looks like a smart idea, joining forces with others. Let's do it! Tap on "+ ADD FRIEND" and it'll show your friend code:
Want to text that to your friends? Or post it on your Instagram Story or on Facebook or similar? Tap on the "SHARE" button and a lot of options appear:
Pretty standard share menu on an iPhone, at least.
Now, what if someone's sent you their friend code from Harry Potter Wizards Unite? Tap on "ADD FRIEND" instead of the share button and you'll have a chance to paste – or type – it in:
One smart bit of design: Having someone's friend code (like mine!) doesn't automatically make you friends. It lets you request a connection, but since you can only have a max of 200 friends, probably you want to be at least a bit selective about who you partner up with. 🙂
Enter their 12-digit code, tap "SEND" and they'll see that you want to hook up in the game:
It might be five minutes, it might be a week until they notice. If it takes them a week, though, they're probably not a very active player, right?
Oh, and a bit surprisingly, you can get a new friend code in the game at any time by tapping on the circular 'recycling' button:
Notice that it doesn't jettison your current list of friends, just changes the code. Hmm… maybe I should do that? 🙂
Anyway, have fun with Harry Potter Wizards Unite. It's a pretty darn slick game idea and if enough people are playing it, you're bound to have fun, even when stuck in otherwise boring places!
Pro Tip: I have tons of iPhone help and Android help here on the site. Check it out while you're here; Harry's wizarding world can wait five minutes. I promise!