I constantly lose track of my Google Pixel phone. Either it's at work, in the break room, in my car or at home, but somehow I never know where it is. Does Android have an equivalent to "Find My iPhone" on Apple devices? Help!
Say what you will about those old school dial phones from the 70's and 80's, at least they were tethered to the wall and couldn't vanish somewhere in the house! Heck, if you lost it, you could just follow the phone cord and find it under the couch, stuck in a closet with a sneaky teen, whatever. Nowadays with small mobile devices, we're losing things all the time! In fact, Statistica estimates that 45% of 18-24 year old smartphone owners have lost or had their smartphone stolen at some point in 2012. Seems a bit hard to believe, but if "lost" means any stretch of time longer than 30 minutes, then it's probably 90% or higher!
And let's not even talk about things like tiny wireless earbuds. The alarming statistics are more around how many people have lost one or more of their AirPods earbuds or similar. CBS News reports that over $700 million in AirPods sales at Apple are people buying replacement earbuds for one that they lost. Things get smaller, and we lose them. Not so good.
Fortunately with the increasingly powerful geolocation features of these devices, there are now helpful programs and services that let you identify the current or last known location of a smartphone. On the iOS / iPhone side it's Find My iPhone (now just known as "Find My") and on the Android side, yes, there's an identical service called "Find My Phone".
In fact, you can Google that phrase – Find My Phone – and it'll show you where your phone is on the search results page:
See that blue circle? That's where my phone is right now. Am I there? Well, err, no.
If you have more than one phone hooked up to your account, you can choose between them right in this window too, but click on the location and you'll go to the more specific Find My Device page with various recovery options: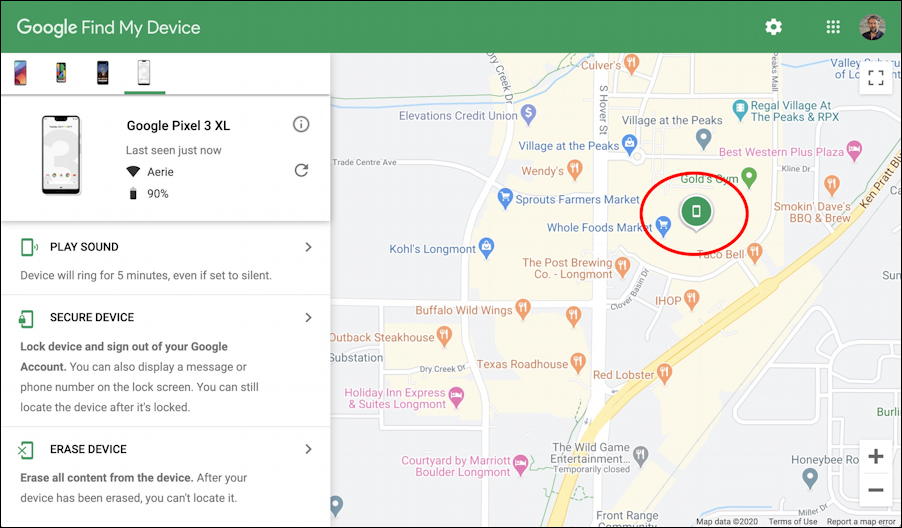 First off, notice that clicking on the "i" in the circle brings up some basic info about your phone, if you're not sure it's the correct device: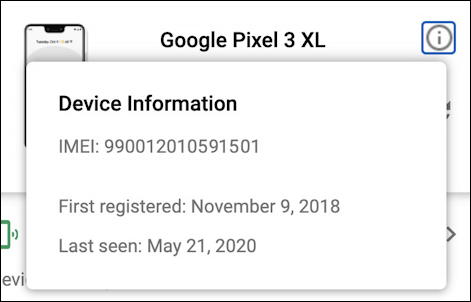 Much more interesting are the various features and capabilities associated with recovering your device. Start with "PLAY SOUND":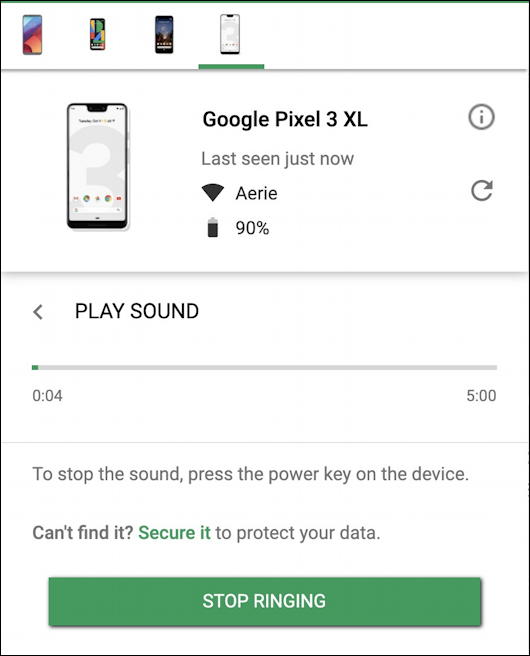 It'll play a cheery ringtone sound for up to five minutes, even if you have the device muted or sound off. Lost somewhere in the house? This feature is your best friend. You can stop the ringing by tapping on the green "STOP RINGING" button or unlocking the phone once you find it. A definite lifesaver.
If someone grabbed it – perhaps to figure out how to return it to you – then you can simultaneously lock the phone and send them a message on the lock screen both with "SECURE DEVICE":
You can see that I specified I'd pay someone $20 to call me and help recover the phone and added a different number (obviously, calling your cellphone number isn't going to be helpful). Here's what is then displayed on the smartphone screen:
Notice that the number I specified isn't shown, so the person holding the phone would have to use the phone itself to call. Not so good if the battery's just about dead, but a nice touch from a privacy perspective.
And, finally, if you are convinced someone stole it and you aren't getting it back, it might be time for "ERASE DEVICE":
That's the big guns, however, so I wouldn't recommend you experiment with it unless you want to deal with the recovery process later.
Still, as you can see, make sure your phone is logged in to your Google account and you'll in fact have a number of options for identifying where it is on a map and sending various events to make it easier to find and recover. Now, good luck!
Pro Tip: I've been writing about Android from the early days. Please check out my Android help area for lots more tutorials!