I just got an Apple Card and it's pretty darn cool, a heavy credit card with almost nothing written on it. Not even a card number. Which leads to my question: How do I identify card number, expiration date, CCV and all that if I need to type in the information for a transaction?
Apple's innovative new credit card is actually made out of titanium. Why titanium? Who knows, but it's a strong, dense metal that means you can probably use the card to fight off zombies post-apocalypse too, which might prove handy. It is also very minimalist where the only personalization on the card is your name embossed on the front surface. No credit card number (is it a VISA? A Mastercard?), no expiration date, nowhere to sign, it's a rethink of the entire personal credit transaction token concept, which is pretty cool.
It is also, however, a bit tricky to get used to because we're used to dumb credit cards. No smarts, no sophistication, just a magnetic strip, raised digits on the front on older cards, and maybe a chip embedded for greater security. The Apple Card, by contrast, pushes all of the smarts into the app on your iPhone. But even there, it's not an Apple Card app, it's buried within the functionality of the Wallet program. That's confusing too, but sometimes ya gotta live with the cost of being on the cutting edge, right?
Turns out you can find your credit card number, expy date, CCV, all that, within the Wallet app. Not entirely intuitive, I admit. I'll show you the path, though obviously I'll also be blanking out a fair amount of information because I don't want my own credit info out there on the Internet. Go figure. 🙂
Start in the Wallet app: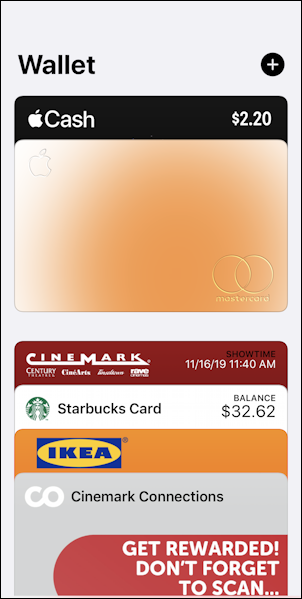 You can see my Cinemark, Starbucks and IKEA cards, but in the top portion are both Apple Cash and the hazy orange of the Apple Card. A tap on the card's face and you'll move into the Apple Card owner interface:
You can see all sorts of things here, notably my card balance – $19.15 – which days of the week I use the card and, off screen to the bottom, some of my latest transactions.
More important than any of that, however, is the black circle with the three dots on the top right. Tap on it and you'll get to the administrative screen and interface: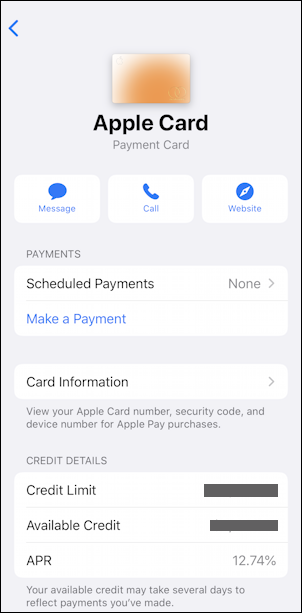 Lots of interesting information here, ranging from your annual percentage rate (APR: Mine's 12.74%) to your credit limit (if you like debt and spending flexibility, more is good. If you try to keep a tight lid on your spending, however, less is good). You can also schedule a payment, important to ensure that you don't miss your payment and end up paying interest or transaction fees. You can also call or text with an Apple Card expert from Goldman Sachs, the issuing bank, with a tap of the correct button. All very neat, really!
For our task, however, tap on "Card Information" in the middle. Here's what you see: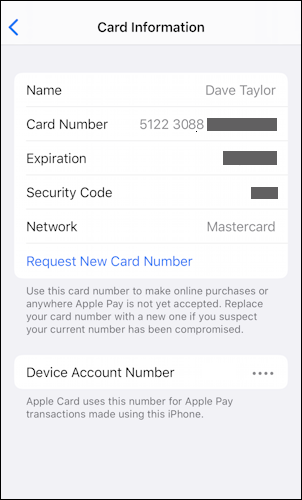 And now you know: It's a Mastercard! This should give you everything you need to proceed on a Web site that asks for you to manually enter information, from the card number to the expiration, security code and more. Remember, it'll still be using your home or billing address for the Apple Card itself.
Got hacked or seeing fraudulent transactions on your history? Go to this screen and tap "Request New Card Number". How's THAT for easy?
And here's a handy trick: Tap and hold on the credit card number and you'll have the option of copying it:
Nicely done, though why it's all buried in the Wallet app is a puzzle. Anyway, that should get you going!
Pro Tip: I've been writing about the iPhone forever. Please check out my extensive iPhone & iOS help library for lots more tutorials.