I was wondering if you have any help available for my folks who need to fill out their 2020 US Census data. Apparently it's all online now? Got a page that can help them fill everything out correctly? Thanks!
If someone says "census" it's common for people to imagine some local knocking on your door and asking you a bunch of questions while marking down your answer on a clipboard. The US Census is only taken every ten years and the last few times have marked significant updates and improvements. This year, 2020, the US Census is completely online and the only physical mail you will get from the Census Bureau is basically instructions on how to log in and fill out all those questions.
Turns out that the census is pretty important too, and has been mandated by the Constitution since the late 1700's. NRP says: "The census is required by the Constitution, which has called for an "actual enumeration" once a decade since 1790. The 2020 population numbers will shape how political power and federal tax dollars are shared in the U.S over the next 10 years."
If you don't have a document from the US Census Bureau, you can just go to the Web site and identify your home address to proceed, but more likely than not you'll get a blue sheet of paper in the mail. In addition to some basic instructions and explanation, it'll point you to the Census web site my2020census.gov. You will also have a unique Census ID. Mine looks like this:
Armed with that data, pop over to the site and it's actually pretty easy to navigate! You'll see this on the first page: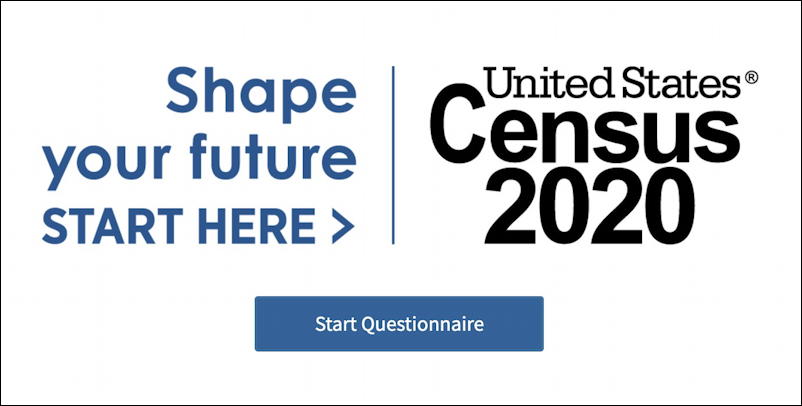 No big surprise, you'll want to click on "Start Questionnaire" to get started.
Do so and it'll prompt you to enter that Census ID:
Notice the "If you do not have a Census ID, click here" at the bottom. Hopefully you don't need that, but if you do, that's one way to proceed without the mail from the Census Bureau as a starting point.
More importantly, perhaps, on the bottom of every single page is a list of other languages you can choose for the entire questionnaire, and it's an impressive list:

You can flip back and forth on any question too if one is confusing or you're unsure how to proceed. In fact, it's all very well done and smooth to use!
Enter your code, and it'll confirm the address associated with that Census ID. For obvious reasons, I'm masking my home address in these screen images!
Looks good? Click "Next" to proceed. Or, just as a test, click on a different language to see how it immediately changes everything on the page to match:

Pretty cool stuff! Now, proceed by indicating if it's the correct address…
The system will ask for your full name and phone number. Remember this is a legal document so now is not the time to play games or use nicknames, fill this out as if it were a tax return document to be filed with the Internal Revenue Service:
Given that there are an estimated 128 million households in the United States of America, I have a suspicion that they won't be calling you or me any time soon. Still, best to put a proper and accurate number here regardless.
Once you've confirmed your address, there are two categories of questions you'll need to answer:
The Household questions are basically about your structure, ownership, etc…
Questions like this one:
Fill in and answer those to the best of your ability, then you'll be asked to list each and every resident at your home. Specify full legal name and ethnicity for each, adding additional names until you encompass everyone in your home, from grandma to Uncle Joe and that kid who sleeps in the basement. Finally, you'll get here:

You're not done yet, so keep going!
Another question or two and then, finally, you're at the end of the online 2020 US Census Questionnaire:
All good? No reason to back up and change anything? Then click that blue "Submit Questionnaire" button!
Finally the site will offer a receipt that's proof you've filled out the entire questionnaire:
You can print it out or save this page, as needed, but probably it's unnecessary and if you are seeing a confirmation like what I have above (tho yours will be longer). And that's it, you've successfully filled out the 2020 US Census Questionnaire online. Congrats!
Pro Tip: I have a lot of basic computer tutorials here on the site. Please do check them out in my computer basics help area while you're visiting. Thanks.