My brother is big into geocaching and likes to test me by sending addresses in latitude/longitude format. When he says something like "Have you tried the food at [address]?" I have no idea how to figure it out. Is there a trick to this? Here's his most recent: 38.9053915, -77.0568736. Help!
If you aren't a cartographer then odds are good you have forgotten that the Earth is divided into latitude (north/south, like timezone lines) and longitude (east/west, think of the Equator). 0,0 is in the Atlantic Ocean, just south of Ghana, if you're curious. Since we have such excellent maps and geographic data nowadays, our coordinates are far more sophisticated and accurate, even down to just a few feet, anywhere on the planet!
Geo-cachers utilize this highly precise addressing format because with it they can specify a location in an otherwise featureless area like a forest or desert. You can definitely be sufficiently accurate to specify a door on one side of a building, rather than just the building itself (which is what you get if you just use street addresses). There are a couple of common formats that are used, either using +/- to denote east/west or north/south, or actually using those letters. Your brother is using the fully digital notation with 38.9053915, -77.0568736. But we'll get to that. Let's start with the shorter, simple address 43N,87.3W.
MAPPING LAT/LONG WITH AN APP
One thing that might surprise you is that greater specificity doesn't mean that you're specifying a smaller and more precise location, so 43N,87.3W is a specific location, just as 43.450302N,87.35425W is a specific location. The greater precision allows the point to be "just a smidge" off from the shorter lat/long location.
On a Mac system, Apple Maps has a lot of sophistication with these sorts of addresses, though it's not the first way people think about addresses. For example, Apple Maps immediately figures out the closest city:
Click to Show it on Map and zoom out just a bit for context, and you can see where we're talking about: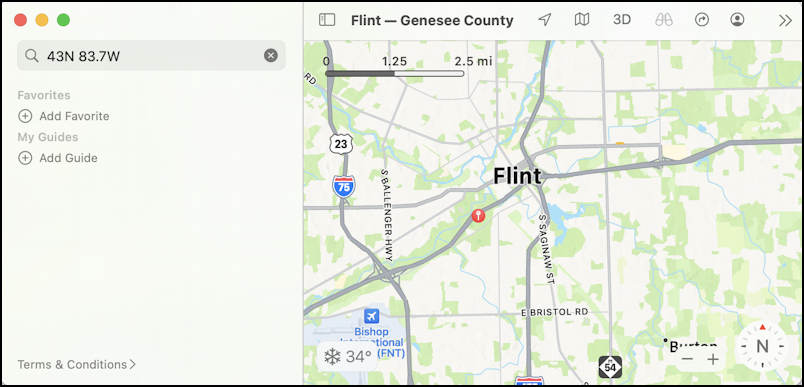 So it's just southwest from downtown Flint, Michigan.
Microsoft Maps can convert this address just as easily too, if you're on Windows: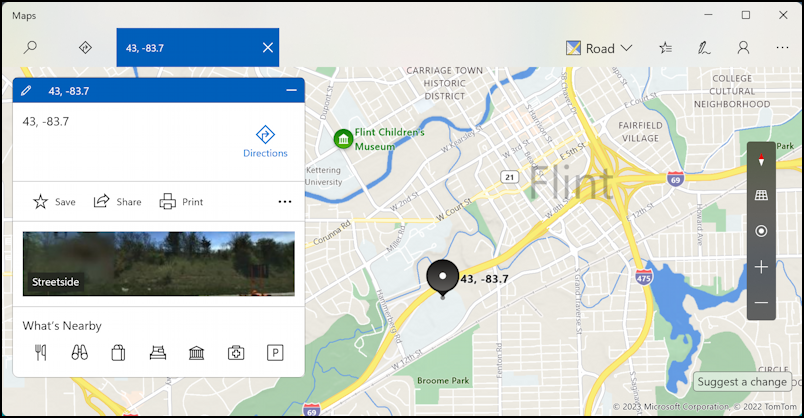 But what if you don't have either of these apps?
MAPPING LAT/LONG ONLINE
Turns out that you can just do a search for a latitude/longitude and the search engine will recognize the format and show the result on a map! Google does a good job if you go to Maps.Google.com:
Lots more detail in this online map and it's easy to find nearby restaurants, hotels, even transit stops.
But you don't even need to go to Maps. A regular search will show a small map too. Even Microsoft Bing can do this trick:
Lots of ways to figure out a location when you don't have a street address, that's for sure.
MAPPING DIGITAL LATITUDE/LONGITUDE TO ADDRESS
Now, what about that address your brother shared with you? Simply ask Google and the resultant map will require a bit of zooming in to identify the nearest business, but it's DAS Ethiopian Cuisine, an Ethiopian restaurant in Georgetown, Washington, DC: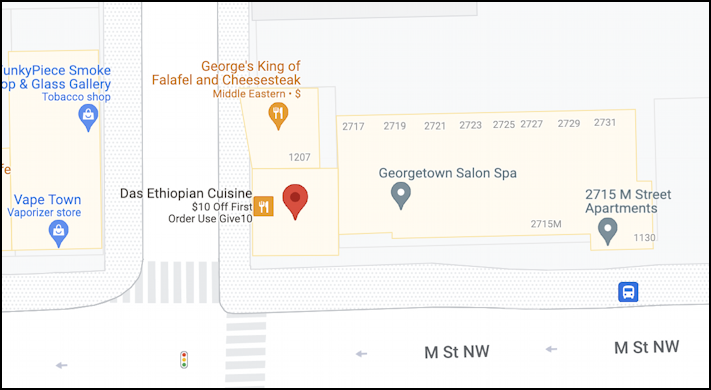 To identify this, I simply copied and pasted in the information you sent and zoomed in: 38.9053915, -77.0568736.
Now you know. Good luck!
Pro tip: I've been writing about computer and Internet basics for many years. Please check out my computer and Internet basics help area for lots more useful tutorials!