Given our current political climate, I wouldn't be surprised if Facebook shut down my account and kicked me off the platform any day now. I don't much care, other than I'd like a list of every one of my contacts before that happens. Is there a way to export my contacts list from Facebook?
You're correct that many social media sites are having to figure out how they can proceed given the occasionally fiery debates that they host between various site members. Obviously we as a society don't want to have websites that center on threats of violence against anyone or exist to help angry people organize violent events. On the other hand, who gets to decide what is and isn't acceptable speech? It's a tricky problem.
Having said that, I think it's much more common for Facebook to limit accounts then to actually kick people off the platform entirely. If you want to quit Facebook, however, it would still be entirely smart to export your contacts list and other personal data before you leave. If nothing else, it'll help ensure you don't have to reactivate your account in the future so you can log back in to grab the data and then "quit" Facebook again!
Fortunately, unlike a few years ago, Facebook has a lot of data export tools and lets you dial-in exactly what it is you want to export rather than just getting this massive chunk of photos, posts, comments, etc. In fact you can quite easily export just a list of your contacts. I'll demonstrate how to do that, but be warned that you might be a bit disappointed in the results. Let's have a look!
HOW TO EXPORT YOUR FACEBOOK CONTACTS
I'll go through the steps with Facebook's desktop interface. Log in to your Facebook account, then click on the tiny triangle on the top right and choose "Settings & Privacy". You'll then be in a menu that looks like this: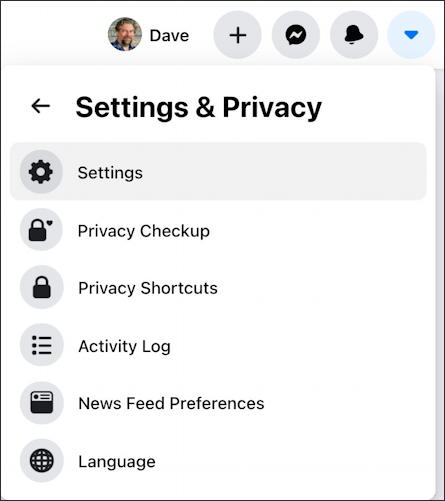 Before we go further, note "Privacy Checkup". Definitely worth running occasionally to make sure you still have all your personal data set as you prefer.
Ready to proceed? Choose "Settings" and you'll be whisked off to an entirely different area on Facebook with a lot of settings and preferences: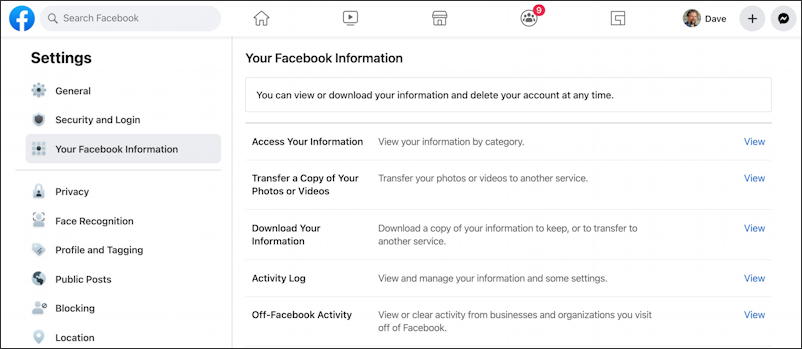 Here you want to choose "Your Facebook Information" from the left side, then Download Your Information" on the right side, about halfway down.
Before we leave this page, however, notice a few really important settings you can access here: Face Recognition (did you know you were by default in Facebook's facial recognition database and would be automatically tagged if you appear in a photo that anyone uploaded?) and Profile and Tagging. I encourage you to check both of those areas to ensure your account settings match your personal preferences for privacy.
But… back to task. Click on "Download Your Information" and it explains what options you have: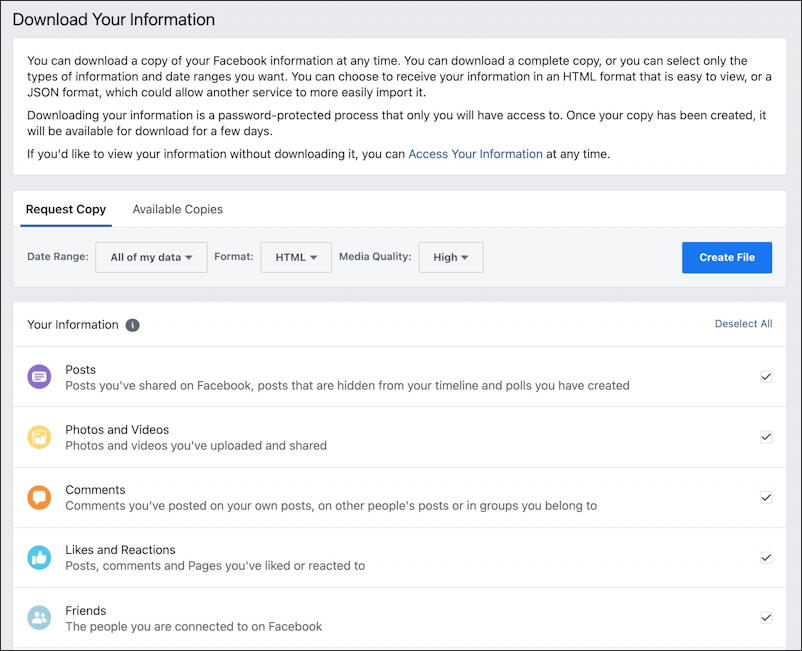 You can specify a date range for a data save, for example, if you just want to see what photos and videos you uploaded in the last six months, or you can proceed with the default settings and export everything you've ever done on Facebook. If you're like me, that's an enormous amount of data, so do proceed thoughtfully if you choose that option.
You can also just export your Facebook friends list by choosing "Deselect All" on the upper right then just choosing the checkbox adjacent to "Friends" (the last option shown in the image above) then click on "Create File".
Now your first surprise: It's not instant!

In fact, when I ran this test, it took 24 hours for Facebook to build this export, which suggests that either a lot of people are busy exporting data or they have one old PC sitting in the broom closet managing these requests. 🙂
At any point while you're waiting you can go to the same spot and check to see if the export's ready to download or not by clicking on the "Available Copies" option:

Eventually you'll get an email notification that the export is completed and ready to download and a little notice will show up in your Facebook Notifications window too:

This time when you go to "Available Copies" you'll see a download link, unlike the Pending archive in the previous screen capture: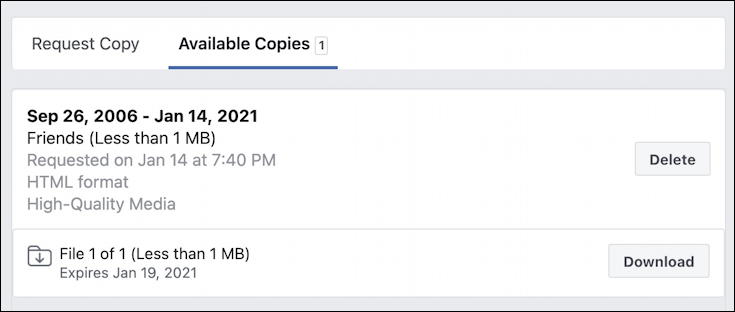 A click on the "Download" link and you'll find that you need to re-enter your password for security purposes…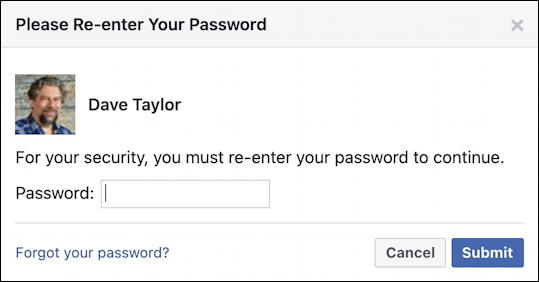 But then it'll download!
At which point you'll find that it's not really very helpful; it's an HTML Web page that basically just lists everyone's name: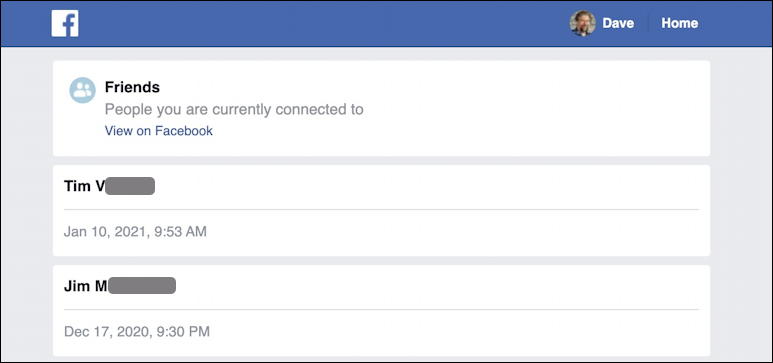 Honestly, it's so unhelpful (maybe 1% of my own contacts have any other information at all, like an email address) that I almost think it's Facebook's way of saying You want an export? Ha! We'll show you…
But at its most basic, it is a list of the names of everyone with whom you're connected. Mission sort of accomplished. Good luck!
Pro Tip: I've been writing about Facebook since it first came online. Please check out my extensive Facebook help library for tons more useful tutorials while you're visiting. And why not follow AskDaveTaylor on Facebook too, while you're clicking? Thanks!