I'm heading overseas for a few months and want to call my friends back in the USA from school without having to pay for a new phone line. I understand that's what AT&T Wi-FI Calling offers. How do I enable this service on my iPhone and how much does it cost?
If you're an old school phone user, it's hard to wrap your head around the modern approach to telephony. Back in the day, your local Ma Bell company would actually test the voltage drop on an incoming call to ascertain how many phones you had plugged in and bill you based on that if you had the temerity to plug in a third party handset. Zoom forward 50 years and not only are our phones way more flexible and mobile but the service itself now encompasses far more features and capabilities. A great example is Wi-Fi Calling.
And it's free with your AT&T cellular plan.
The basic idea is that your phone will compare the strength and speed of the Wi-Fi Internet signal against the cellular signal and choose whichever one is best when you initiate or answer a telephone call. If you're in the basement in the dorms watching your laundry spin where there's zero cell signal but great Internet, you can just automatically switch and still make that call back to check in with Mom. In fact, it's a perfect time for that, right? 🙂
Other cellular carriers offer a similar Wi-Fi calling program too, so it's definitely not an AT&T exclusive. Regardless of carrier, it's great, and includes two huge additional benefits that make it even better: other devices on your iCloud account can then make Wi-Fi based phone calls without your phone present (yes, you can make phone calls right off your Mac) and you can use Wi-Fi calling overseas to call US phone numbers without any charge at all. In other words, no need to get a local German, Zambian, Turkish or Peking number to call Mom and Dad.
HOW TO ENABLE WI-FI CALLING ON AT&T IPHONE
The feature is baked into Apple's iOS system so let's have a quick look at how to enable it and garner all these handy benefits…
Start out in the Settings app:
Odds are good you've never tapped on "Cellular" as you've assumed that it doesn't include any settings you can change. Turns out that's not exactly correct.
In fact, here's what you'll see:
There's quite a bit of interesting information in this area, including the ability to set up a Personal Hotspot. Beware of that, however: if your plan doesn't include that feature, it might be unavailable, or it might automatically trigger a change on your cellular bill to encompass the hotspot feature. Even if you just test it out once and decide it's not worth using in the future. Generally speaking, AT&T doesn't offer unlimited bandwidth and a Personal Hotspot on the same account too.
What we want to explore, however, is the center portion. Since I'm with AT&T, that's what's shown with the Wi-Fi Calling area. If your iPhone has a different carrier, it will show the settings related to that carrier's Wi-Fi Calling plan and features, if available.
To proceed, tap on "Wi-Fi Calling", which brings up this screen:
If you were eagle-eyed, you noticed on the previous screen that I've enabled "Calls On Other Devices: When Nearby", which lets me answer a call on my MacBook if my iPhone's nearby. Wi-Fi calling is way better and far more flexible than that, so one of settings to change is "Add Wi-Fi Calling For Other Devices". But we're getting ahead of ourselves! Tap on the grey switch graphic adjacent to "Wi-Fi Calling On This iPhone" to get things set up!
A warning pops up:
In case you can't read the small print it says:
"When you join a network, the country where the network connection is made may be sent to your carrier and your cellular identity may be sent to the Wi-Fi network operator. The city may be sent to the carrier for routing short code calls. This can be changed in Settings."
Unless you're heading to a repressive nation with highly monitored Internet connectivity, I suggest this is nothing at all to worry about. Tap on "Enable".
Done!
Since you can now call 9-1-1 in an emergency situation from a Wi-Fi enabled device – like your iPad or Mac – it's a smart idea to update your emergency address so first responders can head to the correct address in an emergency. Tap on "Update Emergency Address" to do that…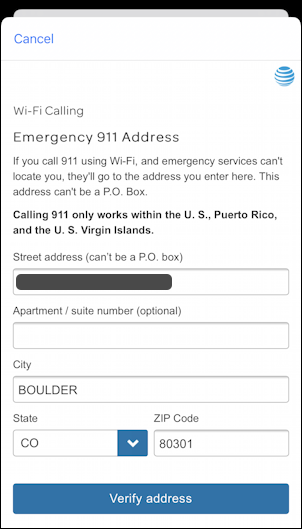 Again, the small print: "If you call 911 using Wi-Fi, and emergency services can't locate you, they'll go to the address you enter here. This address can't be a P.O.Box. Calling 911 only works within the U.S., Puerto Rico, and the U.S. Virgin Islands."
Tap on "Verify address" when you're done entering your address [note: Mine was about 8 years out of date when I checked. Yikes!] and you're ready to use Wi-Fi Calling. Not only that, but your other devices will pop up messages similar to this so you know it's worked:
Pretty cool and wayyyy better than worrying about being billed for an extra phone on your home service. 🙂
Pro Tip: I've been writing about the Apple iPhone and offering up useful iPhone help since the launch of the popular smartphone. Please check it out while you're visiting. Thanks!