I have a couple of Arlo webcams and just got an email this morning that the company is requiring people to enable "two step verification". What's that and how can I enable it so I can still remotely access my video streams?
Think about the cameras you have in your home and office. Now imagine that someone you didn't know was watching that livestream, spying on you and your family or co-workers. Listening to your conversations. Recording it all for nefarious purposes. Alarming, isn't it? That's why Arlo (a division of Netgear) has joined the march to better account verification to ensure that doesn't happen.
Two-step verification is pretty darn easy too: Instead of just needing your password to log in and access the video stream via the Web or a mobile app, you will need to have your phone in hand to prove it's really you. The two steps are 1. enter your password, then 2. enter the secret code that Arlo sends you via text message to prove you're really who you are pretending to be. There are a ton of online services that are now using two-step verification and certainly any site with critical information (think banks) should have long ago enabled this feature and required you to utilize it.
Arlo has stated that by Dec 31, 2020 every single account will be required to have two-step verification enabled, so you're just getting ahead of the game so you aren't part of that last minute panic update! 🙂
The easiest way to enable two-step verification on your Arlo account is to actually use their Web site. Go to my.arlo.com and you'll be presented with a login prompt:
Log in as usual, with the same account credentials that you used to set up the mobile app, and you'll soon enough be logged in and seeing a list of all your Arlo devices:

I can click on either Garage or Front Room to see the video (yes, from the Web!) but to set up two-step verification, I'll instead click on "Profile" on the left. This brings up a list of options:
No surprise, click on "Two-Step Verification" to proceed. You'll get to a very minimal page with one item on it and no explanation:
Click to enable this and the screen will promptly change to: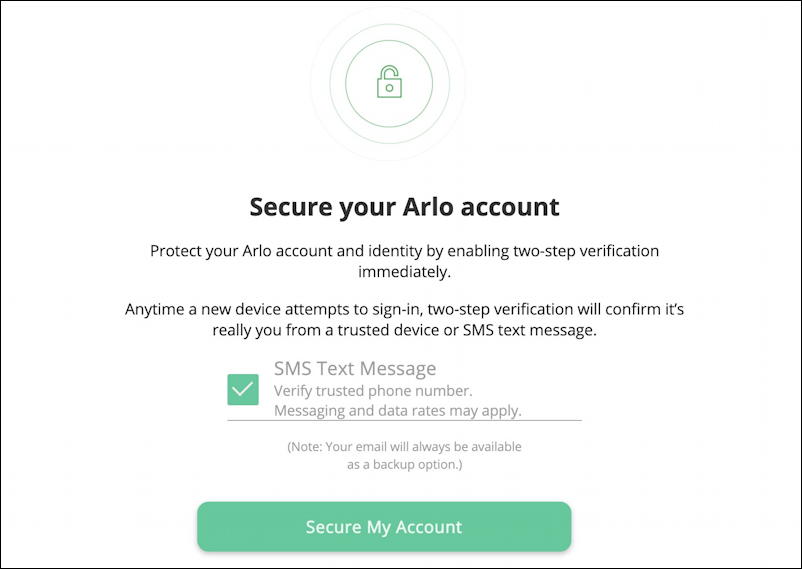 I found this a bit confusing because I wanted to actually type in my phone number in the middle of this screen but that's not how it's designed. D'oh! Instead, click on "Secure My Account" to proceed further…
Ahh, that makes more sense. Enter your smartphone number and click "Continue". A text message will show up on your phone similar to this:
Got it? My one-time secret pairing code is 539199. It will, of course, change every single time it's sent, so sharing it with you is not a risky proposition. That's the whole idea of two-step verification, actually!
On the Web site, it's prompting for this code which I can then quickly enter:
Once you click on "Continue" you're done. It doesn't say "done. all set up. nice job" but know it has worked.
If you want to verify it, go back to your mobile device and launch the Arlo app. Instead of the usual automatic login, it'll prompt you for the code:
In this case, it's a different 6-digit number. I enter it, tap on "Continue" and have this appear:
I trust my own device and you probably should too since it'll receive the two-step verification codes anyway (unless you disable it or move your number). This is more useful if you want to log in to your Arlo account from a third party device like a friend's phone. Either way, that's it. Two-step verification enabled on my Arlo account. Nicely done.
Pro Tip: I've been writing about online security for many years. Please check out my computer and Internet basics help area for lots more tutorials.