I've been stuck using Outlook.com for my new job and I really miss Gmail. One great Gmail feature is keyboard shortcuts, which helps me be really efficient. Does Outlook have a similar feature or option?
Microsoft has put a lot of work into making Outlook.com one of the best Web-based email programs available, particularly with its tight integration with Office 365, OneDrive, and similar. But it's no Gmail. Which some people might see that as a positive, but from a usability perspective, Google's really worked to ensure that the over 1 billion active Gmail users can move quickly and efficiently through their inbox and email messages. One Gmail feature I use all the time is the one you ask about: keyboard shortcuts. Mostly it's '\' to file email messages in the trash, but that's another story. 🙂
While it's easy to just use Outlook without making any customizations, the fact is that Outlook has a deep and rich set of features and options, more than Gmail, Yahoo Mail, or just about any other web-based "software as a service" email program available. And it's all accessible from the gear icon. One feature that people don't know about? Keyboard shortcuts.
Let's check it out!
ENABLE KEYBOARD SHORTCUTS IN OUTLOOK.COM
Go to Outlook.com and log in to your email account. Now press the "?" key on your keyboard without being in a message composition window. If nothing happens you need to enable keyboard shortcuts. If you get a cheat sheet summary of shortcuts, you've already enabled it and just need to study what options you have. In the latter case, however, there are a number of different shortcut settings that let you emulate your favorite other email program – including Gmail – so it's still helpful to follow along.
Start by clicking on the gear icon on the top right.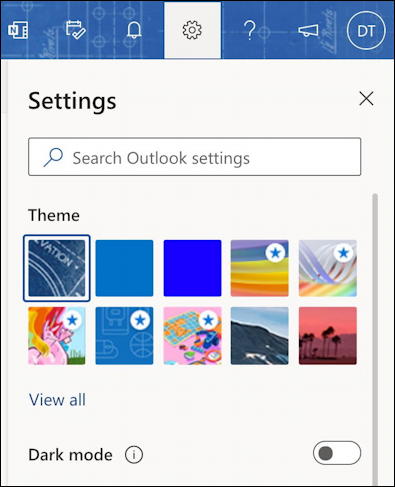 A long menu appears with some handy shortcuts, including popular themes you can try and Dark mode, which will give you white text on a dark background rather than vice-versa. More importantly for our task, there's that "Search Outlook settings" box. Utilize that to search for "shortcut":
There's the option: "Keyboard shortcuts". Click or tap on it to bring up the shortcuts preferences. If you didn't get any results from pressing "?" your window will look like this:
Notice that "Turn off keyboard shortcuts" is selected. That's no good! Try switching it to Outlook.com…
Make sure to click on the "Save" button on the lower right. Done. You've just enabled keyboard shortcuts for Outlook.com!
LEARN YOUR OUTLOOK.COM KEYBOARD SHORTCUTS
Now that you have them enabled, press the "?" key and you'll get a cheat sheet pop up with all the "key" capabilities: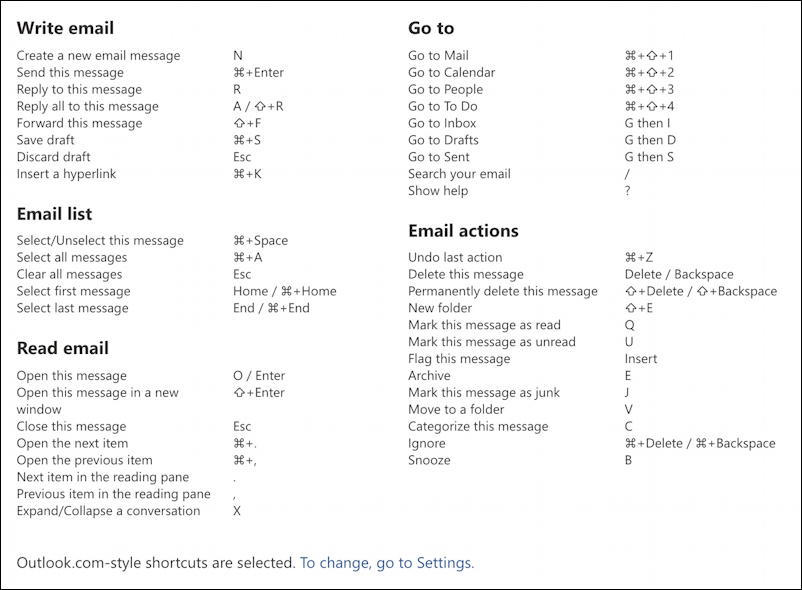 When you see the "/" it means that there are two possible keystrokes to attain that function. For example, you can open a message with "O" or "Enter" (in the Read email) section.
You can also switch to the Gmail shortcuts if you want to try those instead. Here's what they look like:
Fairly different. I suggest that you save and print out the keyboard shortcuts cheat sheet for Outlook.com, tape it up next to your display or monitor, then try the different shortcuts to start getting the hang of it. I suspect that you'll be zipping through Outlook's inbox in no time!
Pro Tip: I've been using and writing about Microsoft's Office Suite for many years. Please check out my Outlook help library for plenty of useful tutorials, as well as additional Office 365 help pages! Thanks.