I thought I had "hey siri" enabled on my older phone, but when I migrated all my info to my new iPhone 13, it's no longer working. How can I enable "Hey Siri" on my new iPhone running iOS 15?
One of the neat features of modern smartphones is that they can be always listening for their wake word, allowing you to interact with them without ever touching the device. While driving this is an obvious win but there are a lot of times you might want to just say "set timer for 30 minutes" or "remind me to pick up milk at 5pm" without having to tap away on the device. Apple's had Siri as its voice system and the service has definitely improved significantly over the last few years!
But you do have to enable Siri and then enable the "Hey Siri" listening feature. The good news? That processing is all done directly on your iPhone (or iPad) running iOS15 so there are no anxiety-provoking privacy issues. What's surprising, however, is that the usually infallible Settings search system isn't actually very helpful in this instance, so you'll want to follow along…
HOW TO FIND SIRI SETTINGS IN IOS15
Every time I go into Settings, I "pull down" from the top to reveal the search box and type in the setting or preference I seek. In this instance, however, a search for "siri" doesn't produce what we'd hope: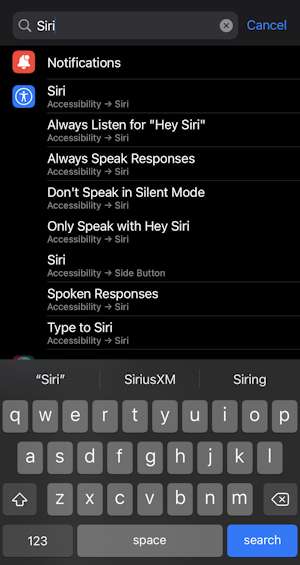 From glancing through this, you would think that all the needed settings are in Accessibility, right?
Wrong. If you go there, you'll find that they're all confusingly linked to Accessibility > Voice Control:
You can enable it if you want, but it's not Siri, it's a different system entirely. Why Apple links to this screen when you search for "Siri" is a bit of a mystery. Instead…
Go back to the main screen of Settings and swipe upward to scroll down until you find:
See it in the middle? Siri & Search. Tap on that…
SET UP "HEY SIRI" ON AN IPHONE OR IPAD, AND MORE…
Once you tap on "Siri & Search" there are a lot of interesting settings and options: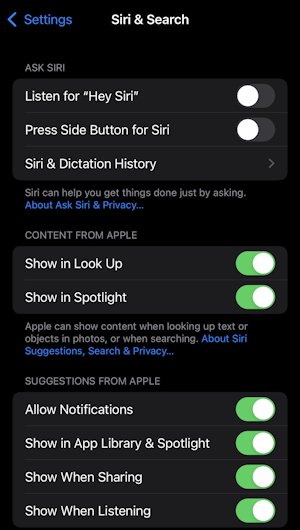 There's the setting you seek, right at the top: "Listen for Hey Siri". Enable that and you're good to go.
Unless you haven't enabled Siri overall yet, that is. In that case, you'll get this confirmation prompt:
In case you can't read that, it says "Siri sends information like your voice input, contacts, and location to Apple to process your requests." Good to proceed? Tap on "Enable Siri". Changed your mind? No worries, tap "Cancel", though you can't cancel this and have Hey Siri work. One or the other.
Proceeding? Sweet! Swipe down just a bit on the Siri & Search settings screen and you'll find an entry labelled "Siri Voice". Tap on that and you can choose how Siri sounds!
The default is American Female (Voices 1-4 are at different pitches, what we'd normally associate with male or female) but you can change it as you desire. I am partial to Australian Female Voice 4, but experiment and try different accents to learn which you prefer. There's no wrong choice!
ENABLE SHOW RESPONSES TOO
One additional option you can see that I really love on my devices is "Always Show Siri Captions" since sometimes I want Siri to respond to my requests, but not with its voice:
With this set, I can say something like "what's the temperature outside?" and get the following on my screen: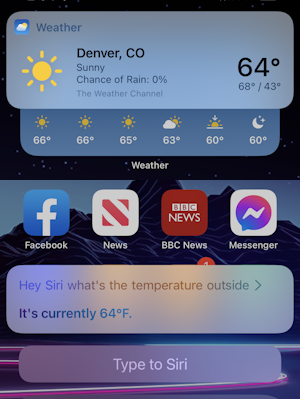 Notice it shows what I said, shows the response: "It's currently 64F" and has also popped up a notification with the same information in a more aesthetically pleasing format. Super handy, especially if you like to have your phone muted most of the time.
Pro Tip: I've been writing about the iPhone and iOS since the very first iPhone was released. Yes, I've owned every major iPhone model! I've also written quite a few iPhone help articles on a wide variety of topics, so please check 'em out while you're visiting. Thanks!