¡Hola Dave! I want to set up my Abuelo's new Android phone so he gets any emergency alerts in his area, and am hoping it can be in Español so he will be better able to understand them. Possible? If so, how can I set it up? Gracias, amigo.
The emergency alert system is a really smart use of modern phones and other devices, a system that is based on the fact that we humans are now looking at one screen or another for most of our waking hours. They've long had the Emergency Broadcast System on televisions, most commonly known because of the tests of the system, but this same network now extends to many online devices, most notably smartphones. Not only that but there are newer networks like the Amber Alert system that notifies people within a specific area of lost or abducted people and more. Historically just in English, there's been growing support for Spanish language broadcasts too. And all of this can be set up on your device!
To be more precise, the first emergency notification system in the United States was the CONELRAD (Control of Electromagnetic Radiation) system, implemented in 1951 during the height of the Cold War, which was replaced by the Emergency Broadcasting System from 1963 to 1997. The EBS was then replaced by the Emergency Alert System which we use today. The AMBER Alert system came online nationally in 2003 and is named after Amber Hagerman, a girl abducted while out riding her bike in Arlington, Texas.
But let's get back to Android settings, shall we?
SET UP SAFETY ALERTS IN ANDROID
Pick up your grandfather's Android phone and go into "Settings", then search for 'safety' to see the primary options:
Tap on "Public safety messages" to move to the correct spot in the rather Byzantine Android Settings app. You'll move to the "Safety & emergency" area and here's what you'll see:
You might want to detour and ensure that it's set up properly with Medical information and Emergency contacts, but this will be our starting point for setting things up. Ready? Tap on "Car crash detection".
CAR CRASH DETECTION ON ANDROID
Since Android devices have all sorts of motion sensors, it turns out that they can detect when there's a very sudden change in velocity that's typically correlated with an auto accident. That's "Car Crash Detection". Tap on "Car crash detection" on this menu and it will explain more:
I generally leave this disabled, but you might want to enable it if you're worried about your Abuelo's safety while he's out driving or in a car with friends.
Note that this might not be available on all Android phones, it might be unique to the Google Pixel line (I'm using my Pixel 6 Pro for this demo).
Back up to the previous screen after you've decided if you want to enable Car crash detection or leave it disabled.
ENABLE CRISIS ALERTS ON ANDROID
Tap on "Crisis alerts". I have mine enabled; why wouldn't you want to receive flood, tornado, and similar warnings?
Definitely enable this`. There's one more setting to enable…
ENABLE WIRELESS EMERGENCY ALERTS ON ANDROID
Before you're done, the one area with the most options – and the option to get those messages in Spanish – is "Wireless emergency alerts". Back up to the main Safety & emergency area and tap on "Wireless emergency alerts" at the bottom of that screen. This one has quite a few options you can change:
I have this disabled since the Pixel isn't my primary smartphone, but for your grandfather, I'd enable it. Do you need to include each and every type of emergency alert? That's up to you: Once you enable the category, you can then enable or disable each of the specific types of messages.
At the very bottom of this screen is another option you'll definitely want to enable: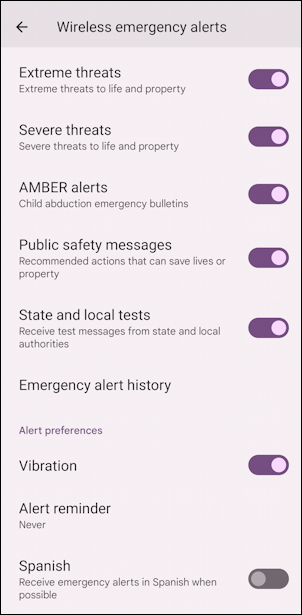 What I have set up above is pretty typical, but you'll want to add "Spanish". I don't think it will mean that each and every message received will be displayed in Spanish since they're from a variety of sources, but it will undoubtedly help your Abuelo be able to more quickly understand what's going on and make a smart decision about how to respond.  ¡Espero que eso ayude a mantener a tu abuelo a salvo!
Pro Tip: I've been writing about Android since the beginning. Please check out my extensive Android help area while you're visiting for lots more useful tutorials and guides! Thanks.