I have picked up a bad habit of checking my phone when I'm driving, which I know is really bad. But when those notifications pop up or someone texts me… It's better if I'm using CarPlay but is there a way to have my phone auto-respond that I'm driving if I'm in my car anyway?
You're definitely not alone in finding your smartphone a huge distraction while driving. Look around while you're on the road and you'll see 20-50% of other drivers will be looking at their screens, holding up their phone to talk, or having it in front of their face to continue a conversation. Hands free? Not so much. It's not only ubiquitous, but it's darn dangerous too. The addition of Apple CarPlay or Android Auto are significant improvements because the notifications show up on the navigation screen and you can be hands-free on calls or listening to music, podcasts, audio books or a streaming source. But when a text message comes in, the urge to pick up your phone and respond can be very hard to resist.
Fortunately, and finally, the most popular phone operating systems both have do not disturb features that can automatically engage when you're in a car. When enabled, they generally have an automatic text response to received text messages of the nature "I'm driving with Do Not Disturb While Driving turned on. I'll see your message when I get where I'm going." I'll show you where you can change the auto-response if you want, but yes, it's there.
ENABLE DO NOT DISTURB WHILE DRIVING IN IOS14 FOR IPHONES
To start, let's go through the various settings on an Apple iPhone, then I'll wrap up with how to set things up similarly on an Android phone, in case you have one of those as your preferred handheld.
Go into Settings and search for "do not disturb", as shown:
You can see that there are a fair number of different settings – Do Not Disturb for late night is great, by the way – but let's choose Do Not Disturb While Driving. Tap on that. You'll jump to a settings screen with quite a few options: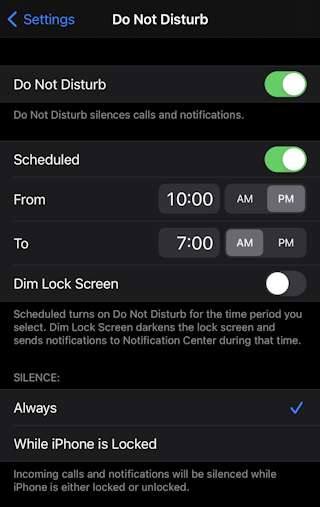 At the top of this set of options, you can enable Do Not Disturb and specify a start and end time. As you can see, I have it active from 10pm to 7am every night. During that time passage, repeated calls from my Favorites will still get through but there are no beeps, pings, trills or other sounds to disturb my sleep. A good thing. Set it up for yourself!
Then swipe down a little bit and you'll see that there are additional options: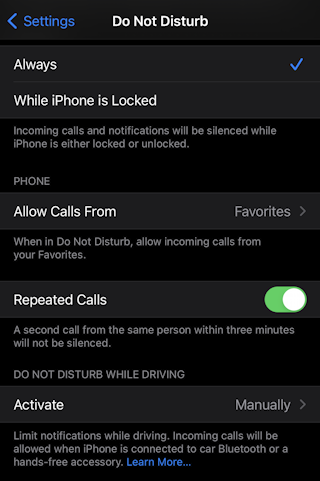 It's a bit hard to see with the dark theme enabled, but near the bottom it says "DO NOT DISTURB WHILE DRIVING" and has an Activate option. Mine is set to "Manually", currently, but let's fix that. Tap on "Activate".
Here are the options: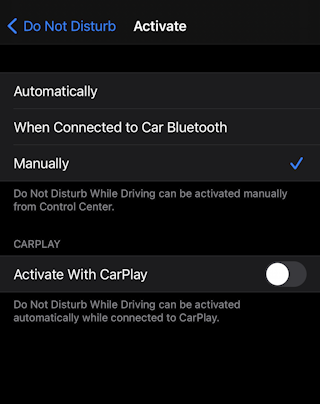 If you always use CarPlay when you're driving (and why wouldn't you?) then the easiest is to choose "Activate with CarPlay" at the bottom. If not, specify "When Connected to Car Bluetooth". If you choose "Automatically" be aware it will enable even if you're on the bus, in an Uber or a passenger in a friend's vehicle too.
Finally, if you want to keep it as "Manually", know that you can turn it on and off with a tap from Control Center (swipe inward from the top right corner). Here's what that button looks like: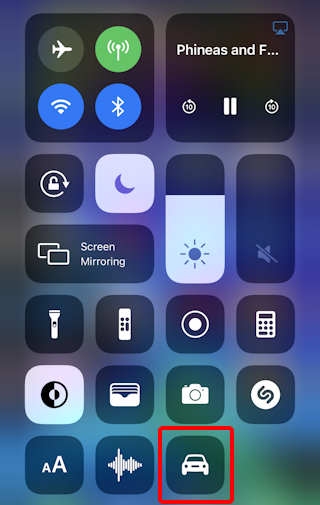 If you don't have that button, you can add it in Settings > Control Center, just swipe down to find it from the unused list and enable it. Here's a handy tutorial on how to enable Shazam and manage the Control Center for your iOS14 iPhone if needed too.
But what about Android?
ENABLE DO NOT DISTURB WHILE DRIVING IN ANDROID
Okay, so you don't have an iPhone. No worries, the latest versions of Android have very similar settings, though it revolves around Android Auto instead of CarPlay, of course. Let's have a quick look!
As with the iPhone, start by going into Settings. This time, however, we'll have to go to two places to get this set up. Start by searching for "do not disturb"…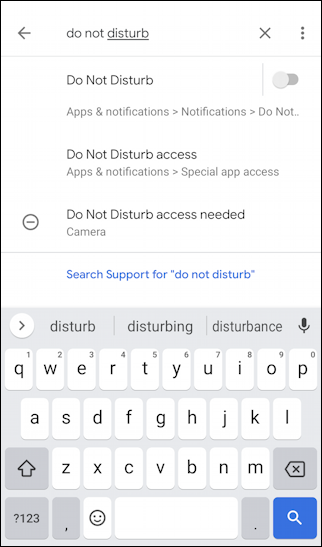 The key entry is the one with the toggle: "Do Not Disturb".
Tap on the words, however, and you'll see that there's a screen full of different settings and adjustments:
Lots you can fine tune to get exactly the behavior you want, but definitely turn on the late night do not disturb feature by tapping on "Schedules", where you'll find a few options conveniently predefined:
You can "Add more" and choose "Driving" if you want, but there's a better, more elegant way to solve this problem…
Go back to the main Settings screen and search for "android auto":
Choose "Android Auto" Connected devices > Connection preferences, the first option, and you'll see a set of connection preferences.
From the connection preferences list choose "Android Auto", the last of the choices:
Finally, you're at the Android Auto settings and options screen and there's exactly one option.
Just one. But it's exactly the right setting:
Tap on the blue "I'm in" button and you've just enabled Do Not Disturb while Driving (which Android calls "Driving Mode"). Smart move.
Note that if you don't use Android Auto, you can go here anyway and specify that when there are specific bluetooth connections that Driving Mode should automatically be enabled too: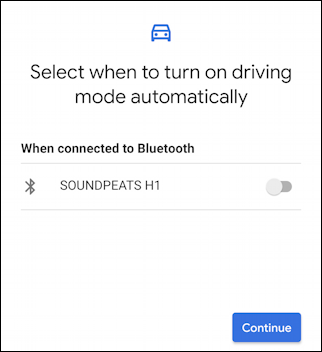 In this case I only have a pair of earbuds listed but connect to a vehicle or two and they'd show up here too. Easily done!
Between these two, you should definitely be able to change the settings on your smartphone, Apple or Android, to make your driving experience more focused, less distracting and safer. Everyone else on the road thanks you for making this smart choice.
Pro Tip: I've been writing how-to tutorials for both Android and the iPhone since they first came out. Please do check out my extensive iPhone help and Android help while you're visiting. Thanks!