I can't sleep because of the constant buzzing and notifications on my Android phone throughout the night. Stressful! Is there a way to disable notifications at night? I'm using a Samsung Galaxy S10 if that matters…
While every parent knows the benefit of being able to get late night calls from their children in an emergency, it's also the case that sometimes you just don't want your phone (or Android tablet!) bothering you. I get that. In fact, I have had do not disturb enabled on my Android devices for years because I do prefer sleep to 3am notifications of something that's not really very important. Clearly the Android development team have similar priorities because there are a lot of ways you can enable or work with Do Not Disturb on even early Android devices. On the very latest, it even includes "flip to shhh" which automatically puts your phone in Do Not Disturb mode every time it's screen down on a surface.
I'm going to split this into three different ways you can enable the Do Not Disturb mode, but don't forget, the easiest way is to just pop into "airplane mode" where everything's shut down. No wifi, no cellular, no anything. Not everyone's a fan, but I know a number of people who use that mode and never step foot on an airplane.
The easiest way to enable Do Not Disturb, however, is by simply pulling down the control screen (drag your finger down from the very top edge of your screen towards the center of your phone) and tapping on the "Do Not Disturb" icon:
Notice on the third row that there's "Airplane mode" too, if you want to try that. It's a bit more aggressive than just not getting notifications. 🙂
What most people don't know is that if you tap and hold on an icon like Do Not Disturb that the phone will move you to the corresponding area in Settings. It's a very handy shortcut, and in this instance you'll end up here: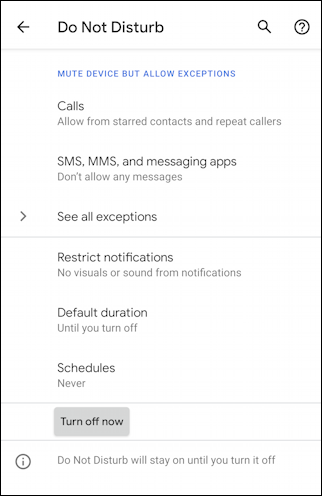 Notice the first option, Calls. If someone really wants to get ahold of you, they will be let through the Do Not Disturb wall after repeated calls. People who are on your favorites list ("starred" contacts) also get through. But everyone else? Tough luck. You can fine tune a lot of these and set exceptions for a child, spouse or similar as needed.
The interesting section is "Schedules". Tap on that and you'll see there are quite a few options: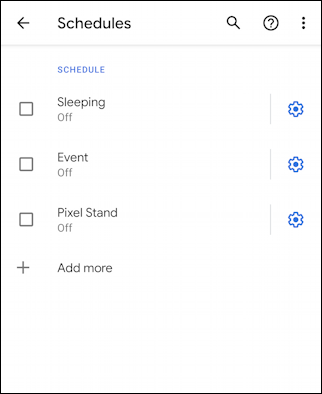 Notice that you can choose that every time your phone's charging on the Pixel Stand (a wireless charger for the Google Pixel, your Samsung won't have that same option) notifications are off. Or tie it to events like "at work" or "at my therapist's office" etc. But the best match for what you ask is "Sleeping". Tap on the corresponding checkbox to enable, then tap on the gear icon to fine tune the settings and times:
My settings are 10pm-7am every day of the week, and alarms are allowed to violate the rule if I have to wake up before 7am. Remember, this will still let starred contacts and repeated calls through because it's using the default do not disturb behavior (as specified on the very last entry). Fine tune this for your sleeping schedule and you're good to go. Ahh, a nice night's sleep.
But we're not quite done! On this same screen tap on the magnifying lens icon and search for 'flip':
The middle entry is what you seek. Tap on "Flip to Shhh" to proceed to this screen: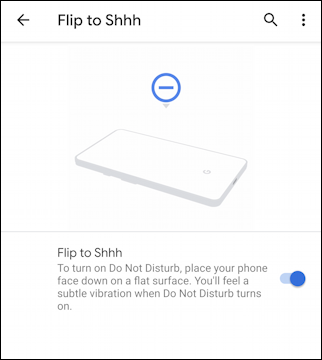 Enable this and every time you want peace and quiet, just flip your phone over so it's screen side down. Easy. And soooo useful.
Pro Tip: I've been writing about Android since the very beginning of the phone operating system. Please check out my extensive Android help area for tons more useful tutorials and guides while you're here. Thanks!