I understand that my Amazon Echo devices can actually serve as a home security system, listening for broken glass, smoke alarms, and more. So cool! How do I enable this feature?
Your Amazon Echo can indeed serve as a somewhat rudimentary home security system! Well, it's not entirely rudimentary if you set it up to control lights randomly and some of its other fancier features, but at its core, Alexa turns into a listening device that can detect some common bad sounds.
The question is whether you really want to have your Alexa listening and analyzing every sound in your apartment, house or office. Yes, it already does that listening for the "alexa" trigger word, but home security ups the analysis further and if you're also worried about privacy, it might be incompatible to have both Alexa Guard – as it's called – and a desire for privacy.
That's up to you, however, so I'll show you how to enable it through the Alexa app on your smartphone and you can then decide whether it meets your own desire for security and privacy. Deal? Great!
To start, fire up the Alexa app and tap on the "hamburger menu" icon on the top left (the three horizontal lines). It brings up a long menu, and you'll want to swipe down to find "Guard":
You do now about Hunches and Lists already, right? If not, you can sidetrack for a minute or two poking about 🙂
Once you tap on Alexa Guard, you'll end up here: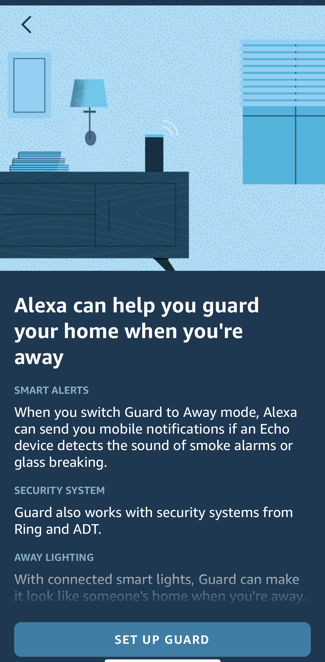 Worth highlighting is that if you have a "Ring" or "ADT" home security system, they're both Alexa-enabled, so can work with Guard. Pretty cool, actually, and no additional sensors required.
To proceed, tap on "Set Up Guard". Easy enough. There are four main features for the system you'll be able to enable, as desired:
Listen for smoke detectors? Why wouldn't you do that? Yes a Nest Protect or similar would be better, but that's a big investment and this is a free additional capability of your Amazon Echo device. I know which I prefer 🙂
Tap "Later" if you'd rather not have it monitor or "Add" if that sounds good.
Now, what about if someone breaks a window?
Again, there's no reason not to enable the glass breakage sensor if you're going to use Alexa Guard, so tap "Add".
Next up is having your lights go on and off even if you're away from home: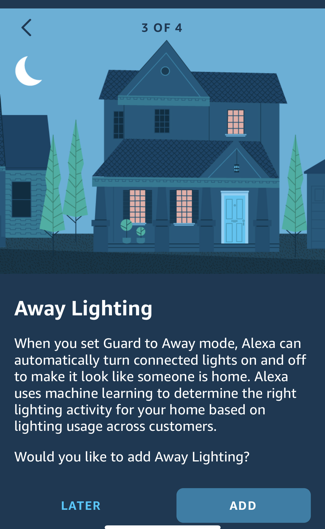 If you have smart lights and want them in the loop, tap "Add".
That's it. If you're ready, tap to confirm your setup and configuration:
Notice the small print: "Alexa Guard is not a replacement for an alarm system or a life safety device." You probably already figured that out, but it's worth highlighting that this is some pretty cool tech, but it's not the same as door and window sensors and an alarm.
And…. you're ready to go!
Important to realize is that this doesn't mean that Alexa Guard is now working. This just means that the setup is complete, as it indicates. Go to the next screen and you'll see some tips on how to actually use Guard with your Echo device:
Again, as highlighted, simply say "Alexa, I'm leaving" as you depart your home to enable Alexa Guard, then "Alexa, I'm home" to disable it once you return to your home, apartment, condo or office. Easy enough! Now, give it a try and see how it works for you.
Pro Tip: I've been writing about the Amazon Echo and Alexa since the tech was introduced, and have tons of helpful Alexa tutorials to check out here on the site. It's worth your time!