I've read that videos uploaded directly to Facebook get a lot more visibility than those embedded from YouTube. Okay. How can I then embed a Facebook video on my own web site or blog?
I've done some research on this and you're right, most people are finding that a video that's uploaded to Facebook and then shared gets about 2x the number of views when compared to one that's hosted on YouTube and has a link shared on Facebook. Since it's Facebook's world, I guess there's not much to complain about in that regard.
The biggest downside? YouTube videos gain visibility based on views (among other things) and all those Facebook views and subsequent blog or web site views aren't helping that happen for your video. By its nature you're stuck having to split up your video content across multiple hosting sites, but then again, I have a popular YouTube channel — askdavetaylor — and I also post videos on Daily Motion too.
Anyway, let's go through all the steps, from uploading and posting the video to embedding it here on this blog post!
To start, I drag the video file onto the posting box and add a short comment, then click "Post" to get the upload started:
Depending on the size of the video file, this process could take a few seconds or a few minutes.
Eventually it's done and Facebook warns you to expect some behind-the-scenes processing:

Again, depending on the size and length of your video, this process can be speedy or can take a few hours. My video is just a few seconds long so as fast as I can click "Close" another window pops up:

I dutifully click thru to see how it came out and it looks good, just as I'd expect:
Now we're ready for some embed action!
Click on the downward arrow on the top right of this post on Facebook. You'll get a menu: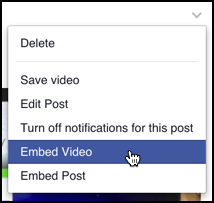 No huge surprise, pick "Embed Video" and it'll show you the exact code to copy and paste onto your Web page or blog post to included that particular video: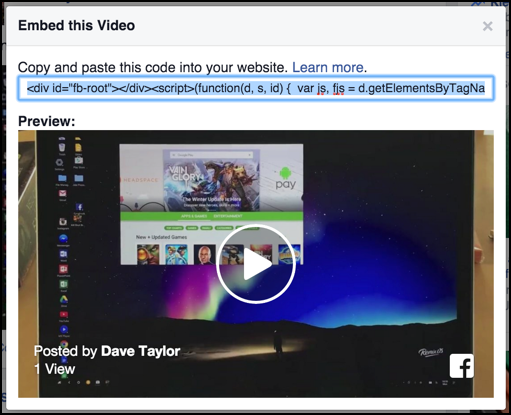 The code is pretty gnarly (yes, that's a technical term) so I wouldn't worry about reading it. Just switch into "html" or "source" mode in your web page or wordpress blog editor then paste the exact code sequence Facebook offers.
When I do that on this wordpress blog post, here's the result:
Screen flicker adventures with Remix OS…

Posted by Dave Taylor on Monday, January 18, 2016
Easy enough once you know where to look, actually. And the video? Well, hopefully yours will be a bit more entertaining!