Yay! Got an iPad for Christmas, and it syncs bookmarks with my iPhone 5,. But how do I update, change or delete bookmarks in Safari on my Apple iPad retina 2 or iPhone 5?
I'll start with a tiny correction for you: It's an "iPad retina" or an "iPad 2". No such thing as an "iPad retina 2". Still, no worries and Merry Christmas, you got a very nice – and popular! – present this year. Smart move to tap into the power of Apple's iCloud service too, because its ability to sync up contacts, calendar, notes and Safari bookmarks across all your iCloud enabled devices (iPhones, iPads and Mac systems, including iMacs and MacBook Airs) makes it really easy to move from device to device.
In fact, iCloud has some additional features if you enable the cloud Keychain and let Settings sync up, but let's just focus on the Safari app because we modern folk do spend a lot of time in our browsers, whether they're mobile browsers, laptop computers or desktop systems.
To get to the area in Safari where you can edit your bookmarks, scroll to the very top of whatever Web page you're viewing currently. A top and bottom bar will show up, like this:
The button you want to tap on is the fourth one along the bottom, it kind of looks like an open book. The middle one is the sharing button, btw, and I hope you've used that before now!
Tap on the bookmark icon and…
Along the top you can access your reading list or shared links, but it's the leftmost icon, already highlighted, that we want.
I'll choose "Favorites" by tapping on it and the view changes to:
At this point you can reorganize things or delete them.
In either case, tap on "Edit" on the lower right corner, and…
To move the "Denver Art Museum" bookmark a bit higher up the list, for example, tap and drag on the three-horizontal lines button on the right, dragging it to where you'd prefer to have this particular bookmark.
Kinda like this:
Rather just delete it? Tap on the red button to the left of the correct bookmark and a confirm area will appear: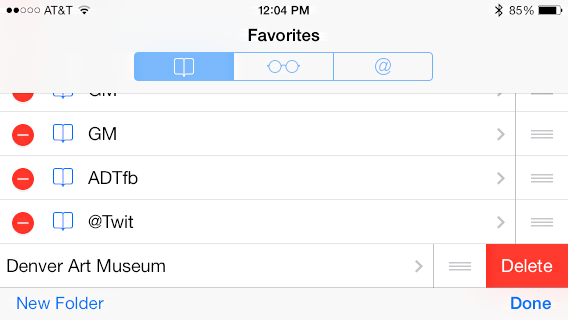 That's it. Between those two features, and the ability to add new Safari bookmarks when you'd like, you should be able to tame that wild Safari bookmark menu soon enough. And don't forget that since you are using iCloud, you can also use the Safari browser on your Mac OS X system to organize your bookmarks if that's faster and easier.