I run a Plex media server at home and it works great with our media library and smart TV systems. But sometimes I like to have a movie downloaded onto my Mac. What's the easiest way to do this in Plex?
The Plex team has written an amazing media server that can run on a Mac, PC or Linux system. It offers a modern interface to all the TV, movies, music and other media content you have spread throughout your system. Even better, with the introduction of the new Mac and Windows client apps (rather than just using a Web browser) the interface for users has been normalized and simplified. In fact, it's a better interface than many of the so-called smart TV systems on the market!
There are also ways you can set up password-protected access to your Plex server from anywhere on the Internet, or allow friends or family to access your server, as you might prefer. I personally have mine set up so that it's invisible to anyone or any device not on my home network, but even if you offer Web access, there are still many situations where you might prefer to download a movie or a few TV episodes rather than trust on network connections.
Which you can now do quite easily in the new Plex app interface!
For example, here's a part of my Plex Mac client, hooked up to my server:

You can see that there are a number of different movies in my recently added list. Notably, the 2016 documentary The 24 Hour War, about the same Ford vs. Ferrari competition that's the subject of the upcoming drama of that name. It's a film I really want to watch, but I haven't yet had a chance. A perfect candidate for a movie to download onto my MacBook for watching later…
Downloads are done by moving your cursor over the movie poster image, then clicking on the tiny pencil icon. A menu pops up: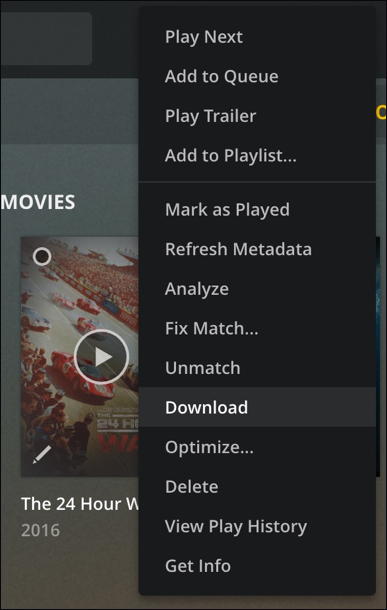 As highlighted, you want to choose "Download", logically enough. That's it. Done.
As the media content downloads you'll notice an indicator on the top right tracks progress. Click on it and you'll see more detail: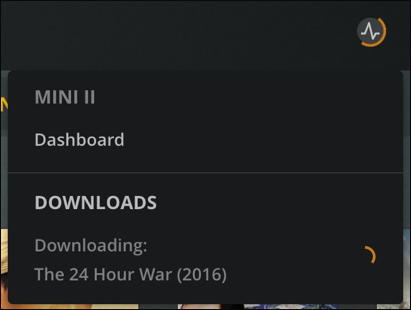 It's about 25% downloaded in the above capture, but it doesn't take too long on the local network for it to complete. Now the movie poster / media image includes a small circle on the top left to indicate it's already downloaded: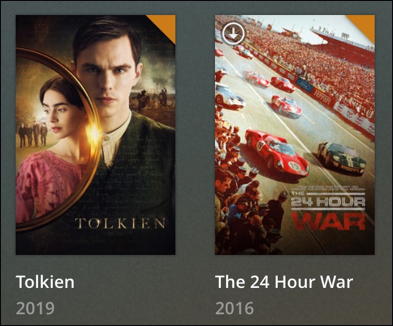 Notice the difference between the posters shown for Tolkien and The 24 Hour War to see what I mean about the local copy icon.
Now let's say I've finished watching The 24 Hour War and want to delete my local copy. No need to consume all that disk space, after all!
That's also done with the same "pencil" menu: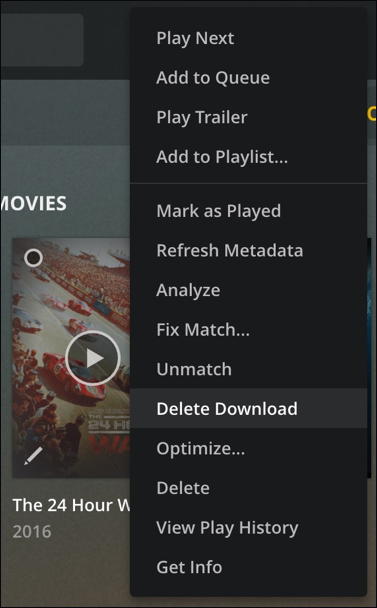 You can see the option highlighted: "Delete Download". Choose that and you'll get a prompt: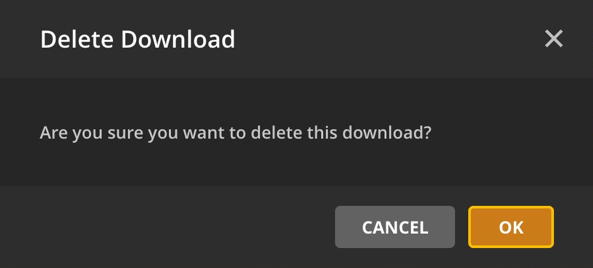 Choose "OK" and it's deleted. Done.
As you can see, the new Plex app makes this task super easy to accomplish. Now, go watch something good!