I'm a big fan of Spotify and listen all the time. Now I want to start creating my own playlists to group music together and share it with my friends. What's the easiest way to create Spotify playlists?
It's hard to remember the old days when we listened to broadcast radio and whatever they thought was worth playing or played our own albums, cassettes, or CDs. Music discovery? Tough. Sharing your favorites with a friend? Maybe through a mixtape, but while those were a nice gesture of affection, they were also quite time-consuming to produce, and, let's be honest, the audio fidelity was typically mediocre at best.
Streaming services like Spotify are really a completely different type of music resource entirely. With millions of tracks, you can decide you want to listen to an artist or album or genre, do a quick search, and press PLAY. There are also millions of Spotify subscribers who are creating their own playlists too, so whether you like original ska, industrial or indie opera, there's probably a playlist of both your favorite tracks and some new material that will help you expand your musical horizons. It's fantastic and I'm a huge fan of Spotify myself!
HOW TO CREATE A SPOTIFY PLAYLIST
Creating your own playlists is good fun too, and a chance to explore the massive Spotify library at the same time, since you can search by track name, album name, artist name, and even copy content from other playlists to add to your own if you want! Let's start with the Spotify app on a Mac; the Windows, iOS, and Android versions all look quite similar:
Look closely and you'll see there's a link on the lower left labeled "New Playlist". I don't use that, however, because I like to just jump in and start adding tracks, then rename the newly created Playlist instead. Six of one, a half dozen of the other, perhaps, but I'll step you through my own process for creating a playlist because it's super easy…
To start, use the search box on the very top to identify a track or set of tracks you want to add to your playlist. For this demo, I'm going to create a playlist of songs that include the word "morning". Surprisingly easy to do, actually. First, the search results: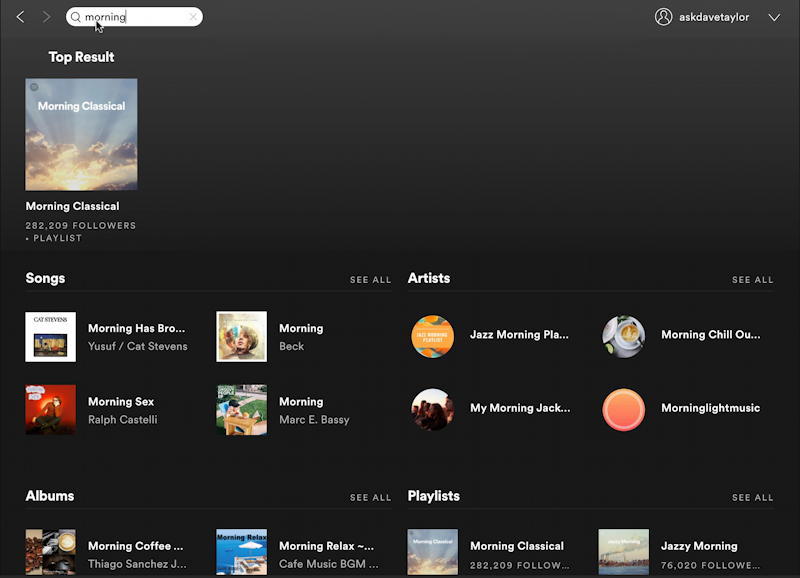 You can see that there's already a playlist Morning Classical with an impressive 282,209 followers. A lot of people apparently enjoy classical music in the morning. Below that are four categories of search result: Songs, Artists, Albums and Playlists. I'm going to focus on individual songs, so I'll click on "SEE ALL" to the right of Songs (it's confusing because it almost looks like "see all Artists" but it's associated with the Songs category in this instance. A click and I'm looking at a lot of tracks that match.
The very first track I add is slightly different because I'm going to create a New Playlist at the same time as I add it to the playlist. Those can both be easily accomplished by right-clicking (on a Mac you'd Control-click) and choosing Add to Playlist > New Playlist, as shown:
Now I have a new playlist! The name by default is the name of the first track added when built in this manner, but that's fine, let's add a few more tracks and we'll fix it up. For subsequent tracks added to the new playlist, the process is very similar, except now I have the new playlist shown in the secondary menu: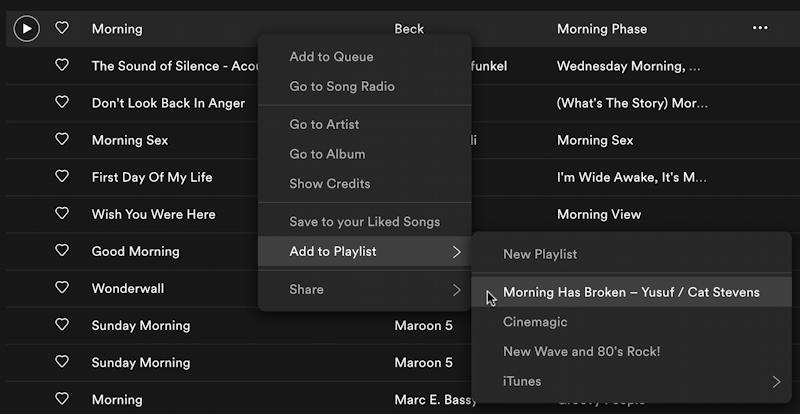 Notice above that the new playlist did indeed get its name from the first track added: "Morning Has Broken" by Yusuf / Cat Stevens. I'll add another half-dozen 'morning' tracks and it's time to rename my new Playlist.
HOW TO RENAME A SPOTIFY PLAYLIST
This is easily done by finding the playlist on the left side of the main Spotify window and using that right-click/Command-click to pop up a rather different contextual menu:
There's a lot you can do with a playlist on Spotify including making a Collaborative Playlist that you can build and maintain with the help of a friend or two, and Make Secret if you want to keep it from the public eye. To rename the playlist, simply go to "Edti Details", which pops up this little window:
At this point it's just showing the album cover from track 1, but it'll create a montage soon enough. Or, if you prefer, you can upload a custom image for the playlist by clicking on the "•••" button. Renaming is easy and obvious, and why not add a brief description to help other people find it in their own searches?
Here's what I've added to update my morning playlist:
Looks good. After adding yet more tracks, Spotify catches up with the playlist art and it's now a tiny montage of the first four album covers of tracks included on the playlist, as you can see:

And that's how you do it. If you opt for the "New Playlist" link on the lower left, you'll just name the playlist prior to adding your first track, by the way, otherwise, the process is identical. Now, have at it!
Pro Tip: I've been a Spotify subscriber since the beginning. I'm a huge fan. While you're visiting, why not check out some of my other Spotify help tutorials too? Thanks.