My Apple iPhone seems to go through a charge pretty quickly, faster than I would like. How can I check the health and capacity of my battery and figure out what apps might be consuming all the power?
Ever since consumers expressed a desire to have devices untethered from power cords, manufacturers have been fighting a battle between great functionality and great battery life. Bright screens, fancy processing, and endlessly online apps, they all consume more battery power than if the screen was dim and nothing much was happening other than an occasional phone call. But who wants a smartphone with just telephone capabilities? It sounds crazy even to suggest it!
A logical solution is to have an active mode and a passive mode, which is essentially what locked and unlocked offer, if you think about it. If your phone's locked, it consumes quite a bit less power, and when you are ready to play a game, watch a movie trailer, check an email, whatever, it wakes up and offers the functionality you want. Does that consume more power? Yes. But is that a reasonable tradeoff? Definitely.
In parallel, batteries have become significantly better at rapid charging and safe power capacity even as they have continued to shrink down to smaller and smaller units. A modern iPhone has a battery about the size of the screen but it's only a fraction of an inch thick (heck, the entire iPhone 14 is less than 1/3-inch thick!). All good, right? Yes, but… but modern Lithium-Ion batteries gradually lose their ability to hold a charge, and are generally considered to have about 1000 cycles lifespan. For a year or two, no worries, but after about 20-24 months your battery is going to be storing up less power on each charge and losing that charge a bit faster. Eventually, you'll have a phone that has a 10-12 hour battery instead of a 24-30 hour battery.
That's why the iPhone has had the ability for you to check your battery health for quite a few generations of iOS. Let's have a look!
FIND BATTERY HEALTH ON AN IPHONE
Open up "Settings" on your iPhone and swipe down to find the entry "Battery", as highlighted:
Before we go further, notice my battery level shown on the top right. This is the "icon only" view and the filled-in portion denotes what percentage of battery remains. Mine's at about 50%. It's also hard to miss Dynamic Island, the big black hole at the top with the icons on each edge. It shows status if you're actively charging, but otherwise, it's the icon on the top right.
Back to topic! Tap on "Battery" to proceed.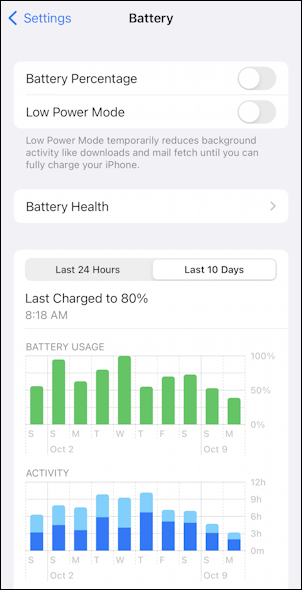 We'll come back to Battery Percentage in a moment or two. Low Power Mode is a way to eke out a bit more longevity with your device if it's critically low on power and you can't charge it. Late night emergencies? That's when you want to enable this feature.
You can also see the usage charges, either over 24 hours or the last 10 days. You can see I use my phone pretty consistently every day, with last Wednesday seeing the biggest battery usage, though, perhaps surprisingly, not the greatest activity on the device (which was Thursday, a day with rather low battery usage).
BIGGEST ENERGY DRAINING APPS ON THE IPHONE
Swipe downward and you can learn more about battery usage on a per-app basis…
The Home & Lock Screen on my phone is consuming a whopping 24% of all energy on my iPhone. That's the iPhone 14 Pro with the always-on display, which undoubtedly accounts for a lot of that. A price I'll pay since I really like the feature. But Facebook is using almost 10% of the energy on my iPhone too. Hmm…
Tap on any of the app entries and you can see a bit more information about activity:
You can see that Facebook's usage powered 3 hours and 53 minutes on screen and 2 hours 43 minutes running in background. I can turn off that background processing if I want, but I can also go into Settings > Notifications > Facebook and tweak that further if I want:
Back to Battery, though. Let's scroll back to the top of Settings > Battery…
CHANGING BATTERY PERCENTAGE DISPLAY
Go back to the previous screen captures and you'll remember that the current battery charge level is shown by a black and white icon that "empties" as the charge is consumed. But there's a way you can enable battery by percentage. Simply enable "Battery Percentage" and that icon on the top immediately changes:
I'm not much of a fan, but I know a lot of people really like being able to see a number for their battery charge, not just a graphic that they have to interpret.
APPLE IPHONE BATTERY HEALTH
And so, finally, tap on the "Battery Health" button in the middle of the Settings > Battery screen. Here's what it shows: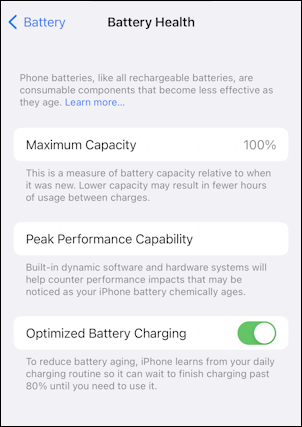 If you're seeing a maximum capacity of less than 100% your battery is starting to age. If you're seeing a maximum capacity of less than 80% then your battery is getting pretty creaky. Under 75% means it's definitely time for a battery update (which Apple can do for less than you may think, even with an old iPhone).
Notice that iOS itself can recognize when a battery is starting to age too, as described under the "Peak Performance Capability" banner. Mine is fine, but if you see something like "This iPhone has experienced an unexpected shutdown because the battery was unable to deliver the necessary peak power. Performance management has been applied to help prevent this from happening again." then you've definitely got a problem.
Finally, enable Optimized Battery Charging. It alters how quickly the battery charges in the attempt to extend its life. No reason not to start that good charging hygiene as soon as possible, right?
If you really want to dig more into this topic, Apple has an excellent tech note with lots of chemistry and electrical data to help explain what happens as your battery ages too: iPhone Battery & Performance.
And that's all I've got. The "Battery" area in Settings is a gold mine for assessing battery health and identifying whether you might need to get a new battery or not. It will also help you identify battery hogs out of your app collection too. Good luck!
Pro Tip: I've been writing tutorials for the Apple iPhone since it was first released. Please check out my extensive iPhone help area for lots and lots of useful content.