I've fallen in love with the track "Hold Me" from Justin Bieber's latest album, "Justice". I just love it! As an aspiring piano player, I'd like to download sheet music and learn how to play the song. Can you recommend a good source for sheet music of recent, popular songs?
A great example of the Internet era of musicians and music, Canadian Justin Bieber has definitely had his ups and downs, both musically and in his colorful life. Turns out he lives just a few miles from where I went to high school in Southern California, but that's another story. In terms of music, he has collaborated with many of the greatest composers, lyricists, and musicians in the business today, and every one of his albums is an interesting mix of styles and genres. His latest, "Justice", is no different, and the song "Hold Me" has no less than seven credited musicians (including Justin himself).
Many musicians don't release sheet music of their songs, even though covers are always popular and, of course, thousands of fans want to learn how to play their favorites too, whether they're on guitar, piano, flute, or xylophone. Okay, I made up the xylophone bit, but, I dunno, maybe if you're a big xyl0phoner, you do want to learn contemporary tunes, not just John Philip Sousa? 🙂
Most of the research can be done within Google, typically without even leaving the search page.
SEARCH FOR "HOLD ON" BY JUSTIN BIEBER
For example, start typing the track name – in quotes to improve matches – and the artist name and Google's suggestion algorithm will offer up a variety of possible matches: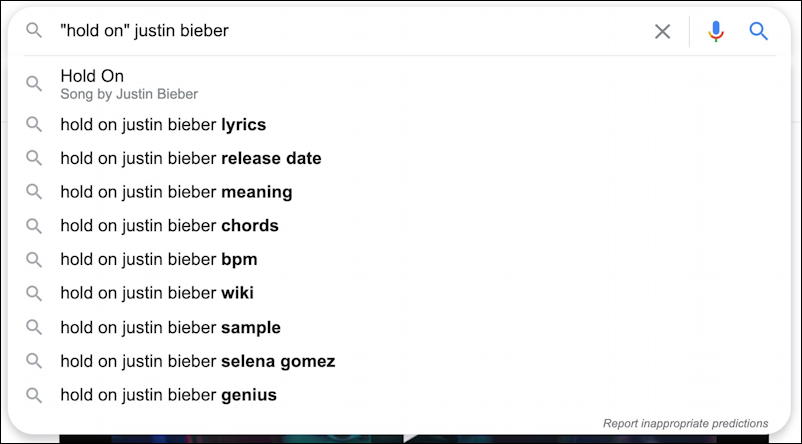 Lots of interesting options! Notice also that Google recognizes that this search is related to a specific song (shown immediately below the first match as "Song by Justin Bieber"). Let's start out with the lyrics! Just choose "hold on Justin Bieber lyrics" and they show up right in the search results window: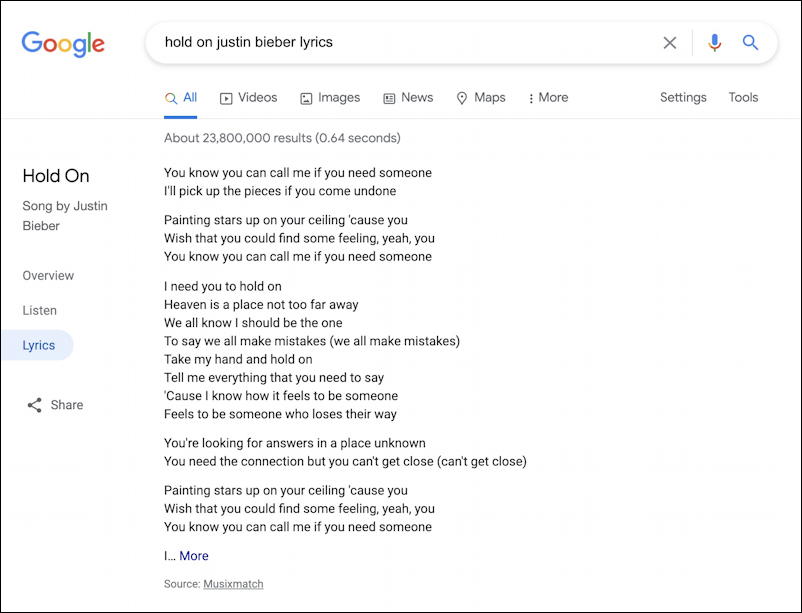 Who is Justin talking about? You can search for "hold on Justin Bieber meaning" if you'd like, but I won't spoil the backstory!
HOLD ON BY JUSTIN BIEBER SHEET MUSIC
Notice in the list of suggested searches is "hold on Justin Bieber chords". Choose that and you'll get a list of sites that offer up the guitar chords from the track: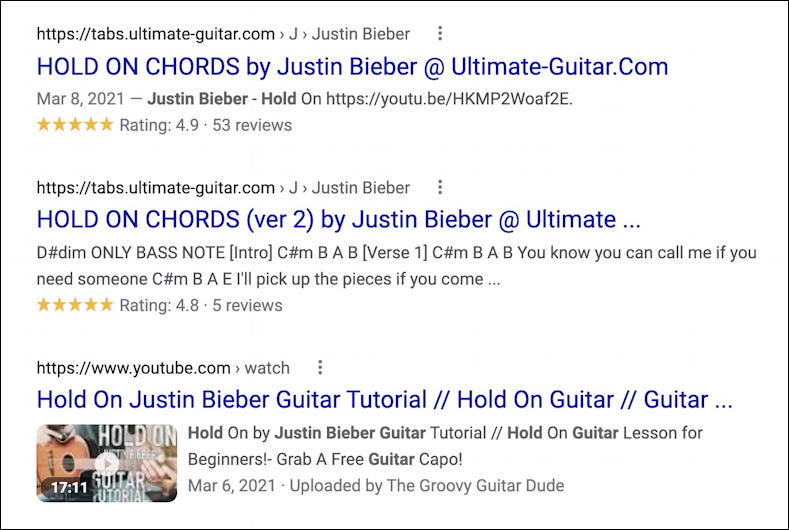 You're a pianist, however, so replace the word "chords" with "piano" and the results are closer, including thumbnails of the first page of the track's sheet music arrangement for piano:
Easy enough to click on the first choice – MusicNotes.com – and you'll be able to read the first sheet of the music on that page: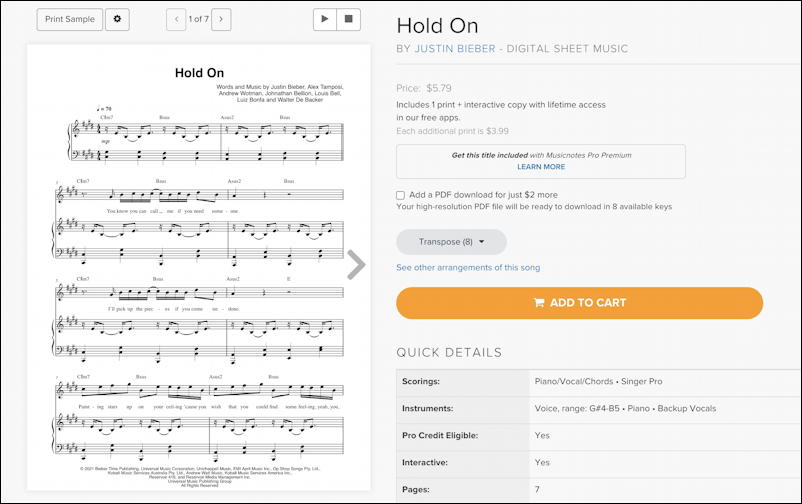 The full sheet music is 7 pages long, at $5.79, and includes piano/vocal/chords information, so your friend the lead singer, and your other pal the guitarist could look over your shoulder and join along if you were so inclined! Keep in mind that buying licensed sheet music like this actually supports the musician too, rather than digging around and trying to find a free download. Does Justin need your $1? Well, I can't answer that, but he and his team did create this music, so it is fair and reasonable for you to cover the license fee as part of this transaction.
One thing that's really cool is that you can transpose the song automatically if you prefer a different musical key. Click on "Transpose" and you'll find there are 8 different keys available: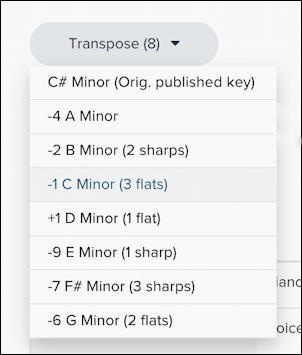 What's the original key? MusicNotes.com has that information a bit further down the page:
C# Minor. Now you know! Really want the downloadable copy right this minute? No worries, notice on MusicNotes that you can add a PDF download for $2 more, about the same price as a Venti Frappuccino at Starbucks (and so much more enjoyable!)
Good luck learning the song and enjoy "Justice"!
Pro Tip: I've been writing helpful tutorials on a wide variety of tech issues forever, including a bunch on songs, music, and the Internet! Please check out my computer basics help area for lots more fun and interesting how-to guides while you're here. Thanks!