I have lots of favorite shows and movies on HBO and am wondering if there's any way to download a couple of episodes of Westworld and a film or two from HBOMax.com so I can watch them on an upcoming plane flight?
There's good news and bad news about downloading content from HBO for you to watch on your next plane flight. The good news is that, yes, you can download episodes of your favorite HBO shows and a couple of movies too, but… the bad news is that there are some requirements for it to work. The biggest is that you have an ad-free account with HBO, so if you get an occasional advertisement while watching your shows, you won't be eligible for downloads. You'll also need to use the HBO Max app, so you'll need to be on your iPhone or Android (or tablet).
If you meet these criteria then everything can be done from within the app and it's pretty straightforward. It is going to consume a lot of space on your device, so perhaps another criterion is that you have the available space to store whatever you want to view later. It's just a few taps to delete content once you've viewed it, however, so as long as you have space for everything at the moment of download, you can definitely manage your space. You could also utilize wifi on the plane, but whether that's going to be fast enough to download a movie successfully is something that definitely isn't a given.
HOW TO FIND CONTENT ON HBOMAX
To start out, it turns out that there's a great summary of Westworld seasons 1-3 available that I've been meaning to watch prior to the release of Season 4 of this blockbuster HBO show. Firing up the HBO Max app on my iPhone, here's the main screen:
The important part is along the bottom, with this view being the Home screen accessible from the home icon. The magnifying lens icon in the middle lets you search for content, and the circle + half-circle icon is your profile and personal page. That'll prove quite important once we've downloaded the Westworld content. A tap on the magnifying lens and I can quickly search for the synopsis:
First item, second row: "Westworld: Season 1-3 Recap". That's the one. A tap and I can view it in more detail: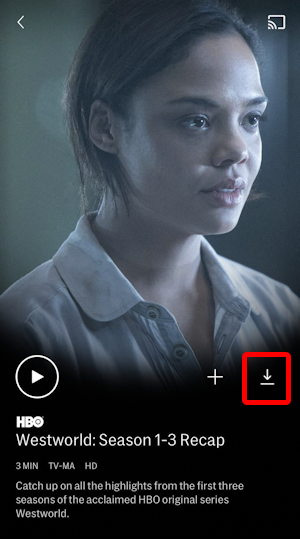 Fans of the show will recognize Charlotte (Tessa Thompson) from the show! The icon to seek is the arrow with the line, as I've highlighted. If you see that, you can download the content. If it's missing or greyed-out then either this particular content cannot be downloaded or you have an ad-based account without having realized it.
HOW TO DOWNLOAD CONTENT FROM HBO MAX
Hopefully the arrow shows up! Tap on it and this particular content, show, episode, or movie will be downloaded onto your phone. I strongly recommend you ensure you're on an fast wi-fi network for this step, if possible. Once downloaded, you'll see almost exactly the same thing on your device, with the exception that the download arrow icon will have changed: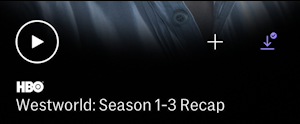 Great. Now, how do you watch it later, when you're offline? That's where the third button along the bottom of the app screen is critical. Tap on your Profile and it will let you switch profiles, but more importantly, it will show your viewing list, downloads, and Continue Watching queue:
Lots of great foreign-language content on HBO Max, as you can see from my viewing list. But "Downloads". Yep. Tap on it and you'll see all the content you've downloaded in the app: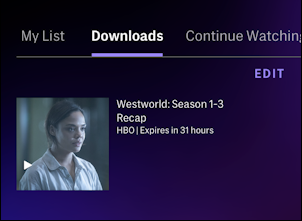 I can easily watch any of the saved content with a single tap on the thumbnail…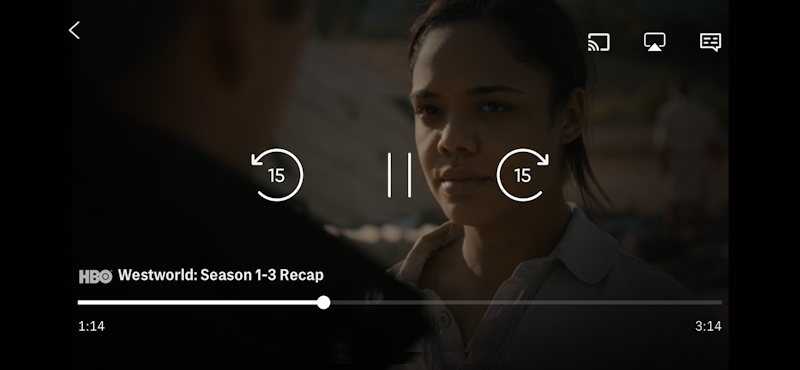 Hang on, I'll be back in about 3.14 minutes…
So that's the basic approach: Search through HBO Max for content you want to save, tap on the download arrow, then when you want to view it, go to your Profile screen, then tap on Downloads.
HOW TO DELETE DOWNLOADED HBO CONTENT
Once you've finished watching your show or film you can go back to the Profile > Downloads area and tap on the "EDIT" link. A few options show up: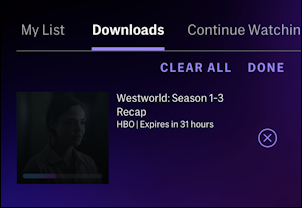 You can delete just a specific show by tapping on the "X" adjacent, or if you want to just clear your slate, tap on "CLEAR ALL". The app will prompt to confirm your deletion:
Either way, once you've deleted everything, you'll know you have freed up all the space on your device when the Downloads area shows this information instead of specific content: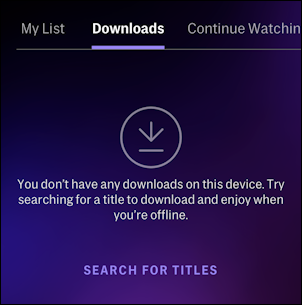 That's everything you need to know to manage and enjoy your favorite HBO content. Enjoy!
Pro Tip: I've been writing about how to watch streaming media on your devices for many years. Please check out my computing and device help library for lots of additional tutorials. Thanks!