I want to research different color printer options for a Christmas present for my Dad but am pretty clueless about it. What's a fast way to start where I can avoid any bogus review sites or blogs?
I like your skepticism, actually, because there's a lot more that's bogus online than most people think, and not all of it is disclosed as per Federal Trade Commission guidelines. In fact, the majority of it flies under the radar. What am I talking about? Sites with domains like "color-printer-reviews.com" (note: I'm making that domain up, I have no idea if there's a real site, nor am I saying that the real site is bogus or not. Haven't checked) that say proudly that "Reviews of the Best Color Printers in the Marketplace" then you find that their reviews just magically give a specific, typically obscure product far better reviews than any other product and, surprise, have an affiliate relationship or reseller relationship with that particular manufacturer. Yeah, sounds bogus, doesn't it?
Even bigger sites can be suspect, where they have a comparative review and simultaneously have an online shop or links to let you buy the products in question. It's just hard not to have one taint the other and if I make, say, $50 every time I push brand "A" and make a sale, but make $0 when I sell brand "B", which one am I more likely to promote in the interest of generating revenue?
That's why disclosure is so important. If I am biased towards brand A, wouldn't you at least want to know about it? If it's a "printer review site" sponsored by Epson or HP, you'd want to know that up front too, right? Now that doesn't mean it's a waste, there are plenty of vendor sponsored informational sites that are terrific resources if you know who's paying the bills.
My favorite place to do research on products, however, is Amazon.com, because they have an amazing resource that most people don't think about: the user generated reviews. It's a gold mine of information on products!
Which isn't to say that it is perfect. If you see a product with just a few reviews and they're all five-star and extraordinarily positive, I'd suggest you be skeptical about that too. Could be a company – or their marketing or PR agency – being a bit too zealous. Have more than a few dozen, however, and you're starting to learn about real users and their experiences with real products. Which is good.
So let's dig around with that color printer purchase you want to make for your Dad. To start, just search on Amazon for "color printer":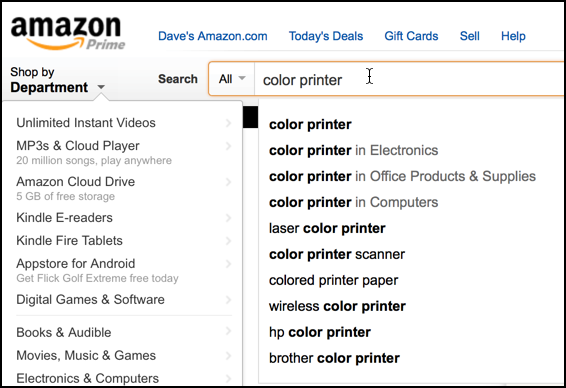 The first thing to notice here is that Amazon's ridiculously smart with its search completion, even offering specific departments that could be a good match for this product search. That's a good thing. Pick one. For my example, I'll pick the match "color printer in Electronics", which produces a page of results, but most importantly shows you suggested alternative searches:
Those related searches are often a better way to phrase the search you want to do.
In this case, however, not so much. Instead, the key factor in doing research on Amazon, sort by user reviews: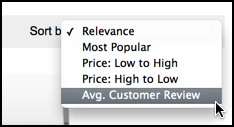 There are other ways you can sort your search results, of course, but "Avg. Customer Review" is my favorite, so that the real dogs, the products that are very badly rated, end up last on the list, while the best of them are on the top.
Now it's time to look down the left side of the page as there are a zillion ways you can refine your search results. Let's start with these:
Do you want your Dad to have to plug in to the printer to use it? Or if he has a PC and a laptop, does the printer need to be plugged into the PC at all times? If not, "Wireless" is a good choice and certainly popular. Check the appropriate boxes. In fact, every time you make a selection, the sort will redo and the results will change.
Ditto multifunction: should the color printer also be able to scan or copy documents? Not all can do that!
Keep going down that left column, though. There's more: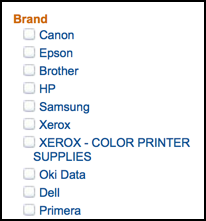 If you have particularly good – or bad – experiences with a vendor, you can adjust the results to just include (or exclude) their products. For color printers, Canon, Epson, Brother and HP all have good reputations, which is why they're at the top of this list.
One more search results refinement: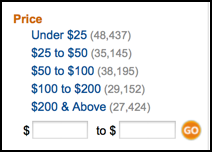 Probably the most useful of all search results constraints on Amazon, actually, this lets you see that without any limitations, "color printer" has a crazy number of matches. Why? Because of ink cartridges, cables for printers, dust covers, and a million other accessories. Constrain by feature, functionality, vendor and price, and your thousands of matches just got shrunk down to a few dozen options.
Here's the top list I ended up with:
Now let's pick a specific printer by clicking on it's name. In this case, the Epson WF-3520.
The results:
What's important to notice here isn't the goofy long and detailed product name, but the number of reviews and overall score. 706 reviews and four stars out of five? Not bad at all.
But we're doing research so let's see what problems it poses. Click on "706 customer reviews".
This is a super helpful info display because it lets you jump immediately to the worst reviews (click on "(61)" adjacent to the 1 star reviews, for example, but it also shows you the distribution. 580 of the 706 reviews give this printer a four or five star rating. Hmmm….
A bit further down the page is another gem: the most useful positive, and most useful negative review, based on customer votes:
You can see that the 1-star reviews aren't considered helpful, so they might not be worth spending too much time on at this point. But do read both of these particular reviews and keep in mind that there's no a single product on Amazon.com that every loves without reservation. Just the nature of things.
Dig into the top half-dozen printers, compare features and price, evaluate with a critical eye the feedback you see from customers and make a decision. Good luck and I hope it works out great for your Dad!