I work with teams in Seoul, Korea and London, England all the time, and it's a pain to figure out the time before I email or try to call them. Is there some way to quickly see the time in those locations on my PC?
If you glance at your Taskbar, it's always showing you the time and date, which is darn handy. But can it show you multiple regional clocks at the same time? Well, yes and no. This question gets us into the puzzle of why companies like Microsoft don't make a floating clock widget for your desktop. There used to be one, but now you're stuck looking for a third party solution and too many of those are flaky or end up being spyware or malware. It's a logical place to have a hidden feature that pops up junk adverts on your screen, for example, and ain't no-one got time for that!
To be fair, it's no easier to get a floating clock on your desktop on the Mac side either. Do people just not care what time it is or do the developers assume that the tiny digital time on the Taskbar / menubar is sufficient? In any case, I imagine that some people solve this problem by literally having wall clocks for the different time zones (like every newspaper in cinema!) or use their mobile device for the task. But Windows does have support for multiple clocks. You just have to know where to look…
To start, try doing a search on the Taskbar for "time in London" or "time in EST" or, in this case, "time in UTC" (Universal Time Coordinated) for London time: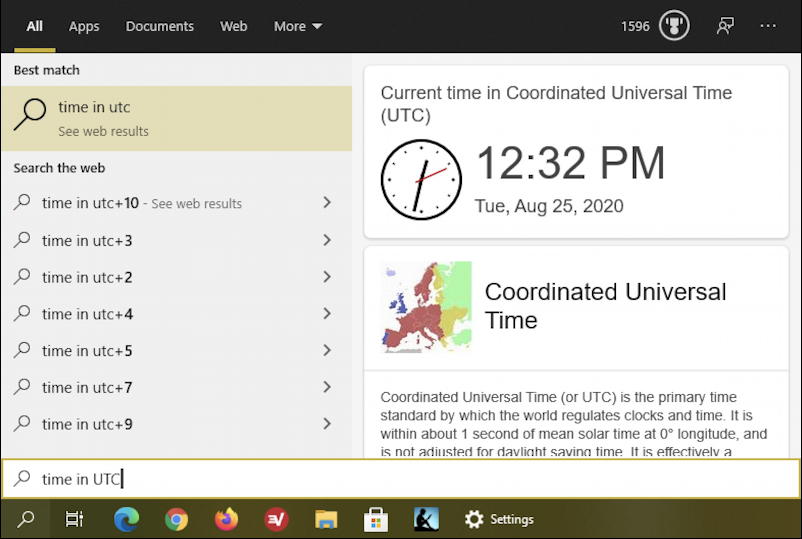 So with a tiny bit of typing you can always find out the current time and date. Wouldn't it be nice to be able to drag that display onto the desktop? That's just another story entirely, however!
But let's set up the Date & Time calendar display from the lower right part of the Taskbar to include Seoul and London time too. To accomplish that, replace your search with "date & time":
You want to click on "Date & time settings" as shown. Do that and you'll get a window with a surprising number of options:
For most people, you'll have it set for time and time zone being set automatically (which means your computer changes timezone appropriate when you're traveling and reconnect to the Internet too) but what we want is a bit lower down on the screen. Scroll down until you find this:
The option you want to choose is "Add clocks for different time zones".
A click or tap on that and you'll go back to a pre-Win10 old school (O.G.) settings window:
Make sure you're on the "Additional Clocks" tab and you should see the same. Now it's easy; check the "Show this clock" option, pick the timezone you want, then give it a display name like "Seoul" to make it easy to remember. When I set mine up, it looks like this:
All looks good. Click on "Apply" if you want to see the changes without closing the window, or "OK" to have it make the changes as it closes.
Where are those changes? Glad you asked! Go to your Taskbar and you'll see the usual time and date display:
But now when you click on the time and date, the month view calendar has two additional elements:
Admittedly not quite as handy as having the in their own window on the desktop, but now it's just a single click away to see London and Seoul time as well as your local time, date, and day of week. Quite handy and a great way to ensure you don't get befuddled and call a friend or colleague at 3am thinking it's 3pm the next day!
Pro Tip: I've been writing about Windows 10 for quite a while. Please check out my extensive Windows 10 help library for lots of additional tutorials and guides while you're here. Thanks!