You're right to be paranoid about location tracking on your Windows 10 system because it turns out that it does track location in a manner rather similar to what your smartphone is trying to do, and without much of any notice that it's happening. From the developer's perspective, your location is important so that it can contextualize your queries and searches (like "pizza" delivering up results based on your location, not the most popular pizza-related page on the planet!).
Problem is, most developers seem to love collecting data too, so not only does your Web browser and computer system constantly try to figure out where you're located, the software often logs and records it too. Including in Windows 10.
Let's have a look!
As always, start with the Windows 10 search system (aka Cortana). Type in "Location":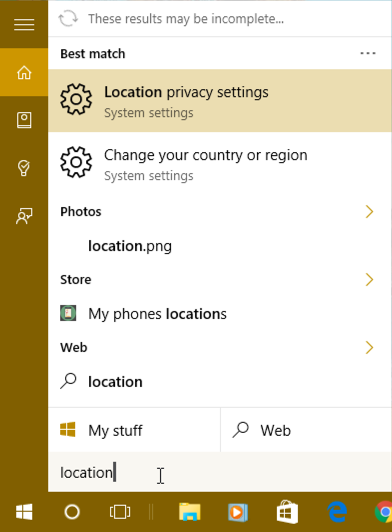 The first match is exactly what you seek, but before we go further notice the top line of the menu. It says "These results may be incomplete", which means that the Windows 10 search system is updating or still indexing your content. Not a big deal here where we seek a system setting, but if you were using this for files, you'd want to wait a few minutes and search again to ensure that Win10 was completely up-to-date with its search index.
"Location privacy settings" is the desired match, however, so click on it.
Now you can see where in the Win10 settings we are: Settings > Privacy > Location. Handy if you want to navigate there instead of using the search system or if Cortana is just, um, confused about results!
The first and most important setting is the switch near the bottom of this window with the minimalist label "On". Switch it to Off and you'll have disabled geolocation support for the system.
But there's more going on here, so scroll down a bit…
Ah, so Windows does indeed store location history as you suspected, and here's where it tells you that. Notice that it can't control the behavior of individual programs or apps that request location information so it can't just disable location history entirely (we'll see some options for controlling this on an app by app basis in a minute) but you can clear the location history off your Windows 10 system at any time by clicking "Clear".
I'll do that and click "Clear" to remove my Location history:
That's it. The entire confirmation: a check mark shows up. A weird interface oddity, really.
There's still more to see if you scroll further down on the window too…
This one is particularly frustrating because it says "one or more of your apps are currently using geofencing" but doesn't say which one! Who writes this sort of code? Really quite unhelpful.
Fortunately you can scroll down a bit further and gain additional control over your apps on a program by program basis. Though you still won't know which app is using geofencing!
There we go, the ability to choose which apps can access your location information on an app-by-app basis. Notice that you can't disable Cortana having your location information without disabling location data entirely, but other programs like Mail and Calendar can be turned off — as I have done — while others can have location data enabled — as Windows Camera enjoys.
That's the scoop. Go through and either disable location entirely (not recommended to help Cortana work well) or zap your location history and ensure that only apps that have a legitimate reason for getting your geolocation have permission to do so. And now you've just regained just a smidge of privacy!