Every single time I go to empty the Recycle Bin in Windows 11, I have to confirm that's what I really want to do. It is. Every time. So is there a way to get rid of that annoying confirmation window on my PC?
Are you sure you want to ask a question? Are you really, really sure? Just kidding! Yes, while I too appreciate a user interface that protects me from daft mistakes, sometimes the confirmations and assurances can be a bit much. Case in point: every time you go to empty your trash, err, "recycle bin", Windows wants you to confirm that's what you want to do. Just do it, man!
Somewhere along the way in the history of Windows, the development team got the message and Windows has had a way to disable the confirmation window for quite a while. The key to accessing that setting is to realize that your Recycle Bin is just another icon, like a file or folder, so it has properties, including that exact setting. Not only that, but you can rename it too!
HOW TO ACCESS RECYCLE BIN SETTINGS AND PROPERTIES
To start out, here's the infamous confirmation window that I would guess at least 80% of PC users dislike at this point:
As you say, if you didn't want to empty the trash, you wouldn't have chosen the "Empty Trash" option. It's not that big a deal to click on "Yes" if it is indeed what you want to do, but click on "No" instead. Now right-click on the Recycle Bin icon on your Desktop:
If you have files or other stuff in your bin, you can choose "Empty Recycle Bin" from here, but instead choose "Properties" and an old-style Windows 95-esque properties window opens up: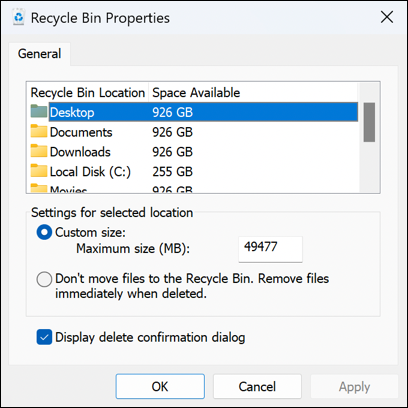 The box to uncheck is at the bottom: "Display delete confirmation dialog". Uncheck that, click Apply and you're done.
But while we're here, notice that you can either set a maximum size for the contents of your Recycle Bin or change it to immediately delete files when dragged into the Trash. I have mine set to the default: A whopping 49GB. Seems weirdly high, so you can shrink that down to a gigabyte or even less if you're so inclined. Or just don't mess with it.
BONUS: HOW TO RENAME YOUR RECYCLE BIN
While we're fiddling with these settings, it's worth noting that you can also rename your Recycle Bin if you decide that the name "Recycle Bin" is a bit silly. Right-click on the icon again, then choose "Rename" from the menu…
Just like anything else in Windows, you can now type in the new name as you desire. Here's what I picked:
What I really want now is to be able to change the icon so that it's an empty dumpster when the trash is empty and a burning dumpster when there are files within. That's a bit more tricky, however, but you can do that by going into Personalization > Themes to customize your icons. Be careful, though, many of the appearance personalization utilities can also be spyware since particularly if they change cursor icons, they're being installed at a layer of the OS that lets them monitor everything you do. Maybe the recycle bin icon + rename is sufficient for now, after all. Your call.
Pro Tip: I've been writing about Windows since the beginning. While you're here, please check out my extensive Windows help area for hundreds of other useful tutorials and how-to articles. Thanks!