I'm a contractor and get lots of IRS forms from employers that I need to sign. They say "print it, sign it, and email us the scanned document" but I hate wasting all that paper. How can I digitally sign PDF documents on my PC?
Microsoft Edge has a lot of secret powers, one of which is that it's an entirely passable PDF reader. For basic forms, it will also let you fill out fields if the document is designed properly. When you get to a signature line, however, it's not so powerful, allowing you to type in your name or struggle with a click-and-drag annotation tool. Not so useful. Surprisingly, though, Windows 11 doesn't include a standalone PDF application that would let you read, edit, and fill in documents in a more sophisticated manner.
The solution is Adobe Acrobat Reader, a free program from Adobe – the inventors of the PDF document format – that has some advertisements pushing you to upgrade to the paid "Pro" version, but still works just fine as freeware. Acrobat Reader used to be included as default software on earlier PCs (perhaps depending on vendor) but nowadays it's a download. Once you have it installed, however, well, let's have a look…
SIGNING A PDF DOCUMENT IN MICROSOFT EDGE
I'm going to grab a copy of the IRS Form W-9, a common document for freelancers and contractors. It asks for your name, address, business name, SSN or Tax ID, then has a spot where you are asked to sign to attest the information you entered is accurate. In Microsoft Edge, the form is shown with a useful toolbar added. If I click on "add text" I can then type in my name:
This isn't going to look even vaguely like a signature and, of course, anyone can type in this field and pretend to be me. Not so great. The alternative is to use the pen tool to actually draw your name, a very literal interpretation of "digital signature":
Honestly, not so great. Looks like I'm still in 3rd grade and probably should be holding a chunky crayon rather than a stylus or mouse. That's about as good as it gets in Microsoft Edge, however, so it's time to switch to Adobe Reader.
SIGNING A DOCUMENT IN ADOBE ACROBAT READER
The first step is to download a copy of Adobe Acrobat Reader. You can do so here: Download Acrobat Reader. As a handy tip, make sure you uncheck both of the "install McAfee antivirus" options before you actually download the program.
Now open up the same IRS PDF form, but this time in Acrobat Reader…
There are a lot more features and options, and they're spread all over. It's confusing! Click on the "•••" along the top, however, and you can choose "Sign yourself", as highlighted in the righthand menu above.
It then prompts you to indicate if you want to add a signature or just initials:
Many contracts and other legal documents require that you "initial" specific items or passages to avoid later claims that you didn't see some detail or another in the contract. For the IRS, it's all about the signature, however. Choose "Add Signature".
Type in your name and it will display it in a handwriting typeface:
You can choose from a couple of different handwriting typefaces if you want by clicking on "Change style":
None of them look even vaguely like my actual signature, but they're functional for many situations anyway.
What's not immediately obvious is that there are two other ways to create and use a signature in Acrobat Reader! Along the top of this window are Type, Draw, and Image, offering three different ways to create a digital signature. The most interesting of these is "Image". Click on it.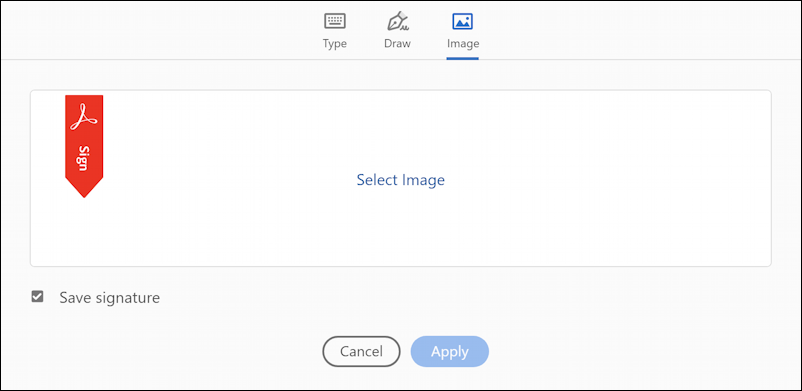 What's the point? You can carefully sign your actual signature on a sheet of clean white paper, take a photo or scan, then upload it to Acrobat Reader in this window, instantly turning it into a digital signature suitable for online use. With a bit of experimentation, this can work really quite well and the bonus is that it's your real physical signature, just in digital form.
The third option, if you want to click-and-drag, is to choose "Draw" and try to recreate your signature on the PC:
Without a stylus, it's not easy! In fact, I'm going to go back to the "Type" signature, which I can then move around and even resize to get it to look perfect on the PDF document: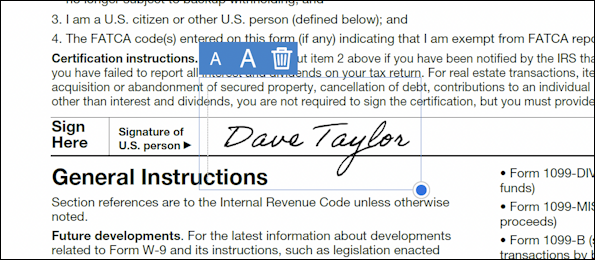 That's it. Just ensure you click to unselect the signature once you like its size and placement and you're done. Save the updated PDF and you should be ready to send it to your employer without ever having printed a single page.
Pro Tip: I've been writing about Windows since the beginning. While you're here, please check out my extensive Windows help area for hundreds of other useful tutorials and how-to articles. Thanks!