I have no idea how it showed up, but suddenly I'm getting survey pop-ups in my Windows system from RelevantKnowledge. How do I safely remove this program?
My Windows system also suddenly has survey pop-ups from RelevantKnowledge too, and I'm completely sure I never authorized it to be installed. My categorization: malware. Maybe it's more benign, but when software shows up and I haven't installed it, well, that's not cool. Malwarebytes, by the way, categorizes it as AdWare (possibly Malware) so it's definitely nothing you want on your computer.
RelevantKnowledge itself clarifies that it is spyware, however: "Participating members enjoy periodic surveys on interesting topics and safe and secure research software that monitors Internet browsing and purchase activity."
So if you are fine having an unknown company monitor your browsing and online shopping activities, and report them back to their Web site, well, carry on. If, on the other hand, you think that's a terrible idea, you'll want to get rid of it. The pop-up itself suggests you can just "right click to remove" but in my experimentation that doesn't actually work (what a surprise for potential malware, right?)
Instead, you'll going to need to remove it just as you would remove any other software in Windows 10; through the Add/Remove Program control panel. Let's go through the steps one-by-one. To start, here's my pop-up in all its seemingly innocuous glory:
See the small print on the bottom? "To discontinue membership, please click here"? Don't do that. Just follow my instructions instead 🙂 And btw, did you realize you had "joined" a "membership" club? Yeah, right. Adware, for sure.
Anyway, jump to the Windows 10 Cortana search and type in "remove program":
That's what you want, the gear icon "Add or remove programs" system setting. Click or tap on it to launch.
Now use the built-in search mechanism to quickly jump to the RelevantKnowledge program:
If you've never worked with the Add or remove programs control panel, it's easy. Click on the matching program and it pops up a few buttons:
Click on "Uninstall" then have patience; for reasons I can't explain it takes 15-30 seconds for anything to happen in the way of feedback. Eventually, you get this:
You can authorize this for the removal of the program by clicking or tapping "Yes"…
Once the program and its little tendrils are removed from your system, you'll see this:
And you're done. Close the above window and restart your computer.
If you go back into Add or remove programs and search for "relevant" you should now see this: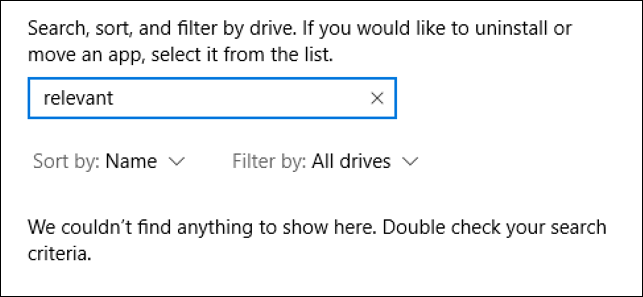 This doesn't answer the curious question of how did this adware get installed in the first place but that's a more complicated issue. For now at least you know what it is and how to remove it from your system.
Pro Tip: Find Windows a bit confusing and tricky to maintain? I have lots of free Windows help here on the site, so do check it out while you're here. Thanks!