I rented a Hyundai vehicle for a week and now that I'm about to turn it back in, I want to delete my paired phone from the infotainment system. It's a Hyundai Tucson. How do I delete my phone from the Bluetooth list?
You bring up one of the great forgotten aspects of borrowing or renting a car; UNpairing your paired smartphone when you're done. I drive quite a few different cars as an auto writer and it's startling to me just how many phones are still paired with the vehicles when I get them. You wouldn't think it's a big deal, but that means all the call history and the entire phone address book are accessible. Would you want to share your phone and address book with the world at large? I didn't think so!
It's surprising that there isn't a one-button 'delete all' feature for rental agencies, actually, but some car manufacturers do have that in their infotainment system. Hyundai indeed offers this feature, as you'll see, but not all companies do so. Fortunately, it's just a half-dozen taps to remove your phone and all its data anyway, so let me walk you through the steps.
BLUETOOTH SMARTPHONE INFO ON HYUNDAI VEHICLE
Start out with the Home screen (push the "Home" button, if needed). It'll look like this: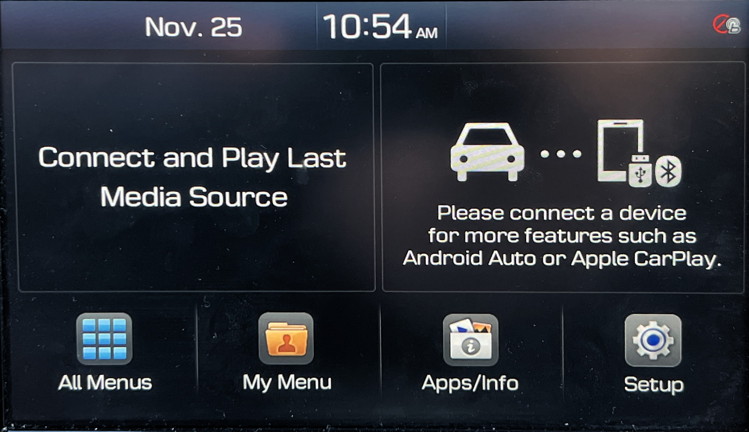 Tap on Setup to proceed. It will bring you to a screen that offers quite a few options: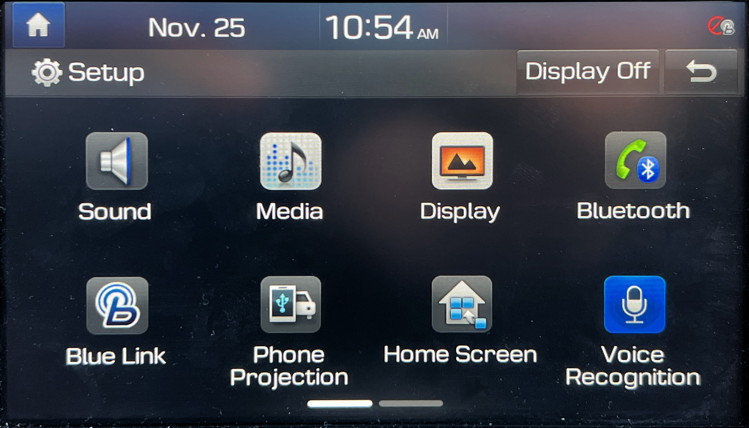 I really like that the different icons have a touch of color; too many companies forget that they're on a full color screen when it comes time to design icons and user interfaces.
By the way, that Blue Link button? It's a pretty cool app that you run on your smartphone and pair with your car to get lots of insight about how it's working and what might need service. Learn more: Blue Link for Hyundai.
Okay, back on task. Tap on "Bluetooth" to get to the Bluetooth Settings.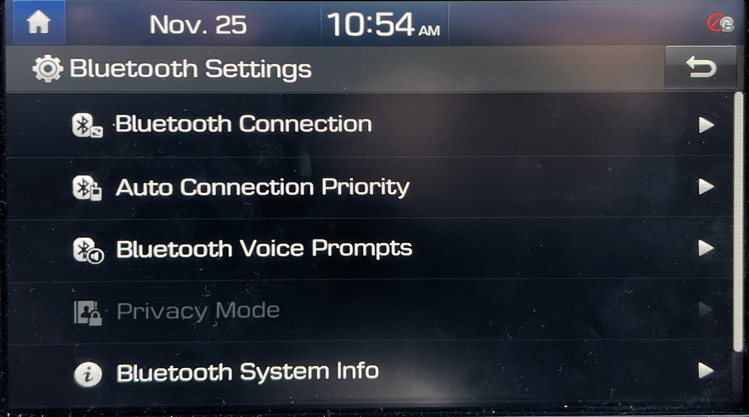 The next step can go one of two different ways. Tap on "Bluetooth Connection" and it might just go straight to the next screen. If it doesn't, it'll try to connect to your phone. If that happens, tap on "Cancel" then give it about 15 seconds to cancel the connection. Once it's canceled, you will end up on this screen too: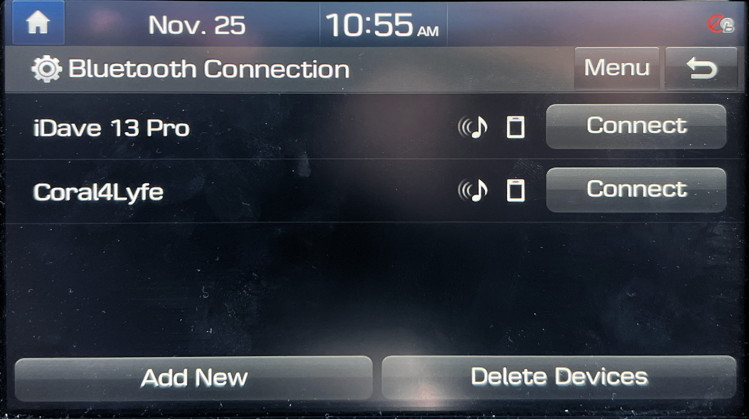 Obviously, you can choose a phone and connect with it. Easy!
HOW TO DELETE A PAIRED PHONE FROM A HYUNDAI VEHICLE
We want to delete these paired phones, however. To do that, tap on "Delete Devices". The screen will change to this: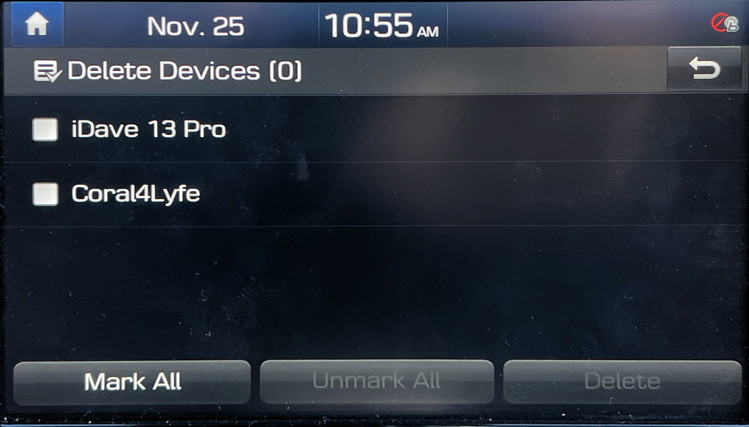 Most importantly, there are now checkboxes next to each paired phone. You can choose them one at a time or tap on the darn useful "Mark All" button on the lower left. Either way, you'll end up with this: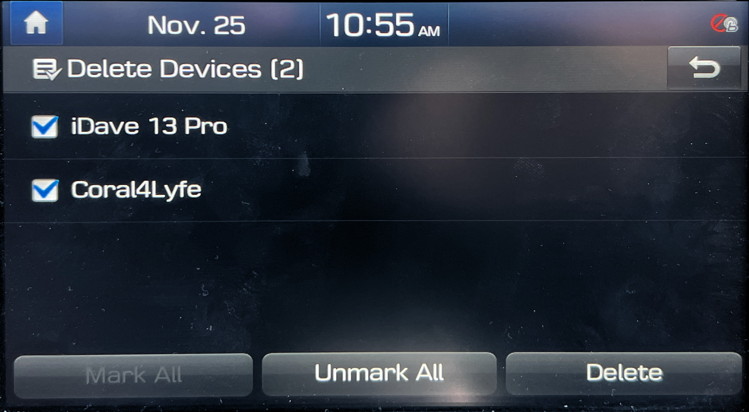 To delete them, simply tap on the "Delete" button on the lower right.
You'll be asked to confirm that's what you really want to do: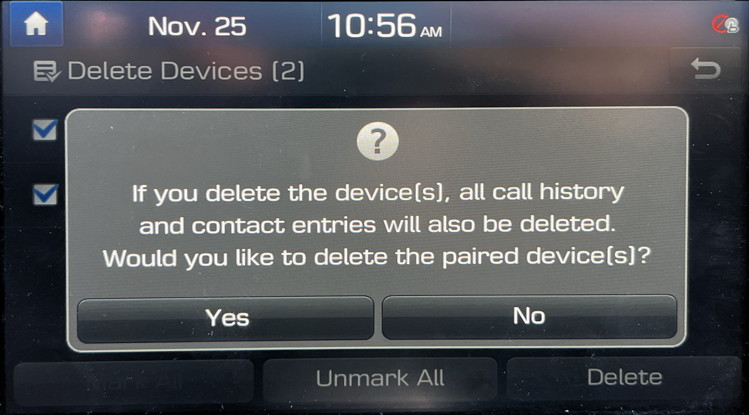 As it warns, "If you delete the device(s), all call history and contact entries will also be deleted. Would you like to delete the paired device(s)?" Indeed, that's exactly what you do want to have happen! Tap on "Yes" to proceed…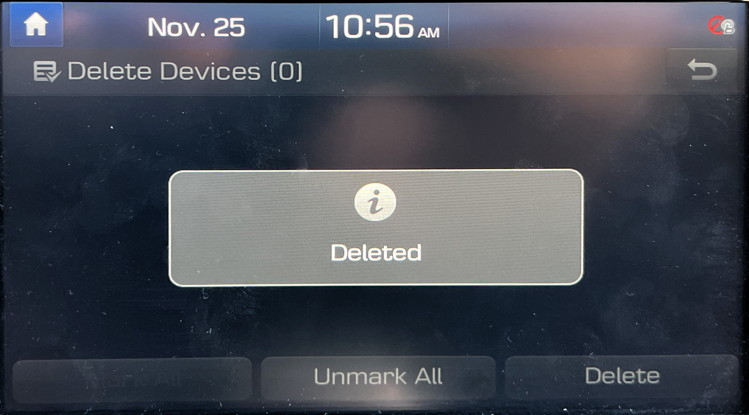 And that's a wrap. Done. Now if you check on Bluetooth it'll show that there are no paired devices: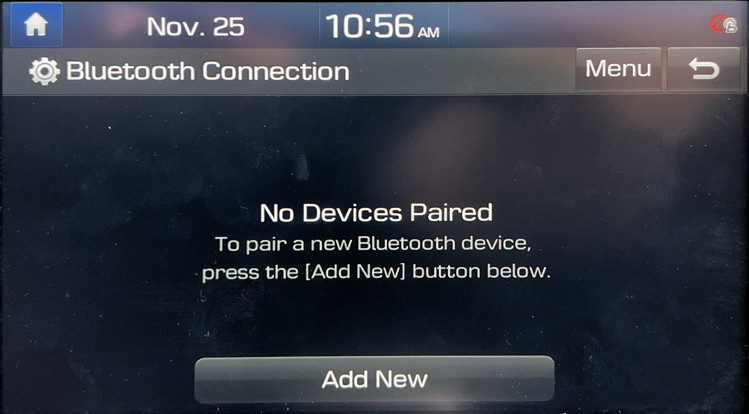 Mission accomplished. If you've chosen "Mark All", then you've also been a good citizen and deleted the paired phone information from other Hyundai drivers prior to you too!
Pro Tip: I've been writing about basic computing, including automotive systems, for many years. Please check out my computer basics and tutorials to see what other helpful articles I've written!