I have been using Bing search on my PC and am wondering whether I can control what images are shown in image search? In particular, I'd like to not see adult content and I'd like results in Spanish, not English. Possible?
While Google still has the proverbial lion's share of the search market, Microsoft has not sat still with its Bing search engine and nowadays it's a solid option and alternative too. Even better, if you're what we can call "AI-curious" then you'll appreciate how neatly they've integrated ChatGPT and DALL-E into the search system. It's easy to try out, that's for sure, and sometimes the results are pretty terrific (though, as with all AI produced material, always double check it's factually correct).
Bing Image Search – images.bing.com – has a lot of customization too, and a lot of sophisticated filters to help you quickly narrow things down to exactly what you seek, whether it's a painting of a Hawaiian sunset or a photo of a black kitten sleeping on a Santa hat. While I tend to go directly to Image Search, you can also switch to it from the general Bing search at any time by clicking on the "images" tab along the top too; it'll even copy your search query along the way.
BASICS OF BING IMAGE SEARCH
I'm going to demonstrate features by searching for the Declaration of Independence. Note that you never need to worry about capitalization with search queries, and that grouping words together with quotes means they have to appear in exactly that form, rather than in any order, even with other words between. In other words, if I had an image tagged as "independence declaration from the liberation front of the free state of Davestan" that would also be a match for the unquoted phrase (though it would rank pretty low down in the results!):
Great results and nothing that's questionable or adult content. Seriously, do we even want to consider what adult content could be included in this search query? 🙂
What's important on this screen is all on the top right. Notice the "Filter" button. A click and a lot of extremely useful result filters are shown:

While it offers "license", be aware that Bing determining that something is public domain doesn't mean it actually is, so be a bit wary of that particular filter. Otherwise, these criteria are all very helpful to quickly narrow down results.
You can also filter out potentially inappropriate content by clicking on the SafeSearch link:

Notice the red button here too. We'll come back to it, but it's a shortcut to the DALL-E AI-powered image creation tool!
SETTINGS AND PREFERENCES  IN BING SEARCH
There are lots more settings and preferences in Bing search, actually. Click on the three horizontal lines icon on the top right and a small menu appears: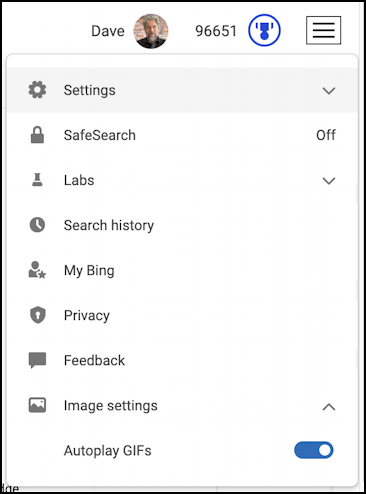 Most helpful here is the shortcut to enable or disable autoplaying of GIF images, at the bottom. But click on "Settings" and you'll find a useful summary of key settings: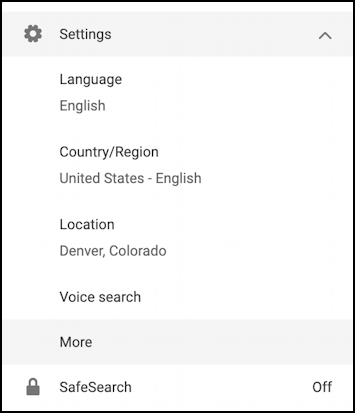 Voice search? Let's learn more by clicking on the "More" link. This opens up an entirely new window with a lot of options and possibilities: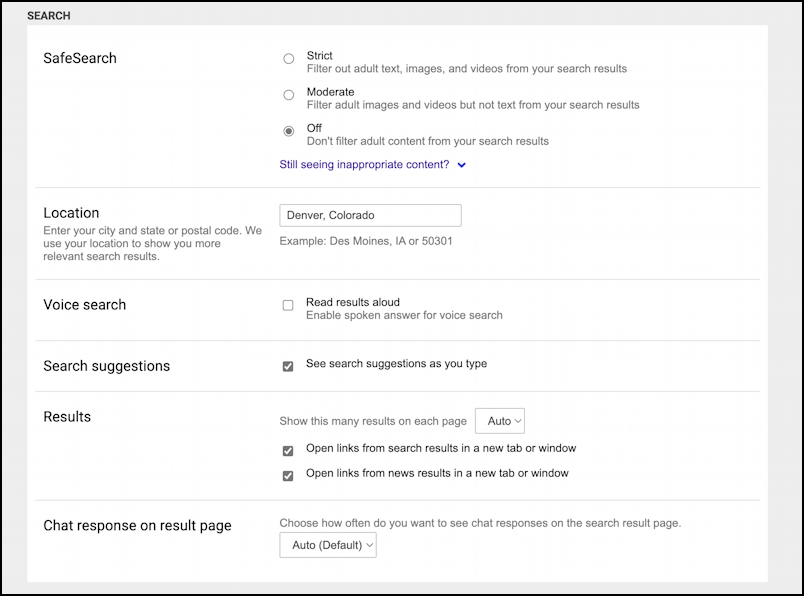 You can see more information about SafeSearch options, specify your location (at least, as far as search is concerned), and more. If you don't like the AI chat showing up in search, you can also change the setting for "Chat response on result page".
Scroll down a bit further and you'll see those language settings you were talking about too: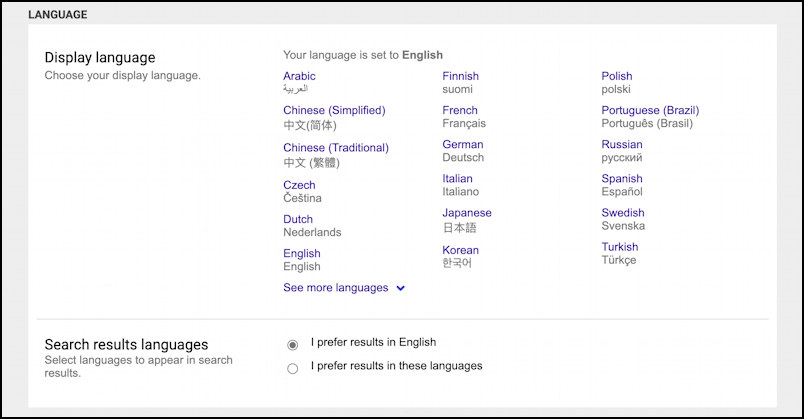 By choosing "I prefer results in these languages" under "Search results languages" you can change your search results to Spanish or any of dozens other languages, even as you keep the display language (buttons, labels, settings) in a completely different language entirely. It's very flexible.
THE AI COMPONENT OF BING IMAGE SEARCH
While we're exploring, let's go back to the Image results page and click on that red button on the top right I mentioned earlier. It takes us directly to DALL-E, an image creation tool that's part of the ChatGPT integration within Bing: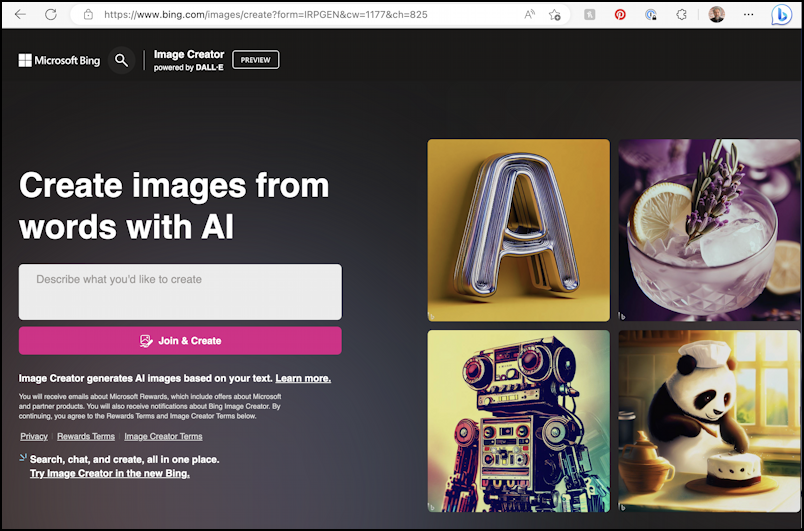 Rather than just the Declaration of Independence, I'm going to use another American icon to make it more interesting. Here's the result of my typing in "mickey mouse signing the declaration of independence":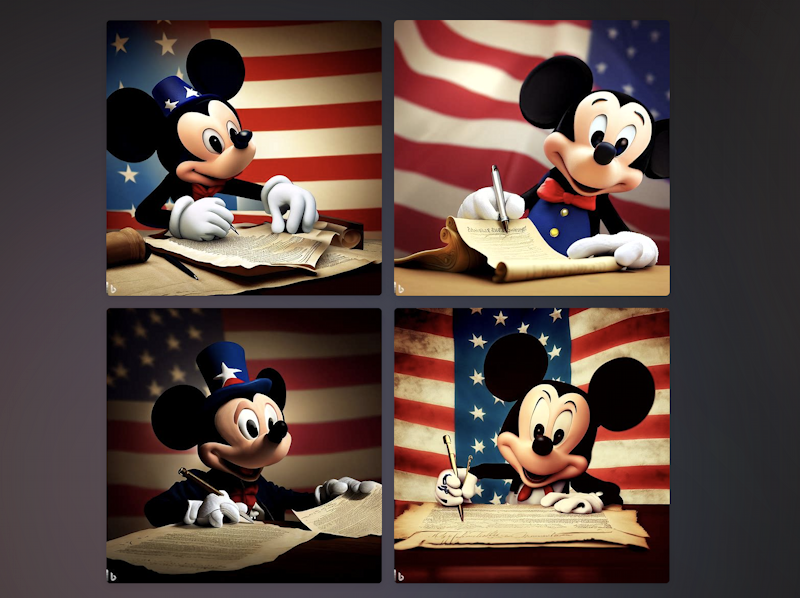 Pretty dang good, actually. I particularly like the lower right image, it's something that could easily be used in a voter registration or school civics unit. [though it's not necessarily copyright free, but you'll have to travel down that rabbit hole yourself as needed].
Anyway, that's Bing Image Search in the proverbial nutshell. Hope it helps you get more out of your image searches!
Pro Tip: I've been using and writing about Microsoft's tools for many years. Please check out my computer basics tutorial pages for lots more fun and interesting content! Thanks.