I really like the recent redesign of Yahoo Mail — I've been using it for years — but would like to make it look more attractive. Are there skins or appearances or themes, and if so, how do I choose or pick one for my account?
Yahoo Mail. Seems like they've been around forever, actually, certainly years longer than Google's popular Gmail service. In fact, a bit of search reveals that Yahoo Mail was first launched back in 1997, while Gmail was launched in 2004. Oh, and Hotmail? That dates from 1996 and it's the first Web-based email service. While we're sharing trivia, Yahoo started out as a directory of sumo wrestling Web sites. For real.
But back to your query!
For many years, Yahoo rather ignored Yahoo Mail and focused on its many, many other online properties. There are still plenty of users, however, 16 years later. Sixteen years. That's about a thousand years in Internet time, right?
The latest redesign has added some really nice features (and a rather exorbitant price tag for getting rid of ads — $50/year!) and even makes themes something you can access from more than one submenu, a great feature that helps people efficiently use the system.
To start, here's the default appearance for my Yahoo Mail account:
Rather dull and, yes, with a big honkin' advert on the right side. $50 to get rid of it for a year? Nah, still too much to pay for the privilege, and I know I'm not worth $50/yr as a recipient of ads. Wonder why Yahoo doesn't drop it to $9.99/yr and get 20x people opting to avoid ads?
Anyway, look on right, just above "Sponsored", very close to the Discover ad, for "View".
Click on "View".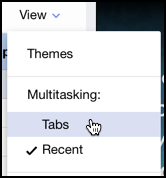 I'm a big fan of tabs in email and this is an easy way to enable them: Just select "Tabs".
But look above it. "Themes". Ahhh…. that's what we want. You can get to YM themes right from the "View" menu.
Let's try a different path instead, however. Further up on the top right is a gear icon. Click on it.
Again with the "Themes"! More importantly, "Settings" are also important, as we'll see in a moment. Oh, and "Ad Free Mail" if you're ready to spring for the $50 (or your company will pay for it).
Finally, one way or 'tother, choose "Themes".
To their credit, Yahoo has a lot of really gorgeous themes available at a mouse click. I'm looking at it near Christmas, so there are definitely some seasonal options here, like the close-up of candy canes.
Scroll down a bit more and you'll see additional options. I like the gumballs:

To select a specific theme – just to try, you can change your mind! – simply click on it and behind the themes window you'll see your main mail window update.
Ready to commit? Click on "Done" on the lower left of the window. And don't worry, you can still go through the steps again if you decide it's too much.
Me? I like gumballs. So here's what I end up with:
Too much? I might choose something more mild down the road, but for now, it's great fun and certainly a big chance from the dull default theme!
While we're here, go into "Settings" off the gear icon menu too, there are two things you must change.
The first is to choose "Full featured" from the bottom of these "Viewing email" settings. There are also other things you might want to consider, including enabling "conversations" to better organize your back-and-forth discussions with people via email, and, my preference, changing the message list density. Again, try a different setting and you'll see what it does.
Finally the option that's perhaps the most important of them all. Click on "Security" on the left side…
Now choose "Always use HTTPS" and click "Save" on the lower left. Why? Because it forces Yahoo Mail to always use an encrypted channel to communicate between your Web browser and the Yahoo servers. Much more secure, makes you less susceptible to hackers "sniffing" your data in transit, stealing passwords, etc.
There's more you can do to customize your YMail experience too, as you can see. Poke around, give a few options a try and see what you think!