I use Microsoft Word every day on my iMac and love it. But oh, those toolbars! In particular, is there some way to customize the tiny icons that show up on the very top title bar of the Word window on my Mac?
Microsoft has been working on the user experience for its Office suite for an incredibly long time. Microsoft Word was first release back in October 1983. That makes the program 37 years old. That's a lot of time to work on what buttons should be where, what icons should be used to represent specific tasks and more. A few iterations ago, Microsoft released its "ribbons" toolbar design where these icons and features would change based on the task you're doing or type of content you're writing, then changed it again as cloud storage – OneDrive! – became increasingly important. The latest version of Word, now know as part of "Office 365" (apparently you can't use it on leap years!), features a quite sophisticated library of toolbars.
Most notably including what's known as the Quick Access Toolbar, the set of icons that show up on the title bar itself on the Mac, and on Windows, for that matter. What most people don't realize, however, is that the QAT is quite customizable and a smart way to ensure that your favorite features and functions are available regardless of what contextual toolbar is shown in the main area above your document! Let's check it out…
CUSTOMIZE QUICK ACCESS TOOLBAR IN OFFICE 365 WORD
Probably best to start with the default set of features on the QAT in the latest version for MacOS:

To be clear, we're talking about the set of icons and features accessible on the dark blue bar adjacent to the standard Mac three color buttons of red, yellow and green. Left to right they are AutoSave, Home, Save, Undo, Repeat, Print, Customize Quick Access Toolbar (we'll get back to that downward triangle!), document name and status, search magnifying glass and customer feedback shortcut to the Word development team.
The one that drives me a bit bonkers is AutoSave. Why isn't it always on? Well, a click to try and enable it and you'll find out:

In other words, you can't AutoSave versions of your document unless you use OneDrive and cloud storage. Candidly, that seems pretty arbitrary for those of us who still want our documents saved on our own computers. Can you tweak these settings in the main Word preferences area? No, but there are still some useful options to know about:
We digress, however. Let's go back to the Quick Access Toolbar and this time click on the downward triangle to produce the customize menu: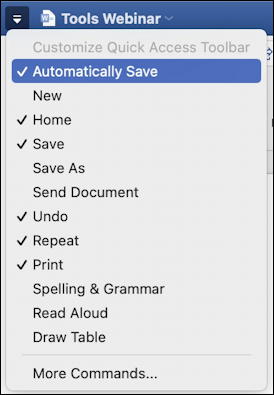 From this point it's easy to disable a couple that you never, ever use or even disable everything to clean up the bar and make your user experience a bit more aesthetically pleasing!
But instead, let's choose "More Commands…" to jump into the Preferences for MS Word…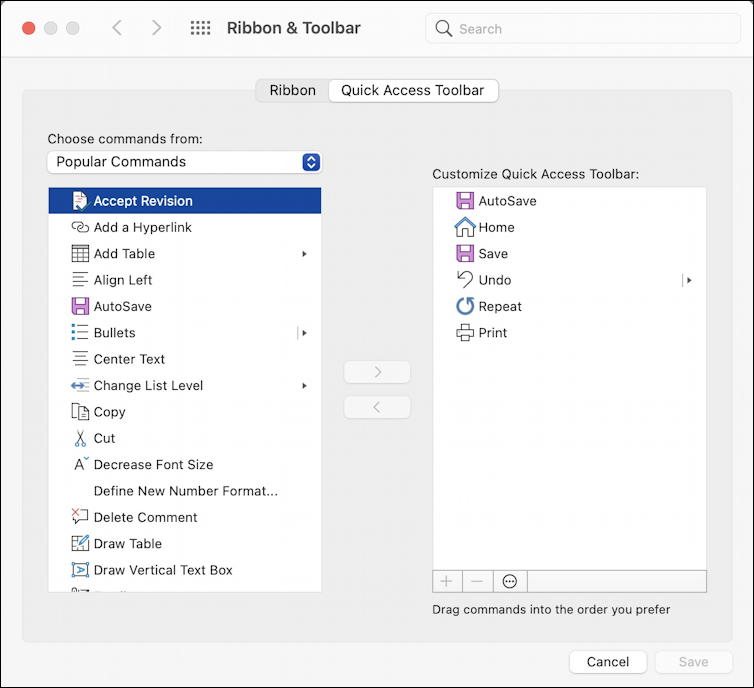 A few things to notice here. First, you can customize either your Ribbon toolbar or the Quick Access Toolbar, as shown on the tab bar at the top. Also notice that on the left we're choosing commands from "Popular Commands". There are more options if you have a very specialized command you'd like to add to your QAT.
If you haven't used one of these sort of add/delete windows, you click to choose an item on the left, then click on ">" to move it to the actual toolbar, and choose items on the right side and click "<" to remove them. Scroll down, there are a lot of really useful features and options accessible here!
After a bit of fiddling, here's what I end up with: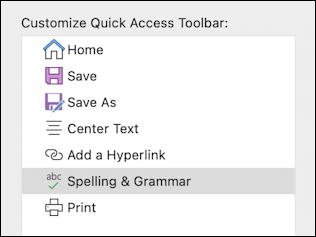 I can just click on "Save" on the lower right, but before we do, check out the icons on the very bottom of the right hand box. In fact, you can also use "+" and "-" if you prefer (though it's more clumsy), but more important is that three dots with a circle, as shown: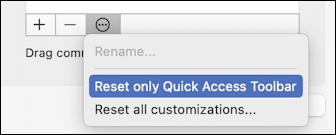 Yes, if you've gone too far with your customizations, you can use this to Rest only Quick Access Toolbar or even Reset all customizations… to clean things up.
Ready for the new, improved QAT? Great. Click on "Save" and check it out:

Very helpful as I often use Save As and add links especially.
Before we wrap up, however, a few additional tips. First, see the tiny downward "v" symbol immediately after the filename? Click on it. That's the File Rename Shortcut: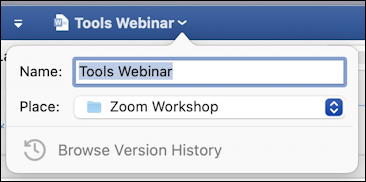 It's an easy place to rename a document or move its location. If you have AutoSave because you're saving to the cloud, you can also access Browse Version History, as shown.
But this is a Mac, so there's another secret feature in the same spot. Control-Click on the filename and you'll get a list of the entire file system hierarchy so you can see where this particular document actually lives: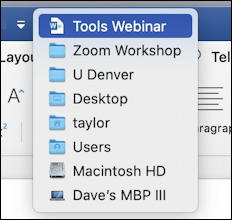 This Control-Click on filenames in the toolbar feature is true across just about every Mac program, so definitely try it out next time you're in an email message, working on a spreadsheet, viewing a movie or even reading a PDF. Super handy!
QUICK ACCESS TOOLBAR CUSTOMIZATION IN WORD FOR WINDOWS
One more pic: If you're on a Windows computer and wondering if you can access, update and customize your Quick Access Toolbar in Word for Windows, the answer is of course you can!
Things look a bit different – and it's harder to use Windows without also utilizing OneDrive – but everything we talked about in this tutorial will apply to your Windows customization in Office 365 too. Have fun!
Pro Tip: I've been writing about the Mac since, well, the very beginning. Please check out my quite extensive Mac help library for hundreds of useful tutorials and how-to guides. Thanks!