Just updated to MacOS 11 Big Sur and it's pretty cool. Really liking the Control Center, but wondering if I can customize it in any way and whether there are any third party apps that can appear in the Control Center too?
While there's no denying that MacOS has taken a big step towards a unified user interface experience with iOS, I agree with you that the jump from MacOS X to MacOS 11 "Big Sur" is a good one. Apps are snappier, battery life seems a bit better, and every single dialog box and window in all my programs has changed and looks different and just a bit more friendly. The notable changes are mostly behind the scenes, with Big Sur adding significant underlying support for the new Apple M1 CPU chips (versus the older Intel CPUs), but the two most obvious updates are Notifications and the Control Center.
While it's a bit early in the life of Big Sur to know what third party support will manage to find a space in either, it's not too early to jump into the Control Center and learn a bit more about it and how to customize it to better meet your needs and preferences. Remember, a click on the very top right corner of your screen brings up the Notification Center, which I've used extensively since it first showed up, while a click on the Control Center icon in the menu bar brings up the Control Center. My suspicion: People might get those confused!
On the menu bar, there's now a two "slider switch" icon:
See it? Rightmost next to the date and time. If you're curious, my set of menu icons, left to right, are Dropbox, Clipy, iDrive, Bluetooth, Music Controls, Battery, Wi-Fi, Control Center and the date and time. Turns out a number of these are now managed by Control Center too, and I'm pretty darn sure that the music player controls is new too, and quite handy if you listen to music incessantly as I do!
Remember, you can still remove menu bar icons you don't want with a Command-drag off the bar, and you can rearrange the order of them if you prefer with that same Command-drag left or right. I do that to cluster my audio controls in the same spot personally.
Click on the Control Center icon on the menu bar and Control Center pops up instantly in the top right of your screen: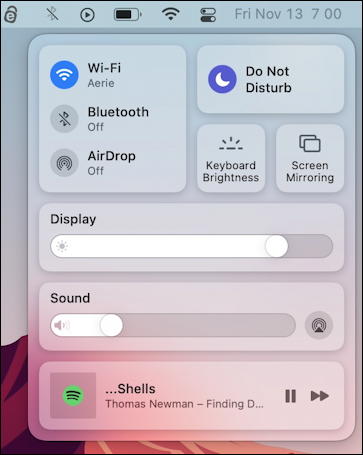 Darn handy to have all these controls front and center. Notice also that the music player recognizes I'm listening to Spotify and offers a mini info and control window at the bottom of the Control Center. The pause and next track buttons are indeed exactly the two I'd most want accessible!
What might not be immediately obvious is that each region of the Control Center is clickable to expand. For example, if I click on the Music area at the bottom it shows more details and more control buttons: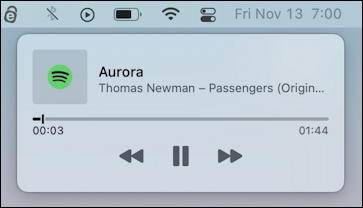 Perfect. You can see that I'm listening to the track "Aurora" from the Passengers soundtrack by Thomas Newman. Good stuff.
To back up from a zoomed in view like this, simply click on the Control Center icon on the menu bar once. Then you can expand a different pane to see what that offers, like Display…
Please do enable Night Shift while you're in this spot. Your eyes will thank you. Also notice on the very bottom the handy shortcut to the Display System Preferences window "Display Preferences…". Handy to remember if you want to jump straight to that set of preferences and options in MacOS 11.
One more close-up. Sound. Suddenly pushing audio to an AirPlay compatible system – like my Vizio TV! – is ridiculously easy:
But what if you want to change what's shown in Control Center? You can do that too. Go into System Preferences… off the Apple menu, then find and click on "Dock and Menu Bar" (note: I think the only reason it wasn't renamed Dock & Control Center is that the words didn't fit!)

Once that launches, the window shows all the options for your Dock:
Honestly, that's a lot of options! One new option that isn't related to the Dock shows up on this window too, and it's something that can be a great change or will drive you bonkers: You can now auto-hide the menu bar on the top of your screen if you want! Just check "Automatically hide and show the menu bar" and give it a few hours to see if you like it, or if it's too disturbing to glance at the top of the screen to see… nothing. Me? I'm going to keep it visible at all times for now, at least.
On the left side, the options below Dock & Menu Bar are all about the Control Center, so this is where you can pick what to have shown and exactly how it should appear on both the menu and, you guessed it, the Control Center. For example, the battery:
This is also where you can restore the percentage of battery remaining in the Menu Bar too if that's your preference. But add it to the Control Center too by choosing "Show in Control Center", along with "Show Percentage".
Now click on the Control Center icon on the Menu Bar again and it'll appear, tucked into the lower left corner:
Honestly, not my favorite, so I unchecked the box to remove it from the Control Center again, but having that percentage display in the Menu Bar? Glad to have it back. And that's it, all the basics of using and customizing the new Control Center in MacOS 11 Big Sur.
In terms of third party apps being able to gain access to the Control Center, I suspect that's not as likely as them being able to show up as widgets for the Notification Center (where, I should also add, the battery display is way cooler too). We'll have to see over the next few months as developers push the edges and see what they can accomplish. I'll say one thing: I would really like to be able to "pin" the music controls pane in unexpanded view to the lower right edge of my screen as a floating overlay. Let's see if that shows up, Apple!
Pro Tip: I've been writing about MacOS since before MacOS X was released. It's been a while! While you're visiting, why not check out my extensive library of Mac help tutorials and articles and learn even more about your system? Thanks!