I've been dabbling with Ubuntu Linux and so far it's going well, but I'm wondering, how do I add new app icons to my Taskbar so I can customize it for my liking? Thanks.
We should probably start out with some terminology; Linux has a number of window managers and Ubuntu ships with GNOME, which used to stand for GNU Network Object Model Environment (which is a mouthful) and now is just known as Gnome. According to Gnome terminology, the bar that has shortcut app icons is known as the Dock or the Dock Panel. Since MacOS also calls it a Dock, let's use that name. (Just to be different, by the way, ChromeOS calls it the "Shelf". Why? Who knows).
Mostly, these all work the same and are even a throwback to the original Windows 3.1 Taskbar if you've been around computers long enough to remember. Usually, you can drag and drop an icon to add it, and right-clicking on the Dock offers configuration options while right-clicking on an app allows you to remove it from the Dock. Except in Linux. In Linux, you can work with apps that way, but configuring the Dock itself requires you to go into Settings. But I'm jumping ahead, so let's start with the basics…
ADDING APPS TO YOUR LINUX GNOME DOCK
To start out, I also run Ubuntu Linux, and here's my Desktop: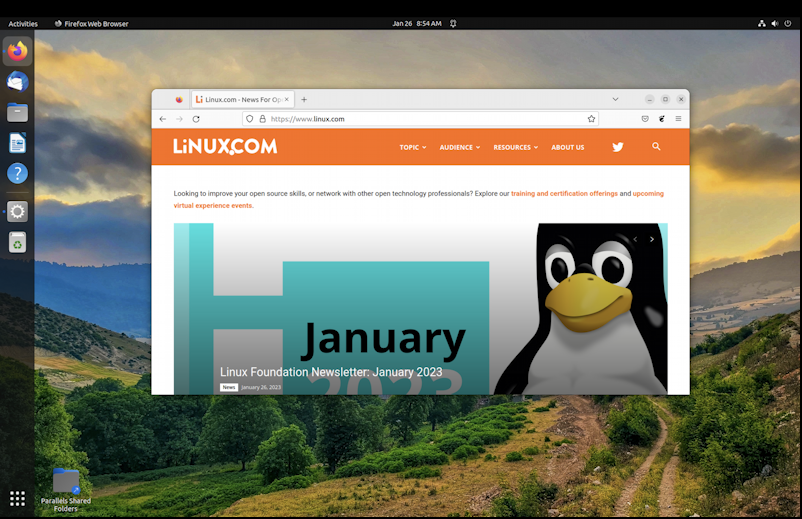 Notice that my Dock Panel is on the left side and extends from the top of the screen to the bottom. That's the default setup for Linux nowadays, though, as I will show in a bit, you can change that up as desired.
To add an application or program to the Dock, the easiest way is to move to the All Apps view, which is conveniently accessed with the tiny grid icon on the lower left. A click and it will show you all of the known and registered programs on your system: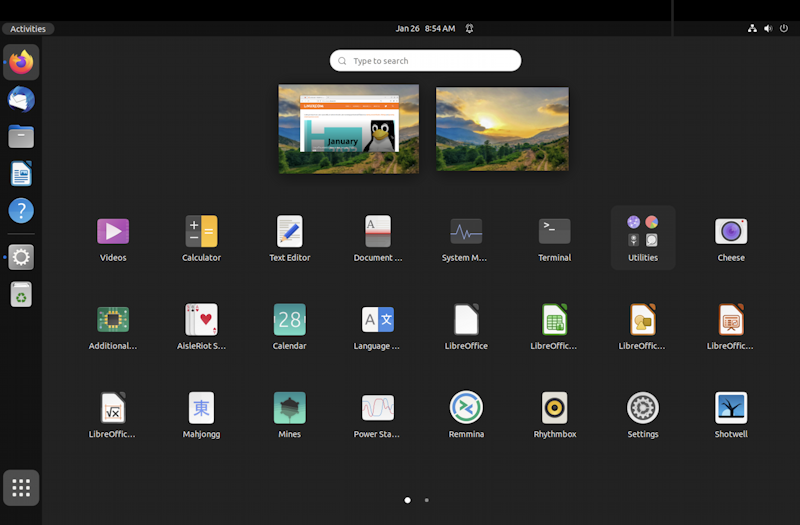 You can scroll around to see what was bumped to page 2, page 3, etc. I'm going to add Terminal to my own Dock since I find the command line very helpful in the Linux environment.
That's done by right-clicking on the application icon that's on screen. A small context menu pops up: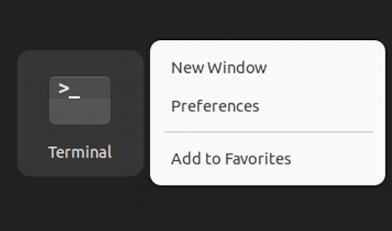 The nomenclature is a bit confusing, but it's "Add to Favorites" that you want to choose. I'd rather it said "Add to Dock" or "Add to Dock Panel", but I didn't write those lines of code so we just have to muddle through!
The icon now shows up on the Dock.
HOW TO MOVE ICONS AROUND ON THE LINUX DOCK PANEL
If you want to change the order of your icons to make it easier to navigate, that's easy too; just click and drag the app or program icon to the desired spot. You can see I'm doing that with the Solitaire program:

While you're moving it, two versions of the icon are visible, but the old location will vanish once you finish the click-and-drag gesture. Easy, really.
REMOVE AN APP ICON FROM THE DOCK
The final step is to be able to remove app and program icons from the Dock that you just don't need and never run. Any guesses on how to accomplish this task?
Correct! Right-click on the icon. A menu appears: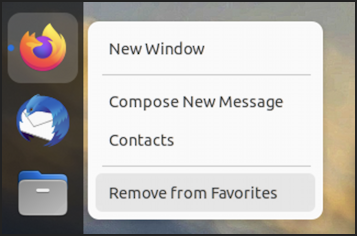 Some programs offer specific shortcuts in this context menu – Thunderbird email (the second icon) does just that with its "Compose New Message" and "Contacts" options – but most just have New Window or the one you want to choose, "Remove from Favorites".
That's it. Now you know how to find, add, organize, and delete app icons on the Linux Dock Panel.
BONUS: MOVE YOUR DOCK ON THE SCREEN
One more handy tip: Go into "Settings" and choose "Appearance". Scroll down just a bit and you'll see all the options for the Dock: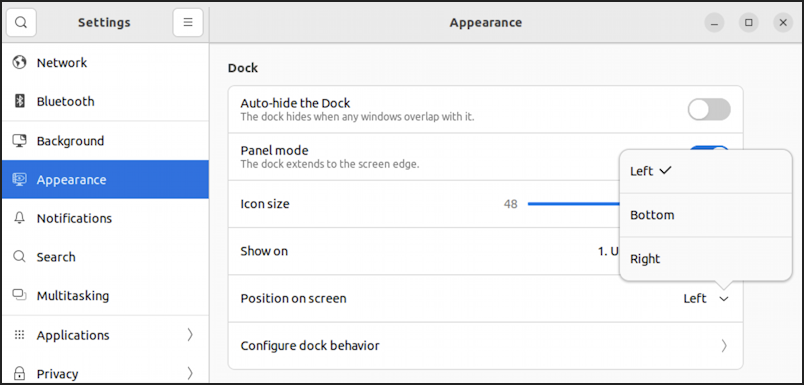 If you have a smaller screen, you might consider enabling auto-hide, but notice in the above that if you choose "Position on screen" you can move it from the Left to the Bottom or the Right side of your screen! Choose "Bottom", then disable "Panel Mode" and your Dock takes on a much more Mac-like appearance:

Same programs, same icons, same order, just along the bottom of your screen instead. Something to experiment with, for sure, even if you do end up moving it back to the default location on the left edge.
Pro Tip: I've been writing about Linux since the dawn of the operating system, and Unix before that. Please check out my extensive Linux help area for lots of additional tutorial content while you're visiting. Thanks!